This thick and creamy soup is packed with chunky potato, peppers, corn, and bacon. It would have been hearty enough to serve at a Pennsylvania Dutch barn raising!
Pennsylvania Dutch Bacon, Corn, and Potato Chowder honors family. My Grand-daddy often shared the story of his lineage, Pennsylvania. Dutch. He was Dutch, but his family immigrated to Germany. Some of his brothers changed the spelling of their last name, but Grand-daddy kept the traditional "Diefendorf." From Germany, they immigrated to America, most likely settling in Pennsylvania.
For a more traditional recipe, use double-smoked bacon–it will also yield a more intensely smokey flavor.
You can use cooked corn or raw corn. It has a base of vegetable or either chicken or turkey stock, milk, and cream.
It will not freeze well due to the potatoes and cream, so keep that in mind. It will store in the refrigerator for up to 5 days.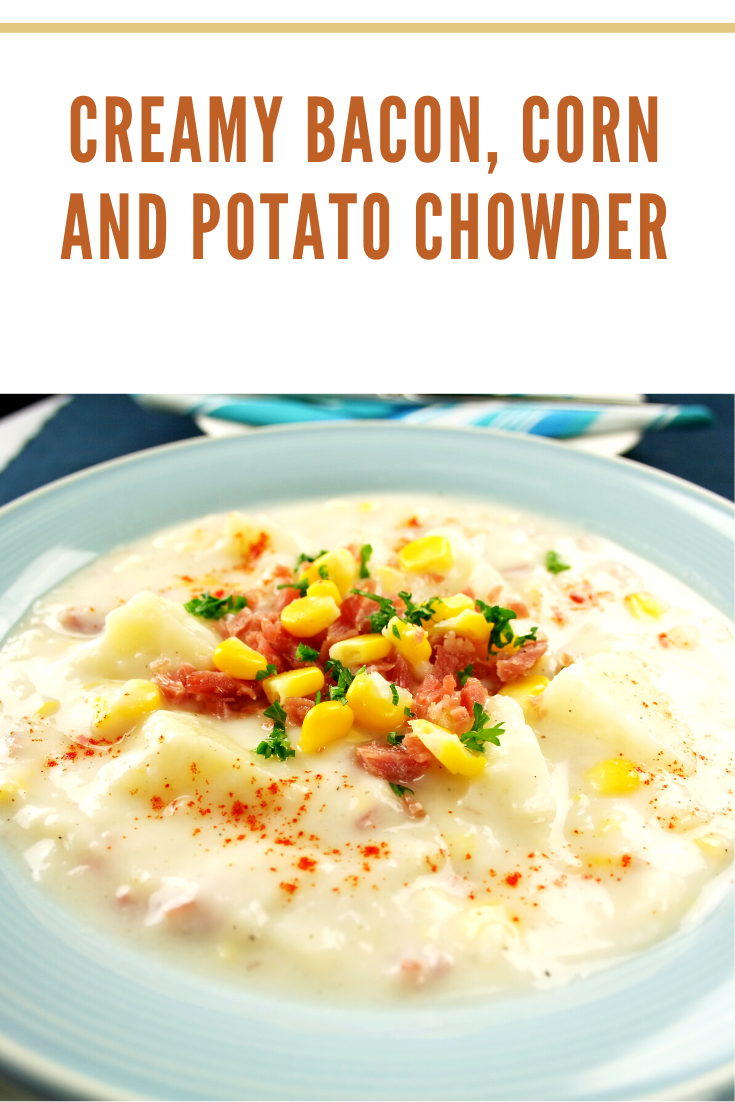 Pennsylvania Dutch Bacon, Corn and Potato Chowder Recipe Ingredients
1/2 pound well-smoked country-style bacon strips, cut into 1/2-inch slices and then diced
1 large onion, diced
3 ribs celery, thinly sliced
1 red bell pepper, diced
1 green pepper, diced
1/4 cup all-purpose flour
1 qt. vegetable, chicken or turkey stock
2 pounds gold potatoes, diced into 1/2-inch cubes
6 ears corn, kernels cut off
2 qts. milk, scalded
1 cup heavy cream
kosher salt and freshly ground pepper, to taste.
1/2 bunch of chives, thinly sliced (optional) for garnish
Pennsylvania Dutch Bacon, Corn and Potato Chowder Recipe Directions:
Saute bacon over low heat in a large soup pot until most of the fat is rendered
Add the onion, celery, and red and green pepper, and simmer until tender but not browned
Stir in the flour and cook for 3 to 4 minutes to cook out the raw taste.
Add the stock and potatoes and cook until the potatoes are soft, about 10 minutes. Stir to combine well, so the soup thickens evenly without developing lumps.
Bring the soup back to a boil, stirring to make sure it doesn't stick and burn.
Add the corn, stirring to combine. Cook for about 5 minutes or until the corn is cooked through.
Pour in the hot milk and cream, stir to combine, and season to taste with salt and pepper.
Serve garnished with thinly sliced chives, if desired, and serve.
TIPS:
If using raw corn, add to the pot during the last 5 minutes of cooking the potatoes. If using cooked corn, add the corn kernels to the soft potatoes.
Makes about 1 gallon of Pennsylvania Dutch Bacon, Corn, and Potato Chowder