Disclosure: The PEEPS & COMPANY® products, information, and additional gift pack have been provided by PEEPS & COMPANY®. All opinions are my own.
Summer means we're out and about, we're seeing new things and relaxing to family time. Summer is a celebration all its own and to make it a little "cooler" we received a summer package from PEEPS & COMPANY® to make summer all the sweeter!
We love Wet 'n Wild Emerald Pointe and the kiddos beg to go to the beach, this summer fun pack is fun all around. It has Peepsonality, just like us!
Take a loot at all the fun in this PEEPS & COMPANY® Summer Fun Pack!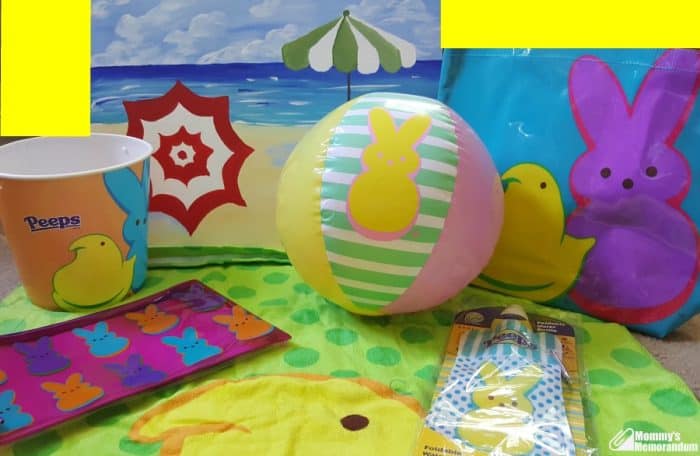 PEEPS® Beach Ball: A day at the beach will never be the same with your very own PEEPS® beach ball. A day in the sun will be more fun, if you spend it with brightly colored PEEPS® Chicks and Bunnies!
PEEPS® Collapsible Plastic Water Bottle: Refreshment on the go is no longer a problem with this PEEPS® Chick and Bunny collapsible water bottle. Just fill it with your favorite drink, and off you go. When it's all gone, the bottle can be flattened and packed away, no problem.
PEEPS® Character Flying Disc: Keep the kids occupied for hours with these playful PEEPS® Character Flying Discs! Perfect for the playground, beach, or backyard.
PEEPS® Wetsuit Pouch: You'll be the belle of the changing room with this little accessory! Our Peeps® Wet Suit Tote makes traveling with a wet bathing suit fun again. Can also be used to carry any other messy gear or toiletries you might have.
PEEPS® Pail: There are six bright, new designs to THE collection of PEEPS® Pails! Load 'em with treats and goodies and reuse them later for all sorts of things.
Signature PEEPS® Beach Towel: Towel off in style when you reach for our new Signature PEEPS® Beach Towel. Choose from a green towel (with Yellow Peeps® Chick) or blue towel (with Pink Peeps® Bunny).
Signature PEEPS® Tote: Give new meaning to the term, "Totes Adorbs" with the PEEPS® Signature Tote. Perfect for a day at the beach, pool, or playground.
We can't wait to add these fun PEEPS® merchandise to our summer routines.
Connect With PEEPS® and Get Special Savings:
You can check out all the fun and Peepsonality that PEEPS & COMPANY® has to offer on the Peeps website.
SPECIAL DISCOUNT:
Summer is the perfect time for savings! PEEPS & COMPANY® is offering 20% off of your next purchase, no minimum required, from now through August 31st. Simply shop, and use the following code upon checkout:
SWEETSUMMER20