Introducing the Timeless Delight: The Original Toll House Cookie Recipe!
Indulge in the unrivaled taste that has captivated taste buds for generations. Our Original Toll House Cookie recipe is a culinary masterpiece, born out of serendipity and perfected through the artistry of Ruth Graves Wakefield. Now, you have the chance to recreate this iconic treat in your very own kitchen.
Picture this: a heavenly aroma wafting through your home, golden cookies fresh out of the oven, and the anticipation of that first bite. Each morsel is a perfect blend of warm, buttery goodness and melty pockets of rich Nestle chocolate. It's a sensation that brings comfort, joy, and memories flooding back with every delectable mouthful.
With our Original Toll House Cookie recipe, you hold the key to unlocking the secrets of this beloved classic. We provide you with the exact measurements and step-by-step instructions that have stood the test of time. No more searching or experimenting—this is the authentic recipe, straight from the source.
Imagine the joy on your loved ones' faces as they savor the same iconic taste that has delighted generations. These cookies are more than a sweet treat; they're a piece of culinary history, a testament to the creativity and passion of a visionary baker.
Whether you're an experienced chef or a baking enthusiast, the Original Toll House Cookie recipe is your gateway to creating moments of bliss. Bring families together, impress your friends, or simply indulge in a moment of self-care. These cookies have the power to turn an ordinary day into something truly extraordinary.
So, why settle for imitations when you can have the real deal? Nestle proudly presents the Original Toll House Cookie recipe, ensuring that the legacy of Ruth Graves Wakefield lives on in every bite. Pick up a package of Toll House Morsels today and embark on a timeless baking adventure.
Unleash your inner baker and join the ranks of those who have experienced the magic of the Original Toll House Cookie, and let the sweet symphony of flavors dance on your palate. Taste the history, share the joy, and create memories that will last a lifetime with the Original Toll House Cookie recipe.
History of the Original Toll House Cookie:
The history of the Original Toll House Cookie is steeped in tradition and culinary innovation, originating from the famous Toll House Inn located halfway between Boston and New Bedford, Massachusetts, along what is now Route 18.
The story of the Toll House Inn dates back to 1709 when it first began offering weary travelers a place to rest for the night. In those early days, travelers would pay a toll, change their horses, and enjoy hearty home-cooked meals before continuing their journey. While the original Toll House Inn no longer stands, only a sign remains to remind us of its historical significance.
In the early 1930s, the inn's legacy was carried on by the Wakefield family. Ruth Graves Wakefield, in particular, gained local fame for her exceptional culinary skills, especially her delectable desserts. It was during her time at the Toll House Inn that she stumbled upon an iconic invention that would forever leave its mark on the world of baking.
In 1937, in the town of Whitman, Massachusetts, Ruth Graves Wakefield was preparing a batch of her popular Butter Drop Do Cookies. As she followed the recipe, she realized she had run out of Baker's chocolate, a key ingredient in the cookies. Thinking on her feet, she decided to cut up a semi-sweet Nestle chocolate bar into small chunks and added them to the dough instead.
To her delight, the chocolate chunks did not melt completely during baking, resulting in deliciously soft, gooey pockets of chocolate within the cookies. This delightful accident gave birth to the first-ever chocolate chip cookie, which Ruth later named the Toll House Cookie in honor of the inn.
Ruth's Original Toll House Cookie recipe gained widespread recognition when it was published in a Boston newspaper. This unexpected publicity propelled Ruth into local stardom, as people across the region began clamoring for her famous recipe. The demand for Toll House Cookies soon caught the attention of Nestle, the well-known chocolate manufacturer.
In 1939, Ruth Wakefield struck a deal with Nestle. She granted them permission to feature her Original Toll House Cookie recipe on the packaging of their semi-sweet chocolate bar, in exchange for a lifelong supply of their chocolate. This partnership not only solidified the iconic status of the Toll House Cookie but also introduced Nestle's chocolate chips, known as Toll House Morsels, to the world.
Ruth Wakefield continued to delight people with her culinary creations until her passing in 1977. However, tragedy struck the Toll House Inn years later. On New Year's Eve in 1984, a devastating fire engulfed the inn, starting in the kitchen and reducing it to ashes. The Toll House Inn was not rebuilt, but a historical marker now stands on the site, preserving the memory of its significant contribution to culinary history.
Today, while numerous manufacturers produce chocolate chips, Nestle remains closely associated with the Original Toll House Cookie. They continue to honor Ruth Graves Wakefield's legacy by including her iconic recipe on the back of each package of Toll House Morsels. This enduring tradition ensures that bakers around the world can recreate the beloved Toll House Cookies in their own kitchens, preserving the history and the delectable taste of this timeless treat.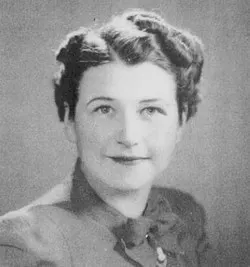 Original Toll House Cookie Recipe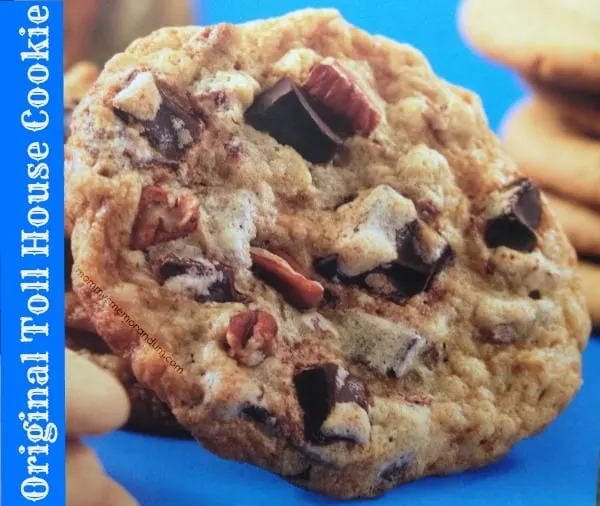 The Original Toll House Cookie Recipe
Indulge in the timeless delight of the Original Toll House Cookie! This iconic recipe, created by Ruth Graves Wakefield, is a true classic that has delighted taste buds for generations. Now, you can bring the magic into your own kitchen with this authentic recipe. Get ready to experience the perfect blend of buttery goodness and melty chocolate in every bite. Let's dive in and create a batch of these legendary cookies!
Ingredients:
2 1/4 cups all-purpose flour
1 teaspoon baking soda
1 teaspoon salt
1 cup (2 sticks, 1/2 pound) butter, softened
3/4 cup granulated sugar
3/4 cup packed brown sugar
1 teaspoon vanilla extract
2 large eggs
2 cups (12-ounce package) NESTLE TOLL HOUSE Semi-Sweet Chocolate Morsels
1 cup chopped nuts (optional)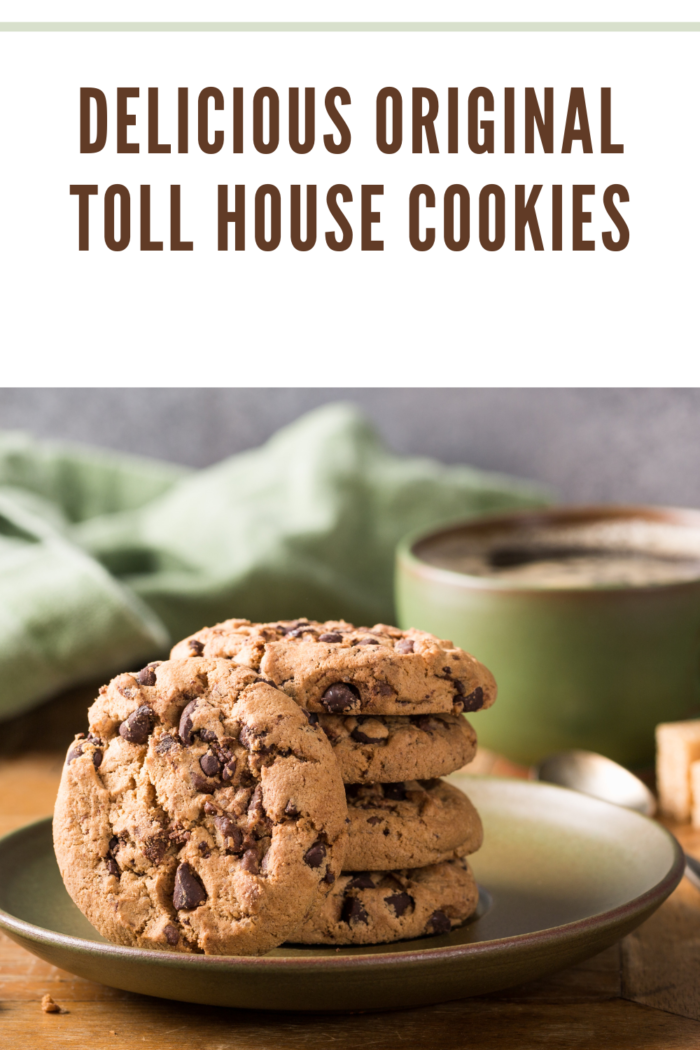 How to Make Original Toll House Cookies
Preheat your oven to 375°F (190°C). Prepare a baking sheet by lining it with parchment paper.

In a medium-sized bowl, whisk together the all-purpose flour, baking soda, and salt. Set aside.
In a large mixing bowl, cream together the softened unsalted butter, granulated sugar, and packed brown sugar until light and fluffy.
Add the vanilla extract to the butter-sugar mixture, followed by the eggs. Mix well after each addition until fully incorporated.
Gradually add the dry ingredient mixture to the wet ingredients. Mix until just combined, being careful not to overmix.
Stir in the Nestle Toll House Semi-Sweet Chocolate Morsels. If desired, fold in the chopped nuts for an extra crunch.
Drop rounded tablespoonfuls of dough onto the prepared baking sheet, spacing them about 2 inches apart.
Place the baking sheet in the preheated oven and bake for 9 to 11 minutes, or until golden brown around the edges.
Once baked, remove the cookies from the oven and let them cool on the baking sheet for 2 minutes.
Transfer the cookies to a wire rack and let them cool completely before serving. Enjoy the perfect combination of chewy centers and crispy edges!
PAN COOKIE VARIATION: PREPARE dough as above. Spread into greased 15″x10″ jelly-roll pan. Bake in preheated 375-degree F. oven for 20 to 25 minutes or until golden brown. Cool in pan on wire rack.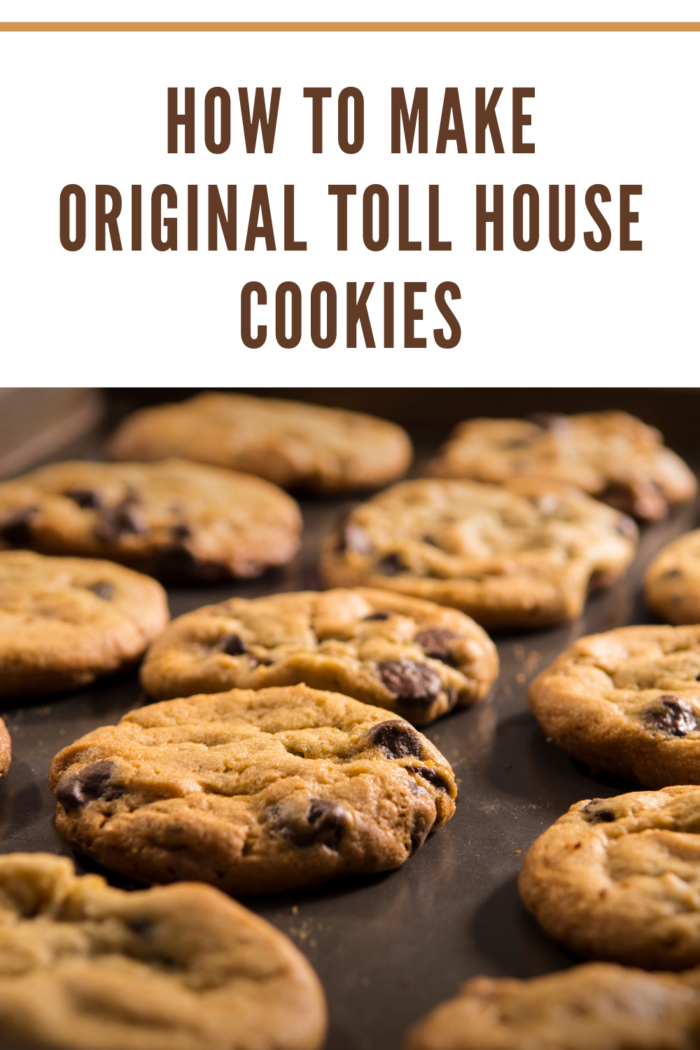 Variations to the Original Toll House Cookie Recipe
While the Original Toll House Cookie recipe is a beloved classic, there are several variations you can explore to add your own personal touch or accommodate different dietary preferences.
Here are a few popular variations:
Peanut Butter Chocolate Chip Cookies:

Substitute 1/2 cup of peanut butter for half of the butter in the original recipe.
Follow the same instructions, but also add 1/2 cup of creamy peanut butter to the wet ingredients.
Mix in the Nestle Toll House Semi-Sweet Chocolate Morsels as usual.
Bake according to the original recipe instructions.

Oatmeal Chocolate Chip Cookies:

Add 1 cup of old-fashioned oats to the dry ingredients in the original recipe.
Follow the same instructions, but reduce the all-purpose flour to 2 cups.
Mix in the Nestle Toll House Semi-Sweet Chocolate Morsels as usual.
Bake according to the original recipe instructions.

Dark Chocolate Mint Cookies:

Substitute Nestle Toll House Dark Chocolate Morsels for the semi-sweet morsels in the original recipe.
Add 1/2 teaspoon of peppermint extract to the wet ingredients.
Mix in the dark chocolate morsels as usual.
Bake according to the original recipe instructions.

Gluten-Free Toll House Cookies:

Replace the all-purpose flour in the original recipe with a gluten-free flour blend of your choice.
Ensure that all other ingredients, such as the butter and chocolate chips, are also gluten-free.
Follow the same instructions as the original recipe.
Bake according to the original recipe instructions, adjusting baking time if necessary.
Feel free to experiment with these variations or get creative by adding ingredients like shredded coconut, dried fruits, or different types of nuts. The Toll House Cookie recipe serves as an excellent base for customization, allowing you to tailor the cookies to your taste preferences. Enjoy the process of exploring these delicious variations and discovering your favorite twist on this timeless classic!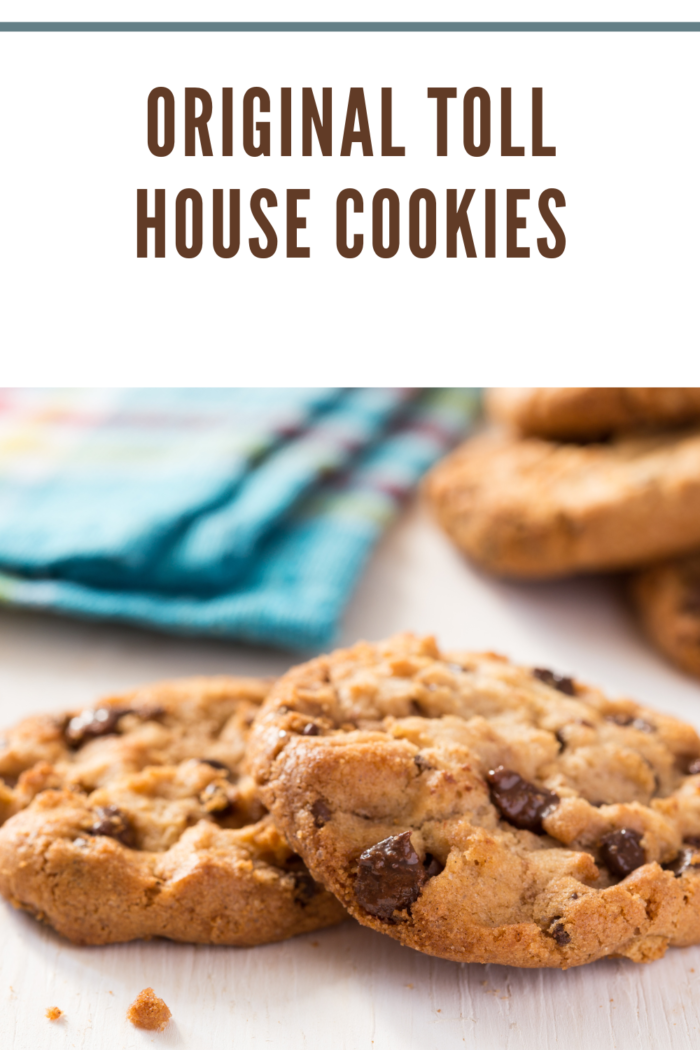 FAQs:
Here are some frequently asked questions (FAQs) and their answers related to the Original Toll House Cookie recipe:
Can I use salted butter instead of unsalted butter? While the recipe calls for unsalted butter, you can use salted butter if that's what you have on hand. Just keep in mind that salted butter contains added salt, so you may want to reduce the amount of salt in the recipe slightly.
Can I use different types of chocolate chips? Absolutely! The Nestle Toll House Semi-Sweet Chocolate Morsels specified in the recipe can be substituted with other flavors, such as milk chocolate, dark chocolate, or white chocolate chips. Feel free to use your preferred chocolate chip variety or even mix different types for a unique twist.
Can I freeze the cookie dough? Yes, you can freeze the cookie dough for later use. Form the dough into balls and place them on a baking sheet lined with parchment paper. Freeze until firm, then transfer the dough balls to an airtight container or freezer bag. When ready to bake, simply place the frozen dough balls on a baking sheet and bake as directed, adding a few extra minutes to the baking time if needed.
How should I store the baked cookies? Once the cookies have cooled completely, store them in an airtight container at room temperature. This will help maintain their freshness and prevent them from becoming stale. They should stay delicious for up to 3 to 4 days.
Can I make smaller or larger cookies? Yes, you can adjust the size of the cookies to your preference. For smaller cookies, use a teaspoon to drop the dough onto the baking sheet. For larger cookies, use a heaping tablespoon or an ice cream scoop to portion the dough. Keep in mind that the baking time may vary slightly depending on the size of the cookies, so keep an eye on them while baking.
Can I substitute ingredients for dietary restrictions? Certainly! If you have dietary restrictions, you can make substitutions to accommodate them. For example, you can use plant-based butter or margarine for a vegan version, gluten-free flour for a gluten-free version, or a sugar substitute for a lower-sugar option. Just ensure that the substitutions you make are suitable for your specific dietary needs and follow the appropriate ingredient conversions.
Remember, baking is a creative process, so feel free to experiment and make adjustments based on your preferences and dietary requirements. Enjoy the journey of baking these delicious cookies and making them your own!