Introducing the Num Noms Light Up Freezie Pop Maker!
Get ready for a deliciously delightful frozen treat experience like no other! With the Num Noms Light Up Freezie Pop Maker, the fun is as bright as the flavors.
Create Magical Frozen Creations: Unleash your inner chef and let your imagination run wild! This incredible pop maker allows you to whip up a variety of vibrant and mouthwatering frozen treats. From fruity popsicles to creamy ice pops, the possibilities are endless. Mix and match flavors, add colorful sprinkles, and surprise your taste buds with every bite.
Mesmerizing Light-Up Feature: Prepare to be dazzled by the enchanting light show! The Num Noms Light Up Freezie Pop Maker features an illuminating display that adds a magical touch to your frozen creations. Watch as the lights dance and twinkle while you enjoy your delightful treat. It's a truly mesmerizing experience that will leave you craving more!
Easy and Fun to Use: No need to be a culinary genius! The Num Noms Light Up Freezie Pop Maker is designed with simplicity in mind. Just pour in your favorite juice, yogurt, or any other refreshing beverage, and watch as it transforms into a frozen delight in minutes. The easy-to-use controls and intuitive design make it a breeze for both kids and adults to create their frozen masterpieces.
Share the Joy: Why keep all the fun to yourself? With the Num Noms Light Up Freezie Pop Maker, you can bring smiles to everyone's faces. Host a fabulous frozen treat party, dazzle your friends with your creative concoctions, or surprise your family with a refreshing and tasty dessert. It's the perfect way to spread joy and create unforgettable memories.
Quality and Safety Guaranteed: Num Noms prioritizes your safety and satisfaction above all else. The Num Noms Light Up Freezie Pop Maker is made with high-quality, durable materials that are built to last. Rest assured that every frozen treat you create will be free from harmful chemicals. Enjoy your icy delights with complete peace of mind.
The Perfect Gift: Looking for a unique and exciting gift idea? Look no further! The Num Noms Light Up Freezie Pop Maker is the ultimate gift for any occasion. Birthdays, holidays, or just because – surprise your loved ones with this one-of-a-kind treat maker and watch their faces light up with joy.
Don't miss out on the frozen fun! Bring home the Num Noms Light Up Freezie Pop Maker today and embark on a delectable journey filled with vibrant flavors, mesmerizing lights, and endless smiles. Order now and experience the frozen magic like never before!
Our Num Noms Light Up Freezie Pop Maker Review
MacKenzie was so excited to try the Num Noms Lights Freezie Pop Maker we received for review.
It's been raining here for days. It presented the perfect opportunity to get creative in the kitchen (HuffPost).
I admit I'm not the "coolest" mom because I had no idea what Num Noms are; it turns out they're collectibles that are adorable and smell delicious.
They have a large variety of characters and come in playsets, plushies, pajamas, miniatures, and popular blind bags.
MacKenzie has assured me that they are ALL amazing, but our task was to create something in the Num Noms Lights Freezie Pop Maker.
The Num Noms Lights Freezie Pop Maker has everything you need to make freezie pops.
A small bowl
Small spoon
3 flavor packs: cotton candy, pineapple, blue raspberry
Num Nom stand
Num Nom Crazy Creations recipe book
Instructions
3 Num Nom holders (including 1 that lights up)
MacKenzie created a video of her making the Key Lime Num Nom Freezer Pops.
It was simple enough.
She gathered the supplies.
For the recipe found in the Num Noms Recipe booklet, she used milk, condensed milk, and fresh lime juice.
They turned out great.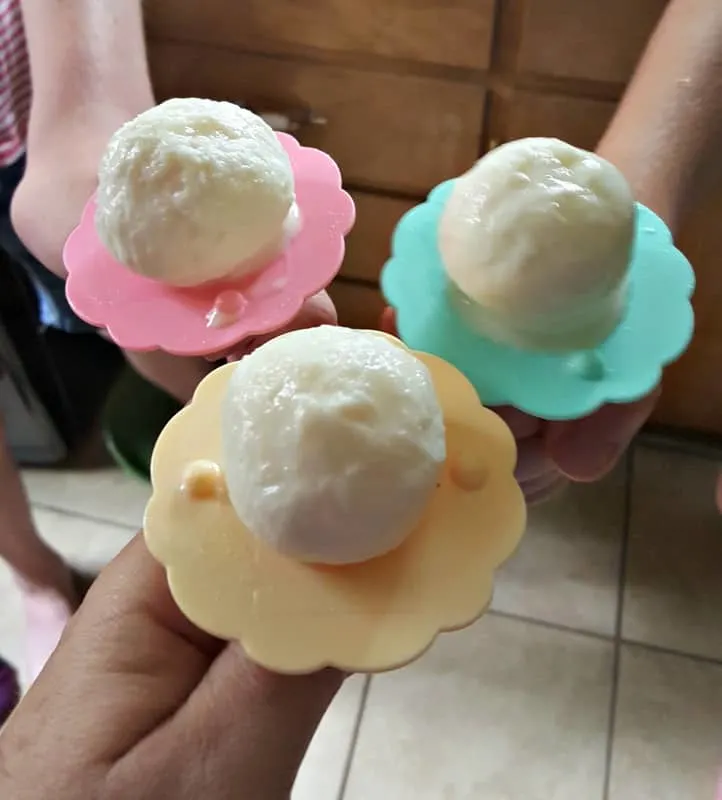 They were so easy to make, she decided to make a new batch using the Num Noms flavor packets.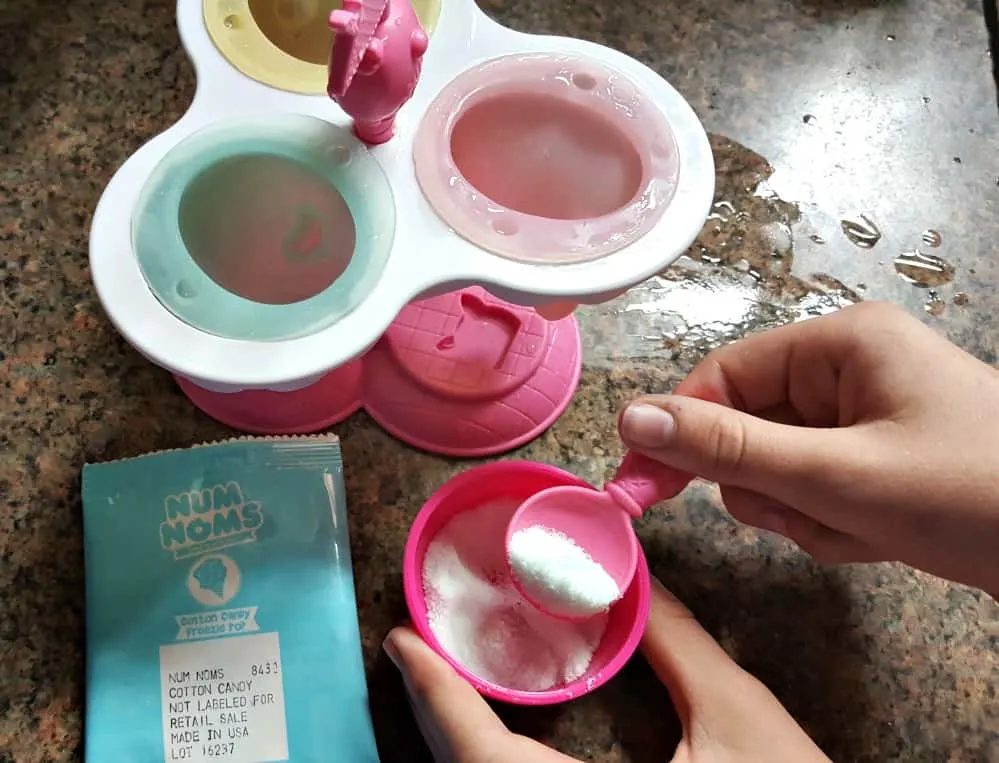 The packet says it makes three, but she opted to use each pack to make one freezer pop.
I try not to ask too many questions, so I just let her be a kid.
Once she had the packet mix in the bowl, she added water to the fill line on the small (included) bowl.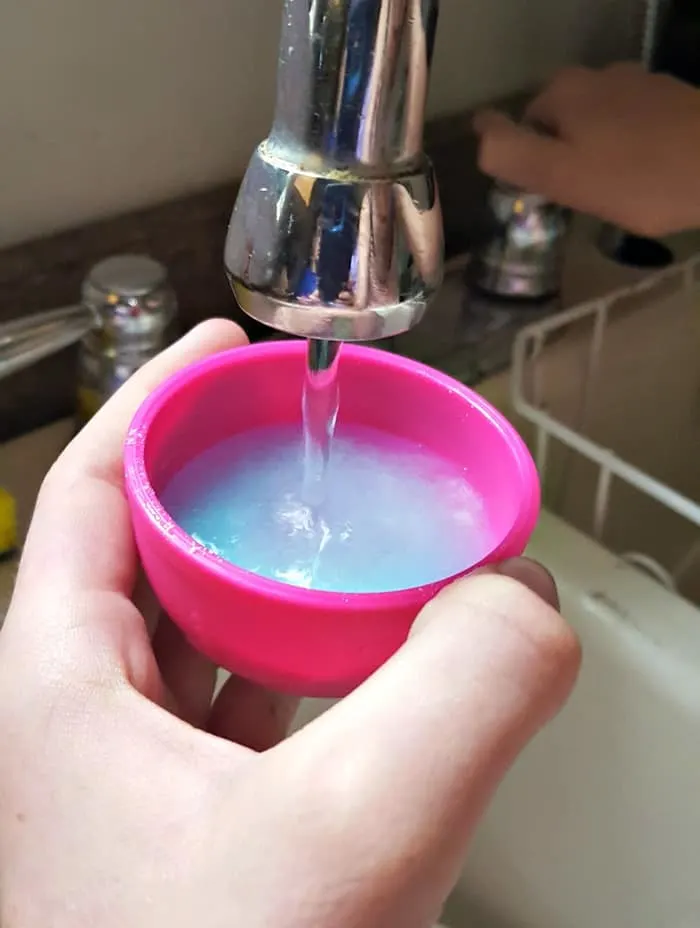 Then she set to mixing.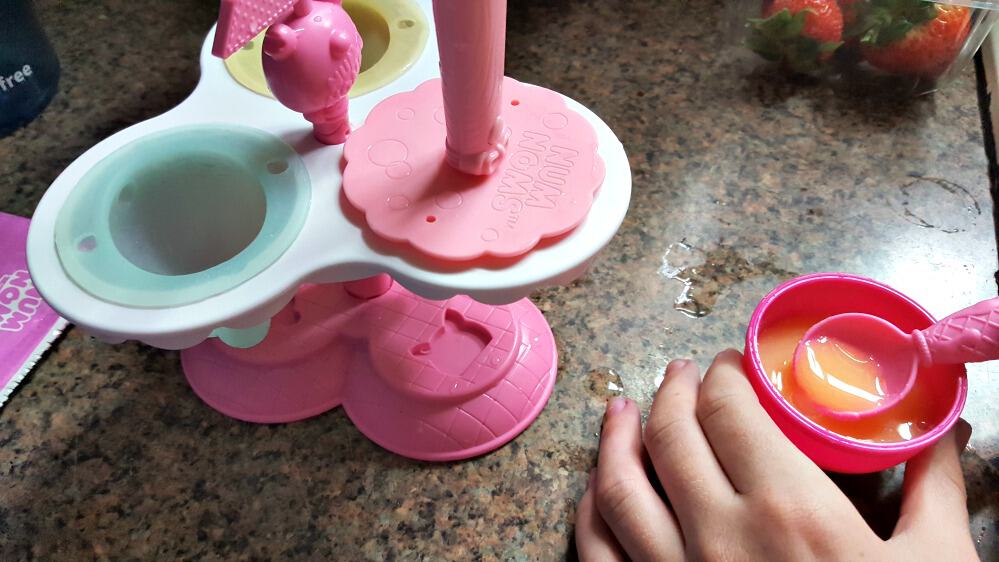 Okay, I did speak up and tell her the powder had to be completely dissolved before she transferred it to the molds.
I also supervised, so the molds were already on the stand, upside down, so she could just pour the mixture in once she was done stirring until it dissolved.
I'm a mom.
It's my job.
Once she had the three molds filled, she added the freezie pop sticks.
There is one that is a LIGHT UP stick.
It's super fun.
You press a button, and it changes colors when you push the button on the side.
It's awesome.
It also creates sibling rivalry because, well, you guessed it, there's only one.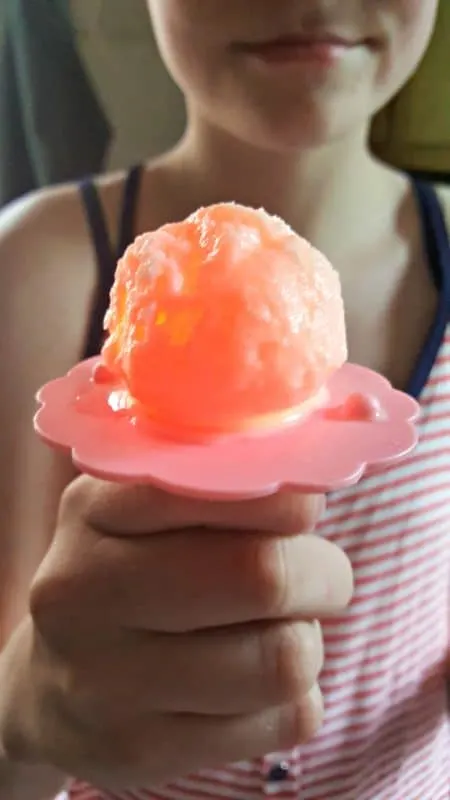 Needless to say, MacKenzie got it.
Here it is with the orange light on.
It blinks through a series of colors.
We've been warned.
This stick is hers.
Trust me.
We had no further questions.
The molds snap into place.
It's a nice feature.
Then she moved the filled molds from the counter.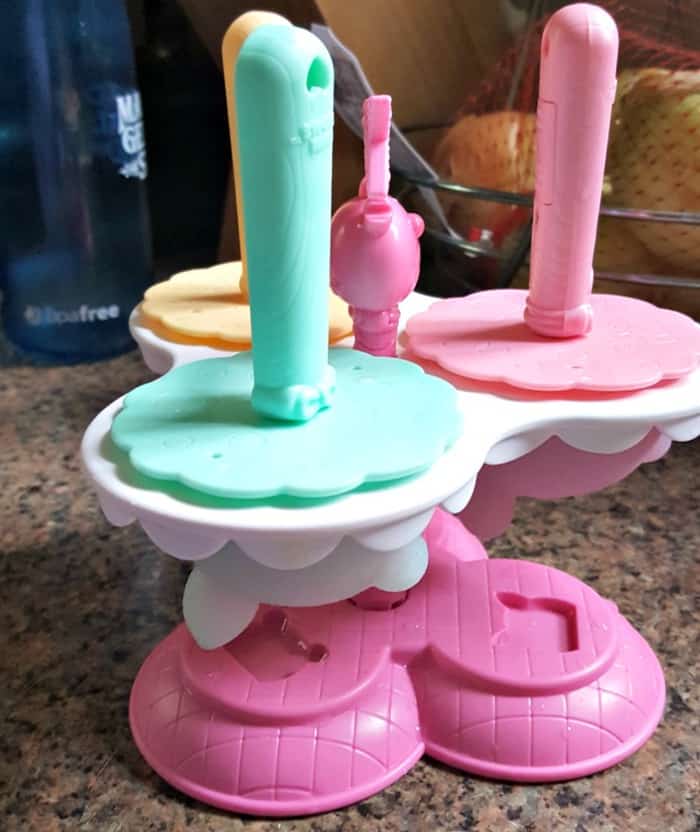 To the freezer to rest for six hours.
We let ours sit overnight.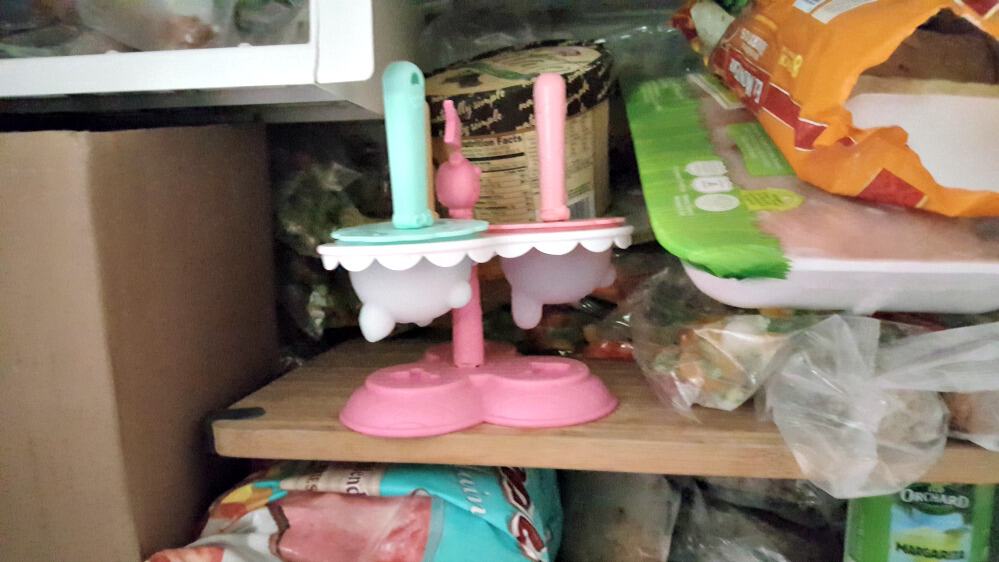 Then MacKenzie made another movie revealing the freezie pops.
It's from her original recipe for Key Lime Pops, which were my favorite!
She did struggle with getting the silicone mold off the freezer pop.
You have to grab it and tug. Li'l Man had no issues whatsoever.
The Num Noms Freezie Pop Maker has been getting a lot of use.
I love that it makes small batches, so ingredients go a long way.
It's going to be perfect this summer, and now that she has the hang of how the recipe and molds work, she can create her #numnomscrazycreations or use that hashtag to see what others are creating and be inspired.
Grab your own Num Noms Freezie Pop Maker for endless fun and unleashing your creative, crazy pop imagination!