Nope! A Tale of First Flight by Drew Sheneman
Nope! A Tale of First Flight is a book about courage and a delightful read.
It is bringing truth to the term picture book, Nope! A Tale of First Flight by Drew Sheneman, which we received in exchange for a review, is about a little bird who isn't sure he can quite yet fly. It's almost wordless.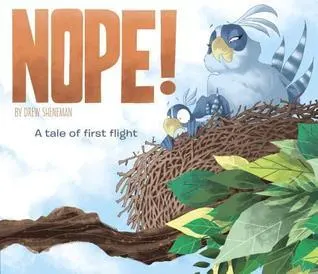 The book is done in a graphic-novel style as we follow the story of a very nervous offspring and a caring mother. The little bird peers over the side of the nest, and the height terrifies him. At second glance, imaginary threats fill his mind–things like wolves circling below waiting for him or a hungry cat hiding.
The mama bird is patient but soon needs to take matters into her own hands.
The illustrations have a great sense of timing, and the few words create a rhythm. I love that it's so fluid and then punctuated with a powerful "Nope!" only to resume its fluidity.
The mother bird is presented as a patient, loving, and understanding mom.
The little bird is sweet, then obviously fearful, and it's all captured so well in the artwork.
My children are older than the recommended age of 2-4, but I still got the message that sometimes life's moments are filled with fear and bravery.
Joanna Cardenas at Viking has pre-empted two debut picture books by editorial cartoonist Drew Sheneman. Nope tells the nearly wordless story of a baby bird who isn't so sure it's a good idea to leave the nest, and Don't Eat That! is about a misguided bear looking for a post-hibernation snack.
About the Author:
Drew Sheneman is an author, illustrator and nationally syndicated cartoonist. He has been drawing professionally since 1998 after becoming staff editorial cartoonist of The Star-Ledger, New Jersey's largest newspaper. Drew has won The Charles Schulz award from Scripps Howard, The John Locher Award from The Association of American Editorial Cartoonists and The Deadline Award from The Society of Professional Journalists. Nope! is his first picture book.