When I was eleven the women on my street were swooning over Neil Diamond. It was that remake of the 1927 film, The Jazz Singer, that brought Neil Diamond to my attention. While I didn't see The Jazz Singer, I was a member of Columbia House and I checked the box that sent me the album that played over and over on my turntable.
I have a confession; I love Neil Diamond. Those women my friends called "Mom", were squeezing over Neil Diamond due to his incredible voice. Am I right?
Then life moved forward, and Neil Diamond was replaced in my teenage years by Michael Jackson, U2 and Bon Jovi.
Sometime in the 1990s, I bought a Neil Diamond Greatest Hits album, and my memory came back. I still loved his voice. I loved his lyrics. I didn't have friends whose mother's got giddy over Neil Diamond anymore. Instead, his music was my secret indulgence.
Then Caroline Rhea had that talk show, and I would turn up her intro to hear Neil Diamond sing, "Sweet Caroline." That song is such feel-good!
Then I went to work in 2004 and had this amazing supervisor. Her two greatest loves are Tom Jones and Neil Diamond. You know I loved her! She was younger than me, and that love she had for Mr. Diamond might make my Bon Jovi obsession look tame. I pulled out my Neil Diamond and welcomed an old friend back.
Diamond was the winner of a Grammy Award for his soundtrack to the movie Jonathan Livingston Seagull; Diamond recorded over 40 albums and sold over 100 million records. Before becoming known as a singer, he gained fame for writing "I'm a Believer," a song that became a hit for The Monkees. Diamond's first hit, "Solitary Man," was released in 1966.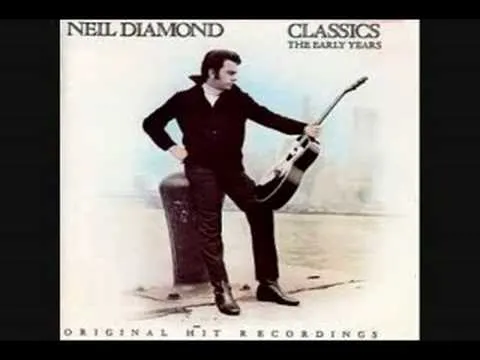 These days, I'm still crushin' with the very Best of Neil Diamond. It's the ultimate Neil Diamond Collection with 23 classic hits together for the first time on one CD.
Neil Diamond Classics, The Early Years
Track List:
1.) Forever In Blue Jeans
2.) Beautiful Noise
3.) Love on the Rocks
4.) Cherry, Cherry
5.) I am…I said
6.) Sweet Caroline
7.) Cracklin' Rosie
8.) Play Me
9.) I'm a Believer
10.) Girl, You'll be a Woman Soon
11.) Holly Holy
12.) Solitary Man
13.) Song Sung Blue
14.) You Don't Bring Me Flowers (with Barbra Streisand)
15.) Hello Again
16.) Red, Red Wine
17.) If You Know What I Mean
18.) Brother Love's Traveling Salvation Show
19.) Pretty Amazing Grace
20.) Kentucky Woman
21.) Shilo
22.) America
23.) Hell Yeah
This album proves with every song why Neil Diamond has withstood the changes in music and continues to be great!
It's available on iTunes and Amazon.com, and music retailers across the country.
*I received The Very Best of Neil Diamond in order to facilitate an honest review. The opinions, where expressed, are my own and were in no way influenced by the sponsor. Others experiences may vary.