Hydration doesn't have to be boring. MyBevi creates unique products for hydration using double-walled vacuum insulated stainless steel.
About MyBevi:
Founded by Jeff Rohe, who created Retail Resource Group, one of the first in the travel drinkware industry, the MyBevi brand is part of their vision for innovative quality and unique design.
Between 1998 and 2016, Retail Resource Group had Quench Hydration Products (for cold beverages) and Savor Premium Drinkware (for hot beverages), two successful brands sold in the United States and Canada at the largest retail stores.
RRG then decided to combine the two brands to create a larger, multi-faceted use under the brand name, MyBevi.
Products created under the MyBevi brand complement its motto: "Drink Life to the Fullest."
The brand's hydration products are as unique as each individual and fit in with life with style, reducing the waste of single-use beverage containers.
Whether you prefer the classic water, or a robust, dark gourmet coffee, MyBevi has the beverage companion to enjoy your beverage, at the perfect temperature, in style.
MyBevi Quality
Created with superior triple layer insulation, MyBevi offers the highest quality vacuum insulation technology.
This ensures your beverage is consistently at the perfect temperature–whether hot, cold, or fresher than any other brand's container.
MyBevi offers a variety of sizes, designs, and pricing for their BPA-Free, double-walled vacuum insulated, 18/8-304 premium food-grade stainless steel containers.
The Ring Lid technology available on the MyBevi Classic makes it easy to grab and sip.
I received a MyBevi 26-ounce Classic Tumber and a 20-ounce Hollywood Tumbler for review.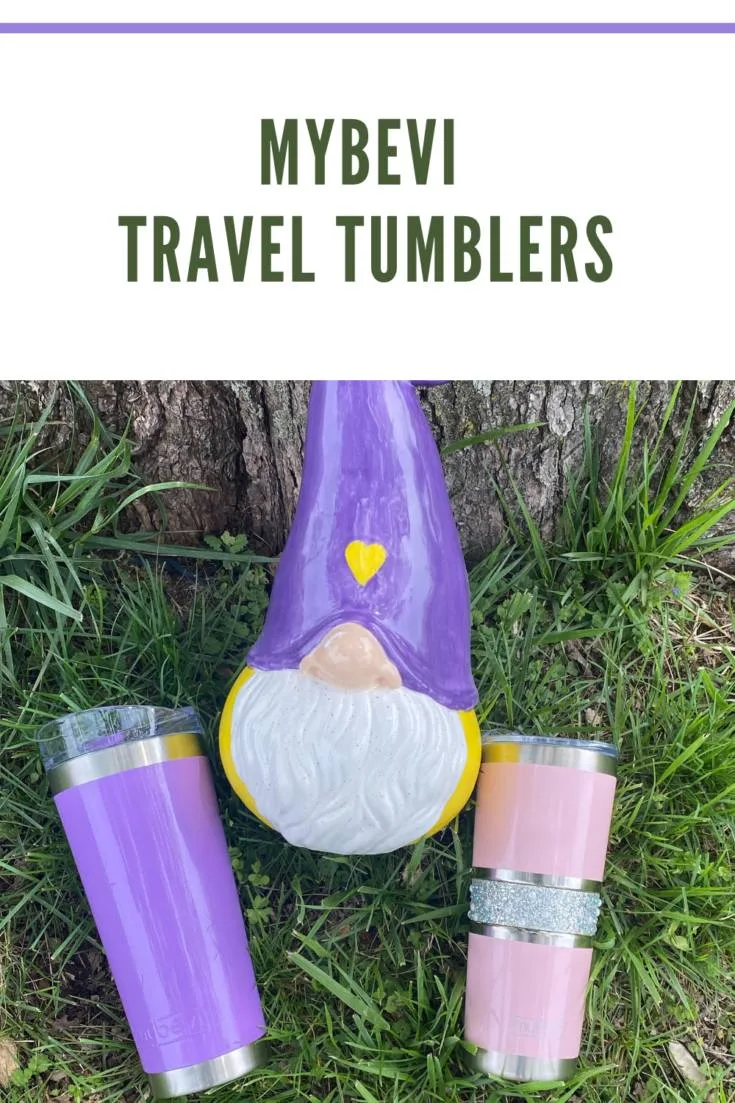 MyBevi 26-ounce Classic Tumbler with Carry Ring Lid
This classic BPA-free tumbler features a carry ring lid and is a larger, stainless steel tumbler nicely priced at $20.
Available in color choice of:
Amethyst

Aqua Sky

Black

Brushed Steel

Candy Pink

Coral

French Blue

Green Ash

Mandarin Orange

White
This tumbler offers a tapered bottom for easy holding in the hands and most automotive cup holders.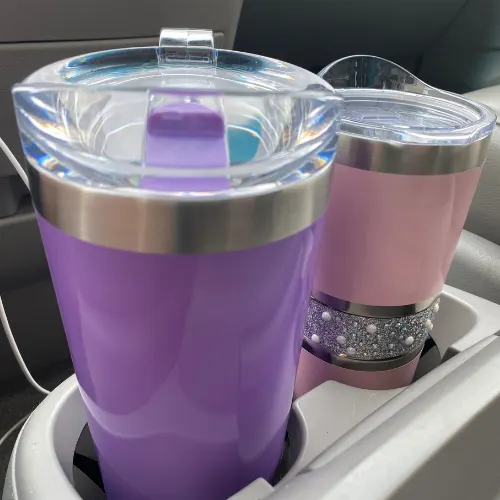 It offers Copper Coating on the outside of the inner liner, with an easy thread one and off Carry Ring slide tab closure lid (straw hole compatible) and a removable lid slider for easy cleaning.
The outer wall offers 0.5mm of stainless steel and an inner wall of 0.4mm with a vacuum layer between the two to keep beverages at the ideal temperature for an incredibly long time.
It may sound like a tumbler from a competitor, but the lid will have you rethinking any similarities.
The unique Carry Ring Lid offers a threaded lid, so there are no accidents of it popping off.
A ring on the back makes this easy to grab and carry. It holds 26 ounces of fluid.
The lid features a colored lid slider that switches between open and closed positions with slight pressure from your thumb.
Removes easily for cleaning, and adding a straw is a cinch.
It's little things like these that make MyBevi more convenient and functional.
Note: This lid is NOT spillproof.
While the 26-ounce Classic Tumbler is too large for my coffeemaker, that's not my deal-breaker.
The wide mouth of the cup allows easy pouring from my pot into the vessel is easy.
Sometimes I get sidetracked, work is busy, and I don't get back to my coffee.
One day it was three hours since I filled my cup, and when I took a sip, the coffee was still hot and tasted as I had just made it.
I love that this giant 26-ounce tumbler fits my vehicle cupholder (I drive a Honda Odyssey van).
Road trips just got better.
The MyBevi 26-ounce Classic Tumbler with carrying Ring Lid is $20; it is available directly from the manufacturer on the
MyBevi Website
.
MyBevi HOLLYWOOD 20 OZ. TUMBLER
Hydration is necessary, but MyBevi proves it doesn't have to be boring with their Hollywood 20-ounce tumbler.
This stylish vacuum insulated stainless steel travel tumbler is loaded with bling.
At the same time, it keeps cold beverages cold and hot beverages hot courtesy of the double-walled vacuum insulated, 18/8-304 premium food-grade stainless steel container.
Like MyBevi's other products, this Hollywood tumbler is BPA-free.
The grip is comfortable with a tapered body that fits most vehicle cup holders.
I can continue to talk shop with a copper coating on the outside of the inner liner, the upscale, polished steep rim top, and the base cap.
The nifty thread on and off slide tab closure lid (works with a straw), but honestly, I just want to talk bling.
The Hollywood tumbler has a unique jewel band decoration that sparkles!
MyBevi skips the layer of glue on bling and instead adds a strip of metal around the cup where the sparkles seem to be more "one" with the band than "attached" to the band.
The metal bling band nestles between two thin silver bands.
Different light angles and lighting changes the sparkle and colors, creating a stunning, unique addition to the travel tumbler.
Note: This lid is NOT spillproof.
The MyBevi 20-ounce Hollywood Tumbler with carrying Ring Lid is $25; it is available directly from the manufacturer on the
MyBevi Website
.
Final Thoughts:
MyBevi products are stunning travel tumblers created with high-quality materials that keep beverages at the preferred temperature (hot or cold) and fresh for an incredibly long time.