The cover lured me with the darkness broken by the dancing fire. Looking for a new book, and a fondness for True Crime, I bought Gitchie Girl, written by husband and wife, Phil and Sandy Hamman.
Immediately it was different. The attention to detail was vivid, but the tone wasn't typical of my usual True Crime reads. The cadence of the words seemed, perhaps lighter and then, as the story unfolded, it felt personal.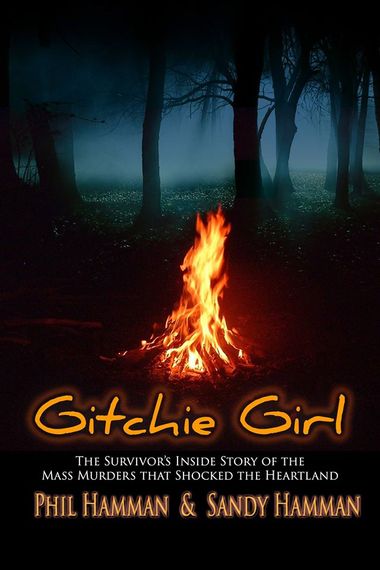 Gitchie Girl took me back to a night when the fog grew thick and ominous at Gitchie Manitou State Preserve. The night of November 17, 1973, was a last-minute gathering of five teenagers, Roger Essem 17, Mike Hadrath 15, Stu Baade 18, Dana Baade 14, and Sandra Cheskey 13, all from Sioux Falls, South Dakota.
The four boys had been late in picking up Sandra, as they had searched for someone who'd sell them marijuana. Between them, they had come up with $2. It was all the extra money they had. Eventually, they had found someone who would sell them just $2 worth of weed. One joint. The teenagers passed it around as they sat around the campfire.
"Who are you? What do you want?" They were the last words spoken by Roger Essem. The reply to his questions was a gunshot blast that echoed through the darkness and fog and crumpled Roger to the ground.
Moments earlier, the five teenagers, had engaged in conversation and listening to music, gathered around a crackling fire. The laughter was interrupted by rustling brush, snapping twigs and movement just beyond the treeline.
Each had been spooked.
Each had looked at another and then wrote it off as an active imagination set loose by the darkness and the fog moving into the area.
Now, one lay in the darkness and four ran in search of a hiding place.
Three dark shadows yelling, "We are the police!" and "We know you have drugs!".
Before sunrise, three more would be executed.
It's a tragedy beyond imagination. A heinous crime that took lives and innocence. Four lives claimed in Gitchie Manitou State Preserve (you can learn more on Wikipedia). Why one, the female, was spared, is questioned.
A crime that took place in a town so tiny that crime tape had never been needed.
A small-town sheriff who followed his gut and believed the lone survivor, seems to rise from the darkness and become the unlikely hero.
Three brothers, in their twenties, all convicted felons. One on work-release from the Sioux Falls jail. A poor day of pheasant hunting, and an evening of deer poaching–still empty-handed, they made a decision to ambush a campsite filled with teenagers and leave behind a crime scene that would be one of the midwest's most horrific mass murders.
It's a story 40-years old.
A story pitted with rumors of a drug deal gone bad, that the sole survivor knew the killers.
Perhaps, it's just that we always want things tidy.
We want to blame the murder on a scorned lover, rivalry deals gone bad.
Could it be that sometimes, evil really does lurk in the shadows?
Or maybe it's that Gitchie Girl wraps up too tidy.
In a strange twist of events, Sandra, while riding with Sheriff Vinson, began shouting from the backseat, "That's him! That's one of them!"
Allen Fryer, the man who had raped her, had just pulled out of the farmhouse they were looking for, driving the same truck she had been in the night her friends were murdered.
From here the book changes. It morphs from a true-crime story to one about the human spirit. It becomes the story of Sandra, the only survivor that night.
It's a story of courage as she is called on to testify at trials for over 1.5 years, missing school to find justice for her friends, and most likely seeking silence for the haunting memories.
It's about a victim of a horrible crime, who is told by friends that they are no longer to associate with her.
A story about a rape survivor, that shows even after forty years, society still thinks backward. Asking what she had done to deserve it. Blame is put on material things, like was she wearing something revealing? She's thought to be promiscuous, though she was a virgin the night of the rape. it's still the stigma of rape.
Sandra continued to be a victim, though not by choice. The name of the book, Gitchie Girl, originates from kids at school and people in her community pointing and whispering,
"That's her, that Gitchi Girl who was with the boys who were murdered."
It's the book, where for the first time in four decades, the lone survivor speaks–
"I could have handled the stares and the whispers. It was being excluded, ignored and being made to feel I didn't exist that crushed me."

Sadly, it's the story of a high-school dropout. A girl whose life spiraled out of control; turning to pills and booze to cope with what had happened in that lonesome wilderness.
A girl who cried uncontrollably, begging God to let her dream about the boys so she could tell them how brave they had been. A girl thankful she had been spared and then cursing life and demanding to know why she was allowed to live when the others had died?
It's a story of survivor's guilt.
Mostly, it's a story of healing. Of finding strength within herself. Having the courage to set the rumors straight and share her story, with Phil Hamman, a close friend of one of the boys whose life was cut short by the Fryer brothers.
Phil and Sandy Hamman write a story that follows the timeline etched between the pages of Gitchie Girl, not just of that night, but through the decades after, as they share the story of Sandra Cheskey.
It's her story and one that most likely changes the stigma of the name, "Gitchie Girl".
---
This post was featured in The Huffington Post 4/27/16