I received Mirai Clinical in exchange for this post. All opinions are my own.
Elegant Blossoms Unveiled: Introducing Mirai Beauty
Ah, wanderers of refined taste, let me whisk you away to a realm of transcendent beauty. In the heart of ancient traditions, where grace and allure unite, Mirai Beauty blooms like a delicate cherry blossom, enchanting all who seek the secrets of timeless allure.
With brushes poised like the wings of a butterfly, Mirai Beauty reveals the true essence of a Geisha's artistry. Allow your visage to become a canvas, where delicate strokes of the finest brushes create a masterpiece fit for an empress. Every curve, every contour, transformed into a vision that radiates ethereal elegance.
Bathe your skin in the gentle touch of our exquisite skincare rituals, where the secrets of centuries-old wisdom blend with the miracles of modern science. Unveil a radiant complexion that rivals the luminescent moon, as you harness the power of nature's blessings and delicate geisha rituals.
In the realm of captivating fragrances, Mirai Beauty whispers tales of enchantment, as each perfume weaves a symphony of scents. Embrace the exquisite notes that dance upon your skin, carrying you to the heart of the cherry blossom groves, where beauty is both seen and felt.
Within our sanctuary of elegance, Geisha-inspired adornments await. Jewels that reflect your inner radiance, accessories that whisper secrets to the wind. Adorn yourself in the essence of grace, and let your soul blossom like a flower in full bloom.
Mirai Beauty, a haven where timeless allure reigns supreme. Embrace the allure of the Geisha and discover the pinnacle of your own beauty. Step into our realm, dear wanderer, and unlock the secrets that lie within your own reflection. Let Mirai Beauty guide your journey, and together, we shall create an everlasting masterpiece.
Enter the realm of Mirai Beauty today and surrender to the embrace of timeless elegance.
Our Mirai Beauty Review
When it comes to skincare, I find the older I become, the more effort I put into it. Some beauty regiments have backfired and left me with irritated skin, clogged pores and less than desirable results. I also have no sense of smell, so body odor is something I fret over.
I've heard people talk about how "old people" smell. I didn't really give it much thought, but since my birthday this weekend, I've realized, I'm almost 50, some people might call me "old people".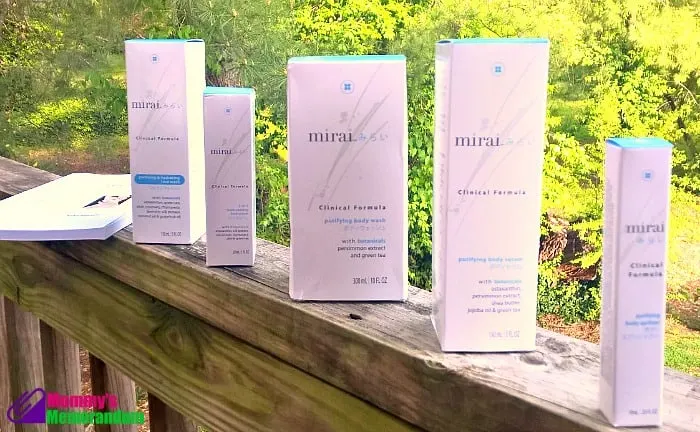 Thankfully, Mirai Clinical is looking out or me. A new skincare line from Japan, whose main focus is anti-aging technology, including a Purifying Body Care system that includes anti-aging your body odor!
Mirai Clinical's Purifying system includes soap, body wash, and body spritzer.
Turns out that "old people" smell is also known as Nonenal (NCBI). It's a naturally-occurring compound that develops as a body matures. You don't have to be old to use the Mirai Clinical system; it works for all types of bodily scents–even the ones that creep up when you fail to use deodorant.
Mirai Clinical uses persimmon tannin. It comes from the dark orange Asian fruit that you may have tried from the grocery store. The fruit is picked before it ripens, while still green, and squeezed to produce a tart juice. You could drink the juice, but the natural astringent from the juice makes it a great skin application that removes the bacteria that can cause body odor.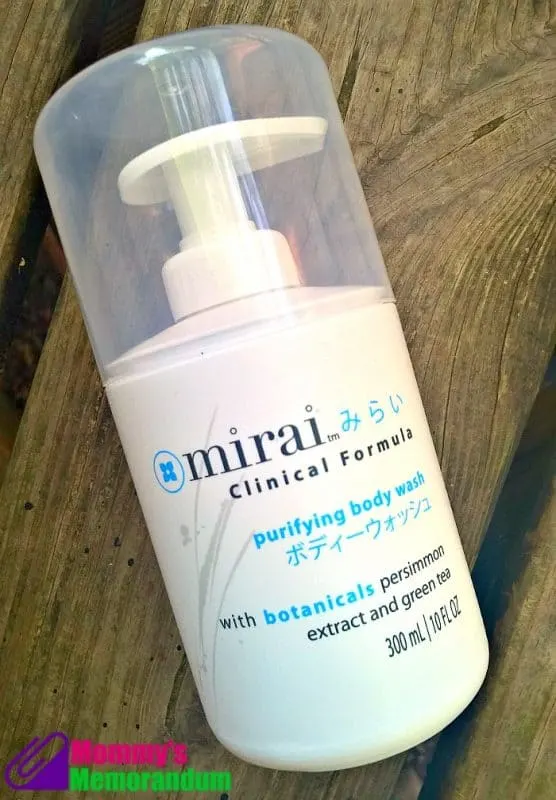 Mirai Clinical BODY WASH
I have been using the Mirai Clinical BODY WASH. My husband says it has a very faint citrus scent. It contains persimmon tannin and green tea. A little goes a long way. I pump once and clean my upper body and use a second pump to clean the bottom half of my body, including my feet. It lathers nicely on my shower pouf and doesn't dry out my skin. I leave the shower feeling very clean but not stripped of moisture.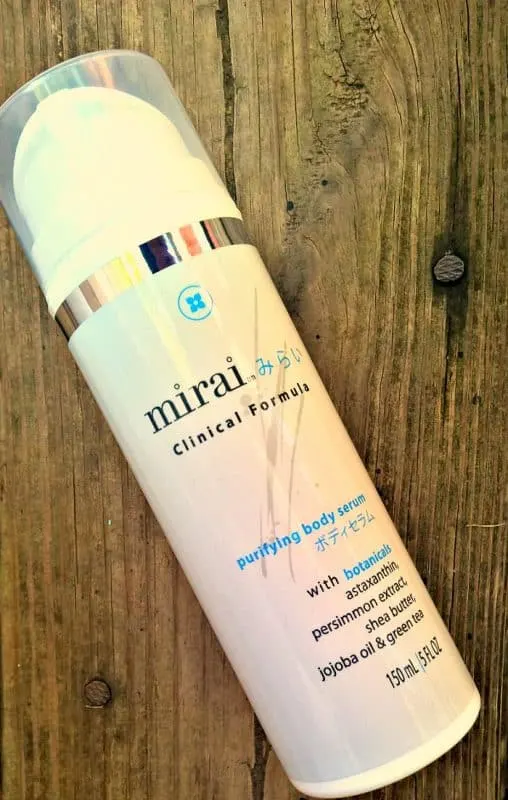 Mirai Clinical BODY SERUM
I follow the Mirai Clinical BODY WASH with the Mirai Clinical BODY SERUM. At first, I thought it was peculiar, but then I realized I'm using serums on my face to combat aging; why wouldn't I think using a serum on my body would be an option? I've been using this for about one week and already I can tell you it deeply moisturizes and softens the skin. Areas that were starting to look like crepe paper are more supple and look like younger skin. This serum also contains the world's most powerful antioxidant, astaxanthin.
It's a great beauty routine for my body, helping my skins stay soft and supple and giving me all-day freshness.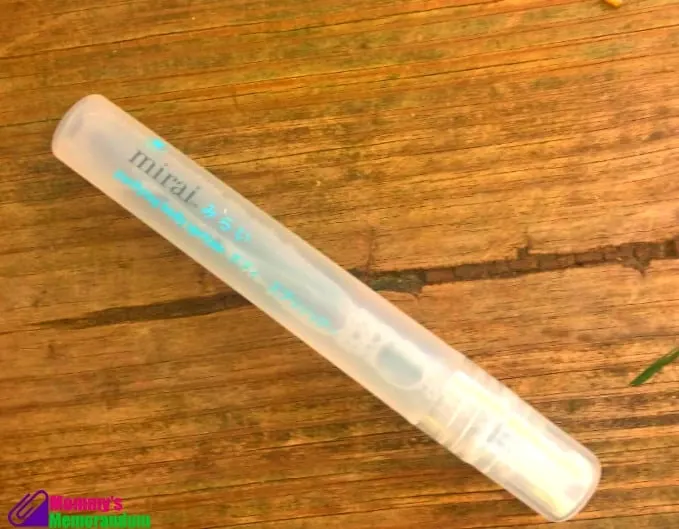 Mirai Clinical BODY SPRITZER
For my finale, out of the shower, I use the Mirai Clinical BODY SPRITZER. It might just be my favorite luxury. It contains the same persimmon tannin and green tea combo as the BODY SERUM and BODY WASH. It's in a petite bottle and a spritz, I find, is refreshing. Out of the shower and any time of the day. I even use it under my arms. It gives me confidence. It has a very subtle citrus–almost grapefruit-like, scent, according to my family.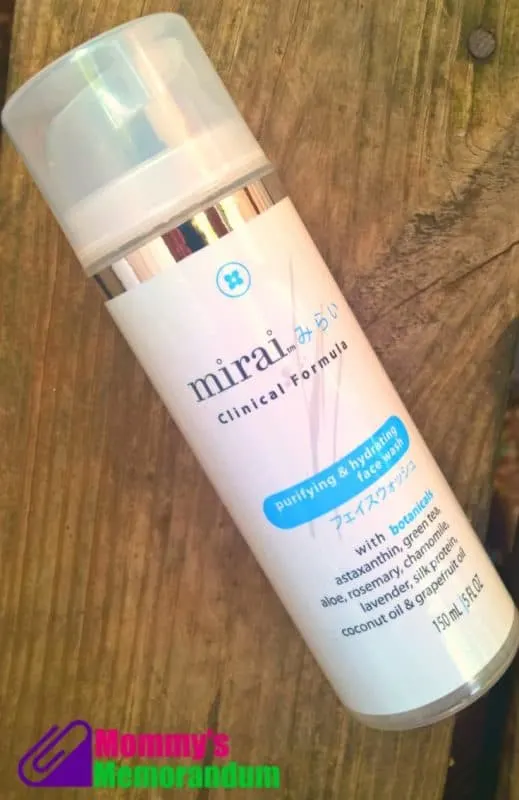 PURIFYING & HYDRATING FACE WASH
My morning and evening face routine also has become about Mirai Clinical. The PURIFYING & HYDRATING FACE WASH is sulfate and toxin free. It gently cleans and moisturizes. A lot of facial washes dry out the area around my mouth and chin. The Mirai Clinical has not. In fact, it uses natural, clinically proven ingredients hydrate, prevent dryness, and keep skin supple.
I love that this facial wash doesn't contain synthetic detergents or coloring. It has a light grapefruit scent. One bottle will last about 60 washes. A little goes a long way. The airless pump bottle ensures I use every last drop!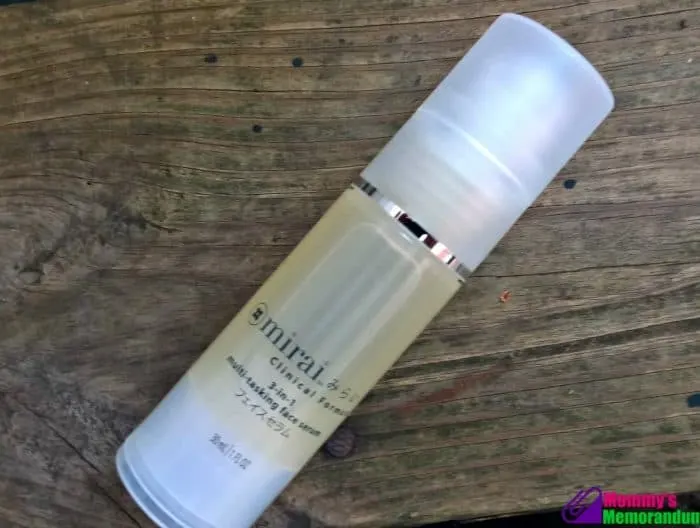 And I love simple. The Mirai Clinical 3-in-1 Multi-Task Facial Serum is a toner, moisturizer, and age-defying serum in a single application. It feels amazing on and contains clinically proven botanicals, including axtaxanthin and helps prevent and diminish dry skin, age spots, and wrinkles. I can go bare-faced or it is an excellent primer or makeup–used by geishas before their makeup.
This Mother's Day, give the woman you love Mirai Clinical:
Currently available in two of their most popular sets.
Body Care Gift Set $77
Purifying & Deodorizing Body Spritzer-10mL
Luxuriously wrapped in furoshiki fabric from Kyoto, Japan.
Face Care Gift Set $73
3-in-1 Multi-Tasking Face Serum.-30mL
Purifying & Hydrating Face Wash-150mL
Luxuriously wrapped in furoshiki fabric from Kyoto, Japan.
At this value, you can afford luxurious beauty for loved ones or yourself — the perfect way to de-stress and establish a new routine of affordable yet luxurious beauty. Mirai Clinical's mission is to develop the most naturally safe and exceptionally effective products for body care and skin health, and is founded on the holistic Japanese practice of "less is more": the less products you use, the healthier your skin.
Find Mirai Clinical's Purifying system online and discover the beauty secret of geishas.