We all know what it is like. We have taken the kids on vacation, or are going on a road trip, and the weather turns. Suddenly, all of our plans to explore the great outdoors and be at one with nature have gone down the drain – quite literally. All the kids want to do is chill out and watch their favorite shows on Netflix and catch up with their friends on TikTok and social media. Perhaps they have some homework to catch up on, or you need to check in on your emails.
Maybe, you are a freelancer or remote worker, and you have escaped the house for a couple of hours to work in your favorite coffee shop or bar, away from the stress of the kids and chores. You have a big project that needs working on, and an internet connection is essential to be able to complete it.
It is all well and good until you realize that you have very little data left on your phones to act as a personal hotspot, and the public Wi-Fi is nothing short of useless, as well as being insecure when you do manage to establish a connection. What do you do? How do you keep your sanity without spending a fortune on extra mobile internet data on your cell phone?
There is a way. The Muama Ryoko 4G Wi-Fi Router. This handy little gadget could be the answer to all of your problems.
Here, we are going to look at exactly what it is, how it works, and whether it is worth buying.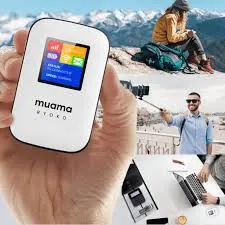 What is the 4G Wi-Fi Muama Ryoko Router?
The Muama Ryoko is a portable router that you can take with you wherever you go to make sure you get a good Internet connection.
While in many areas, public Wi-Fi is accessible, it is not always the most secure or reliable option and the Muama Ryoko solves these problems.
It also allows up to ten devices to connect to the router at one time, meaning that everyone can join in and do what they need to do, without any arguing or fighting.
It can be used in up to 38 countries worldwide, meaning you do not need to be without secure and reliable internet access.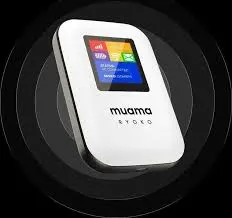 Features of the Muama Ryoko 4G Wi-Fi Router
On the face of it, the device has every feature that you would need for a reliable Internet connection, wherever you are.
One-touch access to the Internet
Secure internet connection
A useful gadget that fits in your pocket
Battery life up to 12 hours
Can be used in up to 38 countries across the world
Fast speed up to 150 Mbs, and 4G/LTE
Up to 10 devices can be connected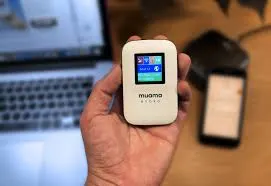 What are the benefits of using the Muama Ryoko 4G Wi-Fi Router?
If you want to have a secure, trustworthy, and reliable Internet connection anywhere and at any time you want or need it when you are on the move, you are usually looking for a provider that offers free WLAN.
However, these contact points are often incredibly busy, and difficult to establish a good connection.
There is nothing worse than settling down to do some work and BANG – you lose your connection.
Well – there is.
Kids stuck in a campervan without the internet on a rainy day.
That can be pretty disastrous!
A portable Wi-Fi router, such as the Muama Ryoko 4G Wi-Fi Router, means you can get online and do whatever you need to do or want to do quickly, easily, cheaply, and securely.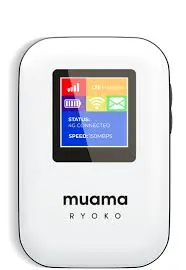 What are the pros and cons of the Muama Ryoko 4G Wi-Fi Router?
We searched the internet for reviews on muama ryoko wifi to compile a list of the pros and cons.
The Pros
There are plenty of pros to the device, including:
It provides you with secure, portable and reliable internet access
It is a compact and lightweight device – it can pretty much fit in your pocket or bag
It does not require cables and wires – you need a working SIM card
It can be used as an Internet phone
It can usually be cheaper than paying for data roaming charges while traveling
Up to ten devices can be connected seamlessly and wirelessly using the 4G network
It enables you to work remotely, giving you more flexibility in your work life and stay in touch with family and friends, wherever you are
It can act as a backup for your cell phone internet connection
It has a longer battery life than your cell phone – up to twelve hours of continuous play
It has an automatic power-off feature during idle times. This means you can prolong its battery life by keeping it on only where it is being actively used.
It has a 30-day money-back guarantee so that if you are not happy with your device for any reason, you can return it for a refund or a replacement
It comes with a one-year warranty. This can also be extended to three years for an additional small fee.
The Cons
No product is perfect, and you must be aware of anything that is less than perfect about the Muama Ryoko 4G Wi-Fi Router.
It can only be bought from the manufacturer's official website at the moment.
There are limited numbers available to purchase.
If the area is a complete Internet dead zone, it will not work. You will be able to gauge whether you are able to receive the internet by looking at your internet-enabled cell phone.
The more devices (remember, up to ten can be connected at once) connected to it at the same time, the slower it will run.
Who is the target group for the Muama Ryoko 4G Wi-Fi Router?
The device is primarily targeted at people who like to work remotely or are often out on the road – keen travelers, for example.
It really is for anyone who wants to sit in the park to work, or the local coffee shop, or who wants to catch up on their favorite shows while on vacation.
Because of its ease of use, it does not matter whether it is older or younger people or whether they are particularly tech-savvy.
As long as they know the basics of connecting to the internet, they will be able to use this product without too much hassle.
Are there any known side effects or problems associated with the Muama Ryoko 4G Wi-Fi Router?
At the time of writing, no significant issues or problems are being reported using the device.
As we have mentioned above, if multiple devices are connected to the router simultaneously, it may slow down the internet and drain the battery faster.
The manufacturers state that the battery will last for up two hours of continuous use; however, it is important to bear in mind that this is a generous statement and that how long it lasts can vary, depending on how you are using it, where you are and how many devices are connected to it.
Muama Ryoko 4G Wi-Fi Router Technical Features list
Information about the device's technical features is sketchy and rather thin on the ground.
However, what we do know is that, according to the manufacturer, it provides up to twelve hours of continuous use without the batter needing to be recharged, up to 150 MBS, and a 4G LTE internet connection.
How does Muama Ryoko work?
It is remarkably simple to use, which is part of its appeal to users.
There are the instructions included, but essentially, you switch it on and connect it to the device you wish to use it with.
To do this, connect the portable router via WLAN in the settings.
Typically, all internet-enabled devices will always look for such devices in the vicinity.
Select the right one and connect the two devices, and it is ready to use.
Muama Ryoko Router Reviews
When looking to purchase a product, it is always important to do some background research and find out what real users who have bought and used the item think of it and any issues that they have experienced.
Most of the reviews that we have found online about the product are positive.
After all, it gives the user access to the internet wherever they are, and that is a good thing.
The main issue that seems to crop up is to do with the life of the battery.
As we mentioned above, the muma ryoko is said to last up to twelve hours, but some users have said that this is not always the case, and it is very frustrating when it when you are in the middle of doing something.
However, you cannot have a charger hanging out of it all of the time, so it is something that users will have to deal with and generally do so very well.
Many got around this problem by taking advantage of half-price and multiple purchase offers and had a spare one in their pocket.
Where can I buy the Muama Ryoko 4G Wi-Fi Router from?
The best place to buy the Muama Ryoko portable 4G Wi-Fi Router is from the manufacturer's website itself.
If you are concerned about the site's security, don't be – it has secure SSL encryption that allows you to pay safely using your credit cards, such as Visa and MasterCard or through PayPal, giving you added buyer protection.
It is currently being sold at half the retail price.
You can also receive additional discounts on top if you are planning to purchase two or more Muama Ryoko devices.
Free delivery is offered in major countries across the globe.
The purchasing process is relatively straightforward.
Add the products to the basket, fill out a form with name, address, and payment details and submit.
Once your order has been received, you will receive an email confirming it for additional peace of mind.
It is then sent out directly to your address within a few days.
With your order, you get a money-back guarantee, so if you are not happy with the results, you can send it back for a replacement or a refund.
There is also a warranty, so if it stops working, you can get it sorted out easily.
You can also pay for an extended warranty for an additional fee.
On the manufacturer website, there is also a handy live chat feature so if you are experiencing any issues or want to know more about the product, you can talk to an expert in real-time.
Muama Ryoko 4G Wi-Fi Router Evaluation and Recommendation
All in all, from our Muama Ryoka review, we believe the product should be rated positively.
The many reviews show that apart from the unavoidable battery issue, the router performs its tasks as it should and to a high standard.
A portable router is always useful if you require a secure and reliable internet connection while out on the go for work or with your family.
As it can be used in up to 38 countries, it is ideal for vacations and business trips.
The smooth and straightforward ordering and delivery process also add to the positivity surrounding this product.
Aside from the battery life, there are no negative points to the Muama Ryoko 4G Wi-Fi router – it is easy to use and generally does a good job.
Information about the shipping provider and manufacturer
UAB Ekomlita
Address: Gedimino g. 45-7, LT-44239 Kaunas
Homepage: https://getryoko.com/
E-mail.: [email protected]
Tel.: +1 (916) 999-9025