Childbirth is one of the most memorable moments of parenthood. As remarkable as childbirth is for expecting parents, mismanagement or negligence during labor can be life-changing. Indeed, it can transform couples' lives and show them new horizons to navigate through life.
Specifically, childbirth injuries encountered by the mother or the baby can be minor or fatal, depending upon the actual situation. Minor wounds can heal during the postpartum period, whereas chronic issues can be life-threatening for the mother and child. Though there can be several reasons for such critical circumstances, mostly carelessness of medics is a significant reason.
It is recommended that the expecting mothers should be aware of the possible complications and seek expert advice. Being prepared in advance can prevent irrecoverable conditions through precautionary prenatal practices.
The following sections discuss frequently occurring injuries during the laboring period and their consequences in detail.
Neonatal and maternal trauma
There are several instances when the newborn, mother or both can experience varying degrees of trauma. As such, laboring can be critical if the child is in a breech position, which means the child's bottom is facing downward.
Such a scenario can create two possibilities for childbirth: vaginally or cesarean section. Breech birth through vaginal delivery presents several complications for the baby, including damage to nerves and limbs.
In the mother's case, birth canal traumas are possible. While complications of breech birth through cesarean section are lower for the baby, the mother can suffer from post-delivery bleeding, wound infections, and issues in forthcoming conceptions.
The impact of such complications can be tormenting beyond expectations. Such impairments can make parents helpless, and at times they seek legal help due to the negligence of the medical personnel, says childbirthinjuries.com.
Hence, severe trauma due to medical negligence can give the newborn and mother lifelong impairment. Likewise, severe birth injuries can further complicate the psychological health of mothers who are already going through postnatal trauma and depression.
Bruises and scratches
In reality, childbearing involves the application of varying forces to extract the newborn out. Most commonly, extreme pressure on limbs during vaginal delivery can cause peripheral injuries of different intensities.
As a result of excessive pulling, inflammation of muscles and bruises are common. Likewise, troubled extraction of the baby from the birth channel can inflict varying injuries to the skull, neck, and face.
In addition, the involvement of several tools, such as scissors, vacuums, and forceps, during a medical procedure can cause bruises and surgical scratches to the baby and the mother. Usually, minor injuries and incisions require simple medication to heal.
As such, hemorrhoids and tears around the birth canal in mothers are often restored during the postpartum period with minimal medical intervention. However, severe complications can result in further surgical procedures.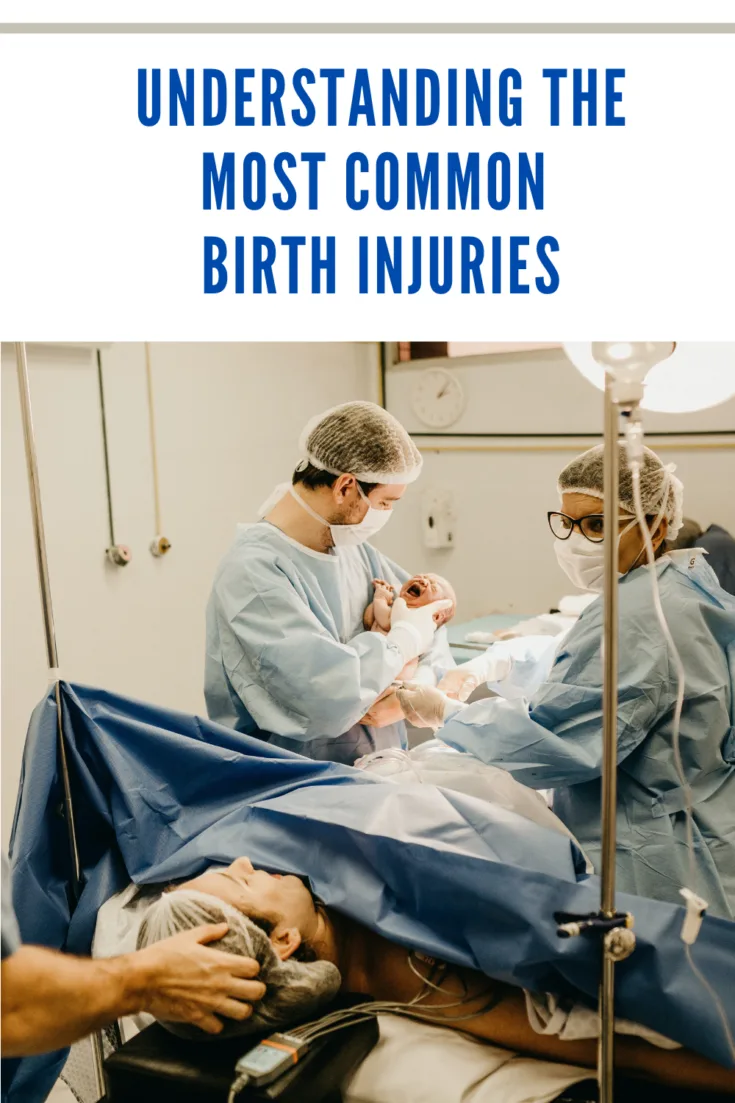 Joint displacement and fractures
Fractures during childbearing are complications of labored labor. Bone cracks or joint dislocation occurs when the baby's position is abnormal. Fractures are also common when the medics are not careful while using tools and physical pressure to deliver the baby.
Clavicular cracks are frequently occurring injuries of the skeleton bones during childbearing. Resultant complications include collarbone damage, dystocia, and dislocation of hip and thigh joints. Other uncommon fractures to the newborn include ribs, humerus, and femur breakages.
Mothers can also suffer from varying fractures and joint discomfort. For instance, pregnancy weight loosens pelvic girdle, and further pressure during childbearing can separate ligaments joining the pelvic bones. The condition, called symphysis pubis, is temporary but can be agonizing and takes few months to recover.
In addition, exertion of a child's head can cause fissures in the tailbone. Most commonly, severe bone and joint injuries can be challenging for the baby rather than the mother.
Cerebral and nerve damage
Troubled labor can be critical for the newborn's nerves and the brain. As such, severe flattening of the umbilical cord and resulting hypoxemia (low oxygen level) can traumatize the baby's nerves or brain. Hence, the newborn can suffer from hypoxemia-driven damage to certain parts of the brain, says birthinjuryhelpcenter.org. The condition is called cerebral palsy.
Cerebral palsy results in lifelong developmental impediments for the child. While checking the oxygen saturation, physicians can effortlessly avoid such a critical situation.
On the other hand, newborns may suffer from nerve damage when the healthcare professionals are not careful in using procedural tools and physical force. The nerve damage occurs when doctors apply excessive physical pressure on the baby's arms and shoulders or carelessly maneuver surgical instruments.
In some cases, excessive pulling force on the skull and neck ruptures cranial or vertebral nerves. Stress on these nerves connections can disturb muscles movement. In extreme cases, disruptions in nerves can even lead to upper and lower limbs' paralysis.
Maternal and neonatal hemorrhage
Hemorrhage during delivery can have varied presentations and complications for the mother and the newborn. Often challenging childbearing can result in several neonatal hemorrhages, including cranial, skin, and gastrointestinal problems.
Mostly premature babies suffer from cranial bleeding due to pressure around their skull during delivery. As a result, newborns face difficulty in feeding, appear exhausted, and may encounter seizures.
On the other hand, hemorrhage can have severe repercussions for the mother. Irrespective of the delivery mode, mothers usually lose blood during childbearing. However, the situation becomes more critical during abnormalities of cesarean section. As a result, extreme blood loss deprives the body of the required amount of oxygen.
The condition of hypoxemia can further damage the pituitary gland, which is one of the essential glands to regulate certain hormones. The condition known as Sheehan's syndrome can have life-threatening consequences for the mother.
Conclusion
Childbearing is a challenging period for a new mother and the child. Indeed, the eagerness to bring a new life is cherishing, but delivery phase mishaps can be traumatizing for the rest of parents' life.
Thus, it is common for expecting mothers to be fearful of childbearing impediments. In practice, many consequences during childbirth are avoidable. The attentiveness of medical professionals can prevent long-term issues for both the new mother and the child.