Never Scrape the Bowl Again
Baking in the kitchen with my kiddos is one of my favorite things. There are moments; however, I hold my breath, like when my five year old wants to use the mixer. Farewell fear, NewMetro Designs has revolutionized the hand-mixer with the MixerMate Bowl!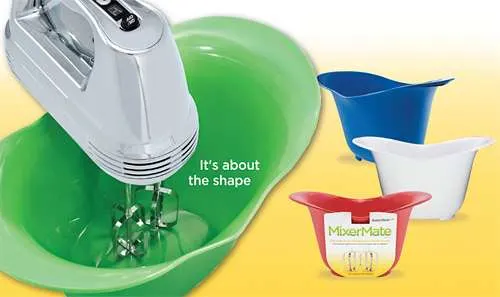 This dishwasher-proof bowl has flexible rubber edges that make scraping the bowl a thing of the past. The hand mixer's blades collect all the ingredients and mix with tornado-like action more thoroughly than ever before. There's no need to stop the mixer; use a spatula to scrape the sides of the bowl and resume where you left off, reducing mixing time by up to thirty percent.
I no longer hold my breath when the mixer is set into action by my son as the MixerMate Bowl has a non-skid base to prevent slipping, even when he fails to hold the bowl. There's a soft-grip under the handles for ease, and the three-quart capacity makes it the perfect size for our favorite brownies, cakes, icings, and whipping cream. Thanks to the pouring spouts on all four sides, pouring our batter is a cinch!
I was leery about the cleanup as the bowl seemed narrow; however, after mixing up Chocolate Sandwich Cookies, I discovered it cleans easily by hand and takes little room in the dishwasher. I love the ease!
A specially designed dish, it features a funneled shape to create a tornado-like action.
With this effect, the MixerMate Bowl provides optimal mixing, and its high walls also ensure that all the contents stay inside.
The MixerMate Bowl comes in coordinating colors of green, blue, white, and red to complement any kitchen decor and comes with a one-year warranty. It has an MSRP of just $16.95. For more information about it or any of NewMetro Designs' other unique kitchen solutions, please visit their website.
I received a MixerMate Bowl in order to facilitate an honest review. No other compensation was received. The opinions, where expressed, are my own and were in no way influenced by the sponsor. Other experiences may vary.