I received samples of Mrs. Meyer's Clean Day Dish Soap in exchange for this post.
When it comes to my kitchen I want clean and that extends to my dishes.
I don't like to put the brakes on a meal when I pull out a dish from the cupboard that's dirty.
Most of our dishes are dishwasher safe, still, from a childhood where clean dishes were the expectation, we wash them by hand first!
We have been using Mrs. Meyer's Lavender Clean Day Dish Soap and I love it!
It is a formula that takes on grease and leaves a squeaky clean dish!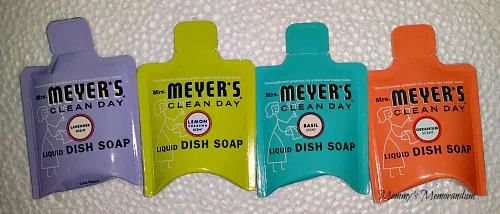 I love that it is a concentrated formula that comes from Soap Bark Extract, a natural ingredient from a garden that has mega power against grease.
A little goes a long way so it's budget-friendly without skimping on results.
In addition to the lavender and its relaxing scent that revitalize the senses, we were also able to experience three other amazing scents from Mrs. Meyer's Clean Day line:
Lemon Verbena:
a wonderful citrus scent that's refreshing and picks you up!
Basil:
Cool, crisp scent that revives the senses and clears the head.
Geranium
Geranium a refreshing floral scent.
All have cleaning power!
Check out Mrs. Meyer's Clean Day Dish Soap and discover a new, natural clean!
Discover your own Mrs. Meyer's Clean Day with a full range of products and fragrances to make your house a home, without the smell of heavy chemicals, yet clean enough for anyone who walks through the door!