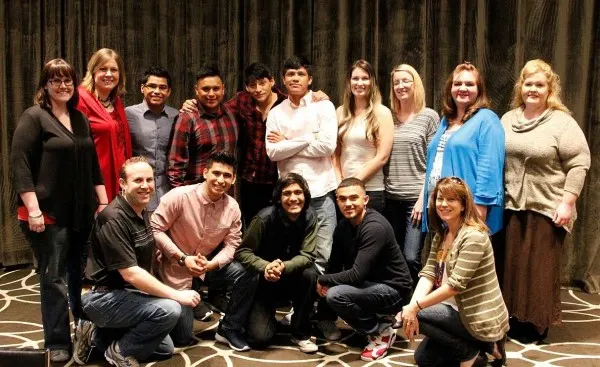 McFarland, USA, is in theaters now. Earlier this month, I met with the seven actors who portray the McFarland, USA 1987 Cross Country team to make movies and McFarland.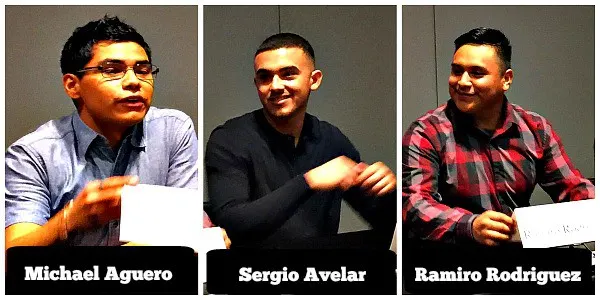 One of the things that take the full movie circle is that this was more than a group of actors, three out of the seven young actors on the team in the movie are from the McFarland area—Sergio Avelar, who plays Victor Puentes, and Michael Aguero, cast as Damacio Diaz, are actual runners and Ramiro Rodriguez, as Danny Diaz, was a champion soccer player.
Based on the 1987 true story, "McFarland, USA" follows novice runners from McFarland, an economically challenged town in California's farm-rich Central Valley, as they give their all to build a cross-country team under Coach Jim White (Kevin Costner), a newcomer to their predominantly Latino high school. Coach White and the McFarland students have a lot to learn about each other, but when White starts to realize the boys' exceptional running ability, things begin to change. Soon something beyond their physical gifts becomes apparent—the power of family relationships, their unwavering commitment to one another, and their incredible work ethic. With grit and determination, the unlikely band of runners eventually overcomes the odds to forge not only a championship cross-country team but an enduring legacy as well. Along the way, Coach White realizes that his family finally found a place to call home, and both he and his team achieve their kind of American dream.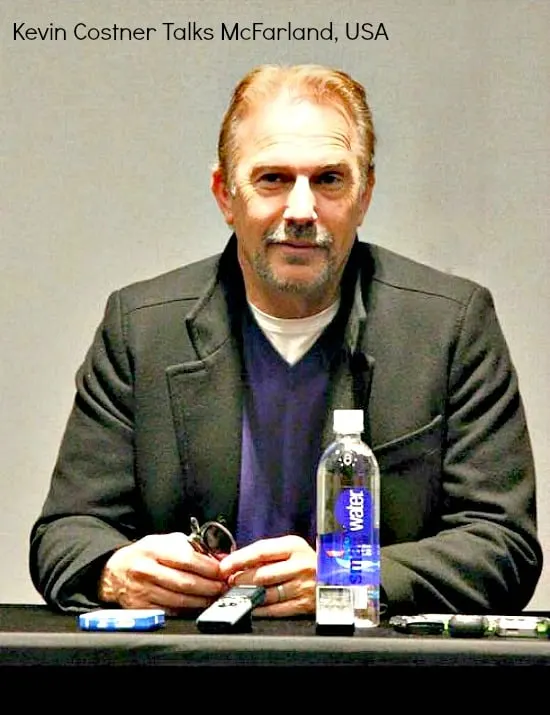 With the legendary Kevin Costner as Jim White, one must wonder what that experience would be like, working with such a Hollywood icon.
The seven actors all were of the same consensus,
It was a great experience, of course, he's a great legend, such a humble guy. Hector tried to correct Costner's line. He was more stories that a library, I swear.
Carlos Pratts summed up the experience with just a few words:
Working with Kevin Costner is so much more than amazing!
There's homework in acting, and some of it involves spending time with the people you portray so you can capture their character.
Hector Duran: The whole period of us filming in McFarland, I got the opportunity to spend time with the real Johnny Sameniego, who is the character I play. He's really a great guy. He invited me to dinner, gave me a tour of the city; he reflects the people of the community.

Ramiro Rodriguez: I've actually encountered the characters throughout my whole life. Danny Diaz was actually my counselor in high school. It was so amazing. It was real fun getting to know him more.

Sergio Avelar: My story's kind of like Romero's, because I'm actually from McFarland as well. Thomas Valles, which Carlos Pratts plays, he was actually my running coach since I was a little kid in elementary. Valles is just so humble. He always took time off of his job and he would go travel with his runners. He would take them to Oregon, just anywhere around the nation just to go seem them run. The Diaz brothers, they still live in McFarland. To see all the support that they still have for the community is just amazing.
McFarland is more than a story about a cross-country team. It's a story about a community. A community that still supports their youth.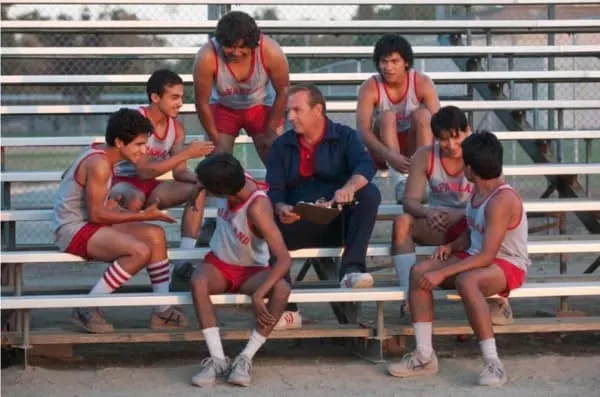 Ramiro Rodriguez: I just wake up every morning and I go to the building where they put the runners, and I just look in it every morning and say to myself, "It's not a dream. It's not a dream. It's not a dream." It's amazing. The town has changed for the better. There, there used to be a lot of crime back then, like gangsters and stuff, but now it's really holding down the national spotlight. It's really coming together and being a community is how it should be.

Sergio Avelar: Now people are actually proud saying that they're from McFarland. Back then it was, "Where are you from?"

"I'm from McFarland."

"Where's that at?"

"Oh, you know, between Bakersfield and Visalia."

"Oh, that town that smells likes cows?"

That's what we were known for, but now, people are so proud, now they say that, if someone asks you, "Oh, where are you from?" and you say, "McFarland", they're not going to believe you now. It's a movie! It's so crazy, so it's truly a blessing.
Carlos Pratts has done acting in the past. You may know him from Paranormal Activity: The Marked Ones (2014) and Out of the Fire (2010), so how was a movie like McFarland, USA different for him?
Carlos Pratts: Doing a movie's so different from TV shows in the sense, TVs so fast. TV's very fast and you have 60 pages when you shoot a pilot, so you don't know where your character's headed, but when you do a movie, you have a beginning, middle and end. So it's like within these 120 pages, I create my arc. You have a lot of trust in the script, and then you get to explore. I think you have a little more confidence in whatever you're doing in the film, as opposed to TV.

In TV, you shoot the pilot. They tell you a bit, and then, the scripts start going. Basically chemistry and what's happening with the actors starts. Your character develops or, or dies.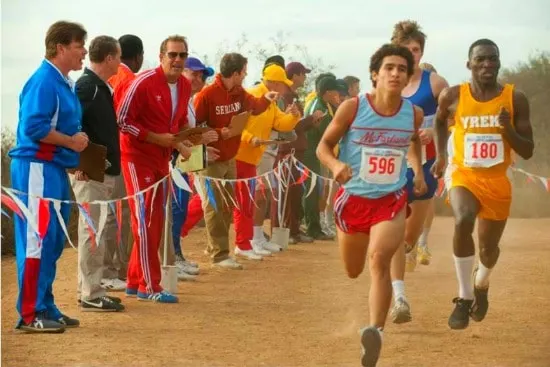 McFarland, USA, features a lot of running. The actors had to do some training.
Hector Duran: We did a lot more running than you see in the film, because in reality, we had to train for the month. And every single day, we would run 5 or 6 miles as a warm up, and then we would have to go into some hardcore elliptical, riding the bikes and everything. When we were filming on set, the amount of takes we did and the amount of running and different angles and everything, that amounted to more than the actual 5K race that, would be in the film. We ran a lot more than you think.

Johnny Ortiz: There are moments where I couldn't run. So being a runner is a hard sport. I mean, it's really a hard sport running. I was getting that all the time. Cross country is a hard sport. I'm saying it's a really a hard sport. Football, soccer, like I thought it was easy on that. When I first went to audition, I'm like, oh, it's like soccer and we'll run, but it's a hard sport.
We all watch movies, and most of us take a life lesson from the story. For these actors, they left with their life lessons:
Johnny Ortiz : I think, as an actor, what I take from this is the message that it's giving. I like to pick my roles because it's very important that I choose these roles, as Latino-Hispanics were viewed as gang bangers, playing gang bangers. Why can't we be the doctors? Why can't we be the lawyers? Why can't we be the detectives? Disney just made a new princess called Elena.

Ramiro Rodriguez: For me personally, throughout my high school and pretty much my whole life, I've been the chubby one, and in this movie, I see it a lot. They picked on me. Despite all this, like in the movie, I know, it was a joke. They could tell me that I'm fat, but like to be honest, in life, it really did hurt me. For my character, Danny, to triumph the way he did, it's really a triumph for me also, because like him, I proved everybody wrong that a big man could do it, but it showed me also, that I could do it too.

Hector Duran: I think one of the biggest things I've learned throughout this film, which already knew, but it just reinforces it even more, is the idea of equality and not judging a book by its cover. you never know where, as you see in the film, Kevin Costner, he comes into this small town, and he judges the book by its cover. Once you get deeper into what it is really and all the values that are there, you see that everybody's equal. Everybody has their own opinions. The only thing that separates us is the color of our skin, so we should try to treat each other equally.
There is a sense of brotherhood in the movie and the meeting of the actors; one could sense that the same brotherhood carries over into their real lives. Their camaraderie and caring for each other continue through text messages, phone calls, and meeting up.
There is a scene in the movie where the boys go to the ocean for the first time. This was true to life for Michael Aguero, who had never seen the ocean. He shares what that moment was like:
It was a fun beach trip until he said, "Everyone go run in the water."
His fellow actors share that the water was very cold, so cold it was like pins and needles all through their legs and body. The producers told them they would get used to it, but they said, "No with every take. You don't!"
When asked what was next for everyone, Ramiro Rodriguez was the first to respond:
I have my doors open. I really want to audition for anything! I really want to pursue acting. This opened the door real wide for me, since I'm coming from McFarland, where you don't have resources to act or anything. I'm praying to God that I get more jobs.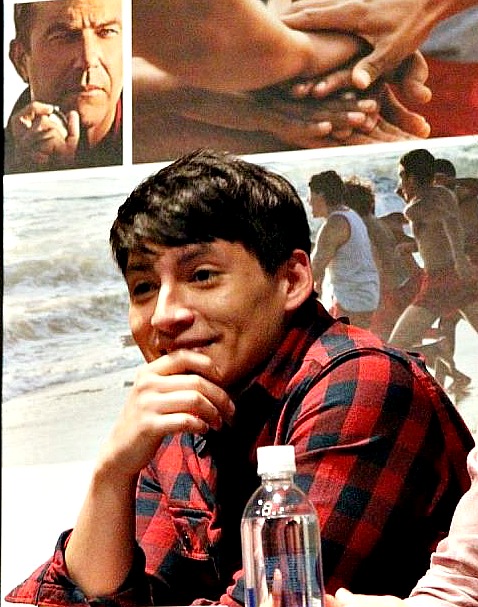 Carlos Pratts : It's funny because my mother says, "Can't you just ask Kevin (Costner)? Can't he get you this job? "Yeah, Mom, it doesn't work that way.

She said, "What about Damien?"

I'm like, "Mom, it doesn't work like that."

She goes, "Ah, Carlos, I think you need to ask."

"Mom, it doesn't work that way."
Then true to every other interview we had, the topic of Kevin Costner came up. I can tell you, first hand, that he is humble. He is thoughtful. Then Carlos Pratts tells this story that just made me smile and my heart melt.
Carlos Pratts: I want to tell you guys a story. This is about Kevin (Costner), because we get this all this time. What is Kevin like? And unless you know Kevin, you can't really make an opinion. You hear things prior to working with Kevin. You hear, it's gonna be amazing, or it's gonna be like someone unleashed the Kraken. And it's so much better than amazing, just the person that Kevin is. I have a 9-year-old little brother and, these guys have all got the chance to meet my family because we are family.

We, we bring each other on to the set. So my little brother comes on set and, Kevin takes a real liking to him. A 9-year old, as we all know, there's no flood gate. It is what it is. It's just kind of just get it out there. Kevin tell my little brother, "I want you to see this" It's November, right after Thanksgiving. We're about to go to Christmas, so everyone's really excited about the holidays. Kevin (Costner) gets this DVD of Christmas at his house, and it's, like George Lucas and Spielberg said let's make our own holiday.

There's camels! There's presents. They have blocks and blocks and blocks and blocks of huge things about the size of this room, where they make snow for the kids. It's a beautiful thing. Well, my little brother looks at it, and he said, "Kevin, how much money do you have?" Kevin responds.He just looks to him and he says "It's not how much money I have, it's about the fact that I just share with everyone else. "

The only reason I'm telling that story is because that person is the person that we spent 4 months with, and to answer who is Kevin Costner? How is he? He's that person.
Johnny Ortiz, whom you may know from Ali (2001) and Play It to the Bone (1999), has a new show coming out next month called "American Crime," premiering on March 5th. He shares what McFarland means to him.
Johnny Ortiz: I remember being 5 years old and I called 4-1-1, and I asked how, how do I become an actor? And my dad looked at me. He couldn't help me, because he didn't know how the industry worked. Dreams are possible. Goals are possible. Because I got in McFarland. It's a blessing to land my own TV show called American Crime with Oscar-winner John Ridley. It's coming on March 5th. I'm blessed, you know. I've got other roles coming up, and it's, it just you want to tell people who dreams are possible because I came from gang banging world.

Most of my family are gang bangers, and I broke the chain. I decided, I don't want to go that path. I don't want to live that life. If I want to change that, I have to put my mind and my heart in it. I've been in and out of jail in my past. I care about what I've done, but stuff is real. There's struggle out there, and we got to help these kids out, show them that there's a lot of kids out there that have talent, that have a lot of heart. They just don't have the opportunities. There are places like Casa0101, which is a non-profit organization.

Josefina Lopez, who wrote Real Women Have Curves, is the founder of Casa0101. She brought me into this theater and showed me that I can do acting in life. This is what we need. We need places like this. We need resources. I ask everybody, if you ever know about resources, put it out there, always mention the place that can help somebody out.
If you haven't seen McFarland, USA, it's a movie the family will enjoy. It's in theaters everywhere.