Big Hero 6 is an action-packed comedy-adventure about a robotics prodigy named Hiro Hamada. This 14-year-old hero learns to harness his genius, thanks to his brilliant brother Tadashi and their like-minded friends.
When a devastating turn of events catapults the gang into the midst of a dangerous plot unfolding in the streets of San Fransokyo, Hiro turns to his closest companion – a robot named Baymax – and transforms the group into a band of high-tech heroes determined to solve the mystery.
Inspired by the Marvel comics of the same name, Big Hero 6 is directed by Don Hall and Chris Williams, and it's produced by Roy Conli. With the Blu-ray, Digital HD and DVD about to be released, we talk to actor Ryan Potter – who voices Hiro Hamada in the movie – to find out more…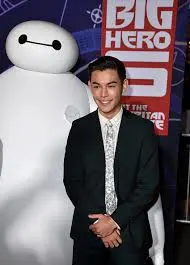 Welcome, everyone! Today, we have the pleasure of speaking with actor Ryan Potter, who voices Hiro Hamada in the action-packed comedy-adventure film, Big Hero 6. Ryan, thank you for joining us.
Ryan Potter: Thank you for having me!
Let's start with the basics. How would you describe this animated adventure, Ryan?
Ryan Potter: Big Hero 6 is a film about a kid named Hiro and a medical robot named Baymax. These two characters go off on a crazy adventure together in a place called San Fransokyo, which is a mix of San Francisco and Tokyo.
Exciting! Big Hero 6 is set to be released on DVD and Blu-ray soon. Can you tell us about the extras included in the home entertainment release?
Ryan Potter: There's a lot of material that didn't make it into the final movie that we saw in the script early on – but there's so much that we don't know about. There are so many Easter eggs in the film, and one of the extra features goes through a list of them! Additionally, viewers can expect to see two different alternative openings to the film, out of the six that were recorded.
That sounds intriguing! So, what's your favorite deleted scene among the extras?
Ryan Potter: There's an alternative opening that I absolutely love. The two brothers, Hiro and Tadashi, are putting together some rocket boots for their cat, Mochi – and it's such a great scene. I love that cat!
(laughs) That does sound amusing! On a different note, let's talk about the themes of the movie. What are the main themes of Big Hero 6?
Ryan Potter: Big Hero 6 is a film about family, about being true to yourself and being proud of who you are. It's also about setting your mind to something and getting things done. It's a really fun film and an amazing project to work on.
Indeed, it sounds like a heartwarming and thrilling experience. Ryan, you voice the character of Hiro in the movie. Are you similar to Hiro in any way, especially when it comes to computers?
Ryan Potter: I'm a big computer guy. In fact, I built the computer that I have now. I didn't build each and every piece, but I put certain parts of it together. I love trying to make it go faster and I'm always checking to make sure it runs smoothly. I love computers!
That's impressive! Now, if you could ask Hiro a question, what would it be?
Ryan Potter: (laughs) I would love to ask him how he gets his hair to stand up like that. He's got very cool hair. To be honest, I'm a little jealous of it.
(chuckles) Hiro's robot friend, Baymax, is such a lovable character. What do you like about Baymax?
Ryan Potter: I love Baymax's personality and the way that things go over his head. I also love his walk. The animators researched three different walks for Baymax, but they went with the penguin walk in the end. It kills me! His walk is so funny.
(laughs) He does have a unique charm. If you could talk to Baymax, what would you ask him to do for you?
Ryan Potter: I'd like to ask him to make me something to eat. I'm a big foodie, and it would be amazing to have a real Baymax as my personal chef!
That sounds like a great idea! Now, let's talk about the recording process. How much fun did you have in the recording booth for Big Hero 6?
Ryan Potter: It was a lot of fun in the recording booth but also a little bizarre. You stand in a room with a microphone and nothing else. Sometimes a director comes in with you, but most of the time you're in there alone. You run around the room, throw yourself around, scream, yell, whisper, and laugh. I must have looked insane!
(laughs) It sounds like quite an experience. How did you prepare for the recording sessions?
Ryan Potter: I would warm up my voice before I went into the recording booth. The voice you hear in the film was recorded more than a year ago. Since then, my voice has gotten a little bit deeper – but Hiro's voice is higher. So, at the start of each session, I'd warm up my voice and make sure that I sounded the same as the first session. We had to make sure the tone was consistent, so we would always find that higher voice. I would always get back to it.
That makes sense, maintaining the character's voice throughout the recording. Now, as we know, Big Hero 6 is based on a Marvel comic book series. Are you a fan of comic books?
Ryan Potter: I love comics. My buddy's dad gave me a box of comic books a while ago. Inside, I found issue one, three, and four of the original Big Hero 6 comic series, so I knew about the story before I'd even auditioned.
That's pretty cool! Since the movie is about heroes, what do you think makes a good hero?
Ryan Potter: Every hero has a flaw. What makes a good hero is when they are able to deal with their flaws in a good way. They don't let the flaw take over.
That's a great insight. Finally, why should people see Big Hero 6?
Ryan Potter: It's wonderful to see such a diverse and relatable group of characters. No matter where you come from, your age, or your gender, you will be able to connect with at least one of these characters. It's just so rare to see in film. It's wonderfully refreshing. Plus, it's full of action, adventure, laughs, and even a few tears. But all in all, it's the perfect film to share with your family.
That's a fantastic recommendation! Thank you so much for sharing your insights and experiences with us, Ryan. It was a pleasure talking to you.
Ryan Potter: Thank you! It was my pleasure.
About Ryan Potter:
Ryan Potter is an American actor, martial artist, and voice actor. He was born on September 12, 1995, in the United States. Ryan is of mixed ethnicity, with a Japanese-American mother and a Caucasian father.
Ryan Potter gained widespread recognition and popularity for his role as the voice of Hiro Hamada in the animated film "Big Hero 6," released in 2014. The film was a huge success and earned critical acclaim, becoming one of Disney's beloved animated features.
Before his work in "Big Hero 6," Ryan was known for his martial arts skills, particularly in the art of White Tiger Kung Fu. He even showcased his martial arts abilities in various short videos and online projects, which eventually led to his acting career.
Aside from "Big Hero 6," Ryan Potter has also appeared in other film and television projects. He played the role of Mike Fukanaga in the Nickelodeon series "Supah Ninjas," which aired from 2011 to 2013. He also appeared in the TV series "Titans," where he portrayed Garfield "Gar" Logan/Beast Boy.
Ryan's acting career has allowed him to voice other animated characters in addition to Hiro Hamada. He lent his voice to various video games and animated series.
In addition to his acting endeavors, Ryan Potter has been involved in charitable activities and social causes. He has been an advocate for diversity in media and representation, often using his platform to promote positive messages and encourage inclusivity in the entertainment industry.
Please note that my information is accurate as of September 2021, and there may have been developments or new projects involving Ryan Potter beyond that date.