Refreshing, simple flavors of a margarita infused into a dessert are exceptional. This margarita pie is light and luscious and quick to make!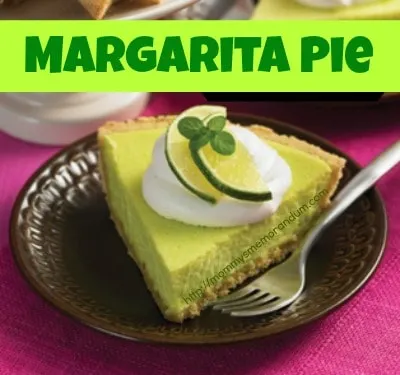 Makes 6 servings
Tip: Use a high-quality prepared liquid margarita mix with a medium sweet-sour balance.
Preheat oven to 350°F (180°C)
2 eggs
2 egg yolks
1⁄4 cup freshly squeezed lime juice
1 can (14 oz or 300 mL) sweetened condensed milk
1⁄3 cup liquid margarita mix (see Tip)
3 drops green food coloring
1 (9-inch/23 cm) store-bought vanilla-flavored cookie crumb crust
1 cup heavy or whipping (35%) cream
1⁄2 cup granulated sugar
1 lime, thinly sliced
How to Make Margarita Pie
1. In a medium bowl, using an electric mixer, beat eggs and egg yolks until thick and pale, about 2 minutes. Continue mixing and add lime juice, condensed milk, margarita mix and food coloring and beat for 2 to 3 minutes.
2. Pour into pie shell and bake in preheated oven until center is firm, about 25 minutes. Let cool completely. Cover and refrigerate until chilled for at least 1 hour or for up to 4 hours.
3. Just before serving, in a medium chilled bowl, using an electric mixer on medium-high speed, beat whipping cream and sugar until soft peaks form, 6 to 8 minutes. Serve slices of pie on individual plates topped with whipped cream and garnished with lime slices.
Excerpted from 200 Easy Mexican Recipes by Kelley Cleary Coffeen © 2013 Robert Rose Inc. www.robertrose.ca May not be reprinted without publisher permission.