Every parent knows that having kids is like having a round-the-clock, full-time job. Of course, most parents also have to engage in actual full-time work to support the financial needs of the household, and it can be difficult to balance the two endeavors. And considering that you're going from morning until night, attending to your myriad responsibilities, it's no wonder that you're running on fumes by the end of the day.
Luckily, there are ways to consolidate, minimize, and organize your schedule so that you can better manage your duties and possibly even have a little time left over for yourself. Here are just a few tips and tricks to help you out.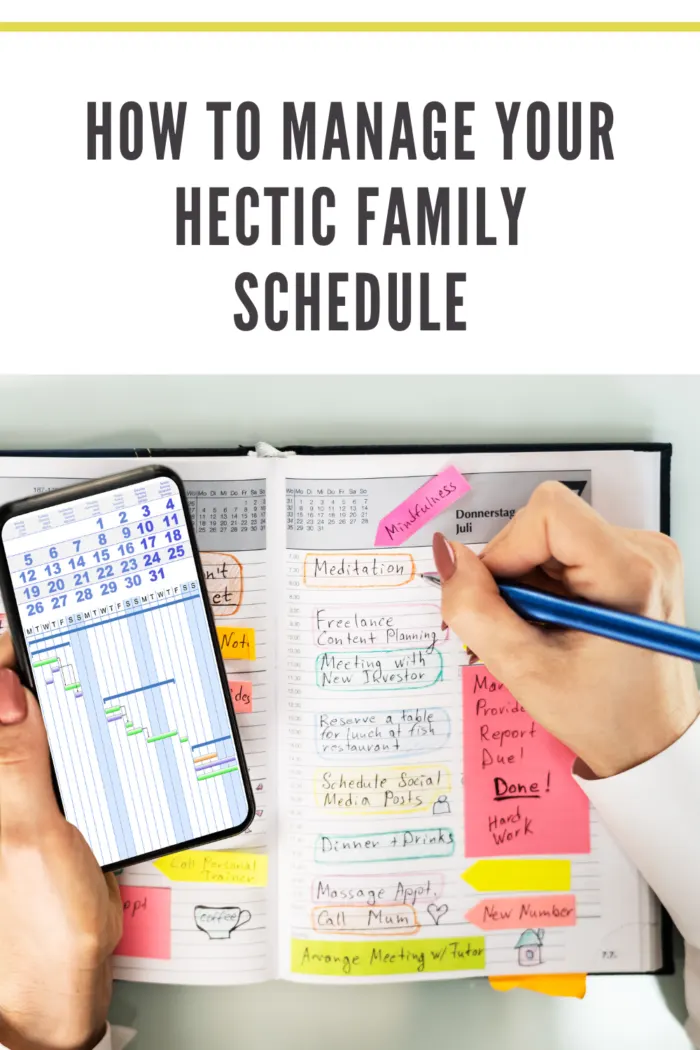 Managing Your Hectic Family Schedule: A Roadmap to Sanity
Let's face it, wrangling a bustling family schedule can feel like trying to tame a tornado. Fear not, though, because we've got you covered with a comprehensive guide to help you regain control of your family's time. From organization tips to leveraging modern technology, we'll ensure your days run smoother than a well-oiled machine.
The Chaotic Family Jigsaw
Managing a family's hectic schedule can be overwhelming. But fret not, we've got the secrets to help you keep your sanity intact.
1. Get Organized
The Foundation of Sanity
Prep Time: Minimal Servings: Infinite (for your family's peace of mind)
Organization is your North Star. Craft a detailed schedule, assigning each family member specific tasks and activities. This ensures you're not caught in a scheduling quicksand. The devil is in the details, so account for every appointment and potential overlap. Don't rely on memory alone – jot it all down.
2. Pare It Down
Trim the Fat
Prep Time: Varies Servings: A streamlined schedule for all
Upon compiling your family's activities, you'll likely discover a bloated schedule. Prioritize and find opportunities to say "no." A leaner to-do list is easier to manage and ensures you have time for what truly matters.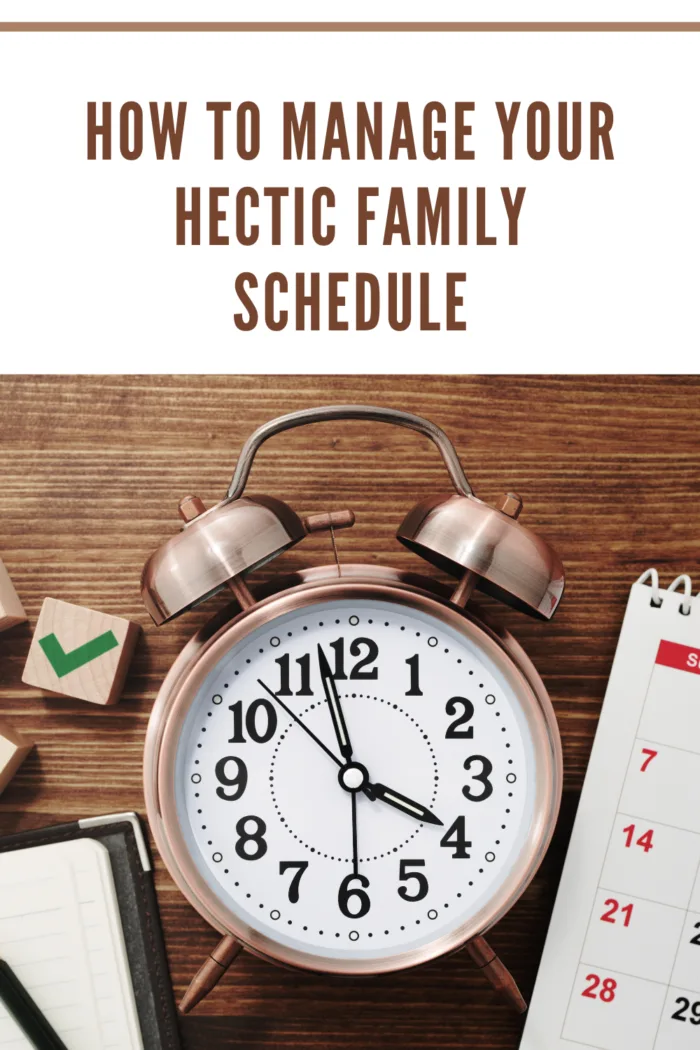 3. Create a Rulebook
Setting Boundaries for Harmony
Prep Time: Thoughtful consideration Servings: A smoother family routine
In the quest for a well-managed schedule, sometimes you need to play referee. For daily activities, establish rules. Consider implementing a bedtime for kids. If homework or late nights are causing chaos, it's time to trim some activities. You can also limit the number of activities each child can participate in, setting guidelines on days per week and hours per day.
4. Double Up
Efficiency is Key
Prep Time: None Servings: More free time for you
Don't twiddle your thumbs while waiting for your kids' after-school activities to end. Use that time wisely. Run errands, go for a jog, or tackle your to-do list. Doubling up ensures you make the most of every minute.
5. Use Modern Tools
Technology to the Rescue
Prep Time: Set-up time Servings: A well-organized, tech-savvy schedule
Say goodbye to bulky address books and hello to the digital age. Mobile technology and apps are your new best friends. With everything in one small device, you can make changes on the go, even while driving with voice command programs like Siri. Stay ahead of your hectic family schedule effortlessly.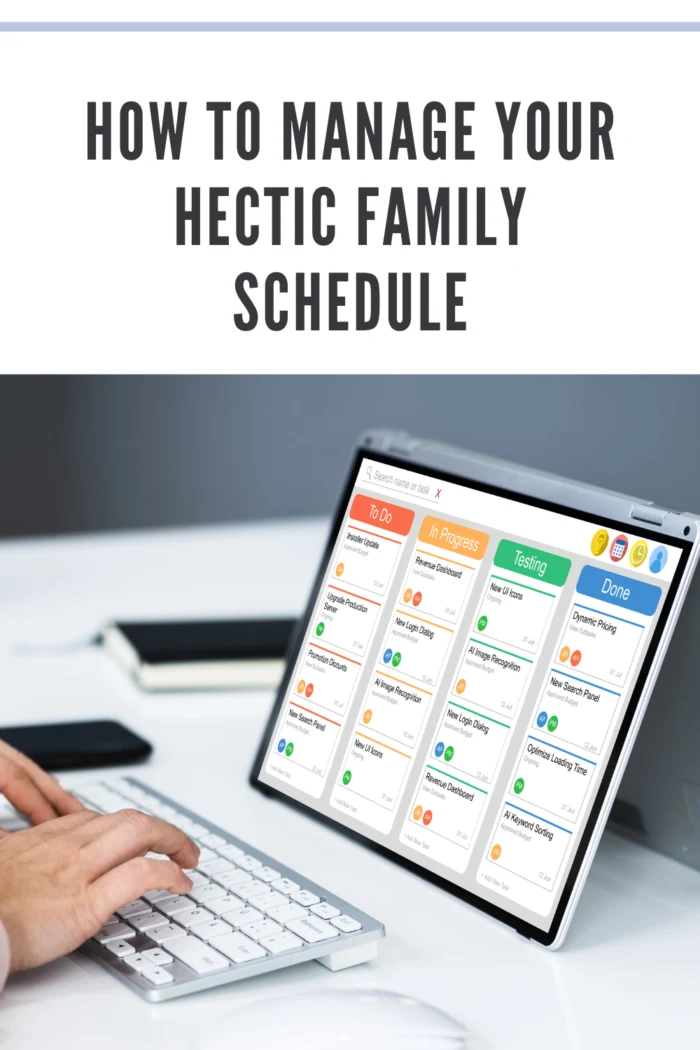 Expert Tips:
Sync Calendars: Use calendar apps that allow family members to sync schedules, ensuring everyone is on the same page.
Meal Planning: Plan meals ahead to save time on cooking and grocery shopping.
Batch Scheduling: Group similar tasks on the same day to minimize disruptions.
Delegate Chores: Share household responsibilities to lighten the load.
Weekly Family Meetings: Discuss schedules and make adjustments as needed.
Storage:
Digitally store important documents and schedules for easy access.
Regularly review and update your family's schedule to adapt to changing needs.
FAQs:
How do I handle unexpected schedule changes?

Stay flexible and adapt quickly. Communication is key.

What if my kids resist the rules I set for their activities?

Explain the reasons behind the rules and involve them in the decision-making process when possible.
With these strategies in your arsenal, you're well-equipped to conquer your family's chaotic schedule. Embrace the order, embrace the freedom!