Introducing The Lovely Candy Company: Consciously Crafted Sweets!
Are you tired of settling for ordinary candy that's loaded with artificial ingredients and unnecessary additives? Look no further! The Lovely Candy Company is here to delight your taste buds with consciously crafted sweets that redefine indulgence.
At The Lovely Candy Company, they believe that candy should be a joyful experience, from the moment you unwrap it to the last delightful bite. That's why they meticulously handcraft each and every piece with love and care, using only the finest, thoughtfully sourced ingredients.
Their commitment to quality starts with the selection of wholesome, natural ingredients that are free from artificial flavors, colors, and preservatives. They believe in using real flavors from real fruits, spices, and chocolates to create a burst of genuine taste that will leave you craving more.
But it doesn't stop there. They also take pride in being transparent about what goes into their sweets. Their manufacturing processes are held to the highest standards of integrity and sustainability, ensuring that our candies are as good for the planet as they are for you. You can trust that their candies are gluten-free, non-GMO, and made without any high fructose corn syrup.
Whether you have a sweet tooth for chewy caramels, crave the satisfying crunch of toffees and brittles, or desire the smooth creaminess of chocolates, The Lovely Candy Company has something for everyone. Their wide variety of flavors and textures will captivate your senses and make every moment a deliciously memorable one.
But don't just take our word for it. The Lovely Candy Company has quickly become a favorite among candy enthusiasts who appreciate the art of confectionery. Their candies have garnered rave reviews for their exceptional taste, quality, and commitment to conscious craftsmanship.
So, treat yourself or someone you love to a truly delightful candy experience. With The Lovely Candy Company, you can savor every bite, knowing that you've chosen a consciously crafted sweet that is as good for your soul as it is for your taste buds.
Experience the joy of deliciously natural candy. Discover The Lovely Candy Company today!
Our Lovely Candy Company Review
Deliciousness awaits with the Lovely Candy Company. It's more than the sweet candy you know; it's a candy company that cares about the ingredients.
These consciously crafted sweets are certified gluten-free, perfect for those with food sensitivities who don't skimp on taste!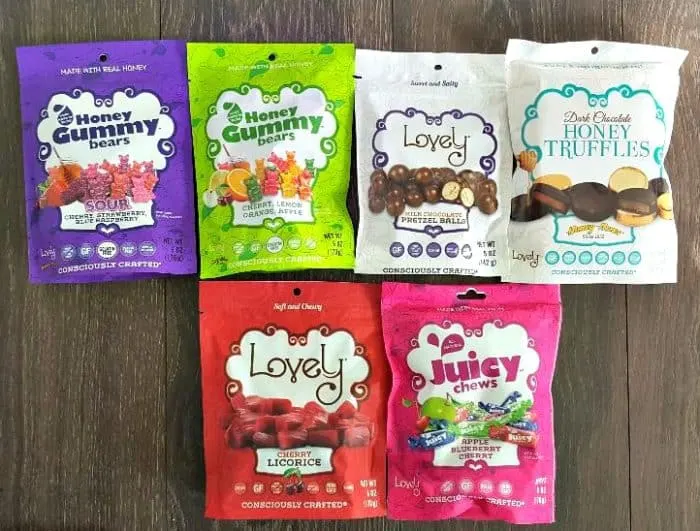 The company was founded on a request. "Find Licorice that was an allergen and gluten-free." It seemed like a simple request in 2013 when Jackie Nakamura asked her husband. It turned out; such licorice did not exist. There was little in the way of candy made specifically for gluten and allergen-free diets.
Maybe you are a health-conscious consumer looking for treats with the best ingredients. The Lovely Candy Company serves this consumer too with candies that are certified gluten-free, non-GMO, certified kosher and contain no high fructose corn syrup or artificial colors and flavors — always made in small batches for premium quality confections.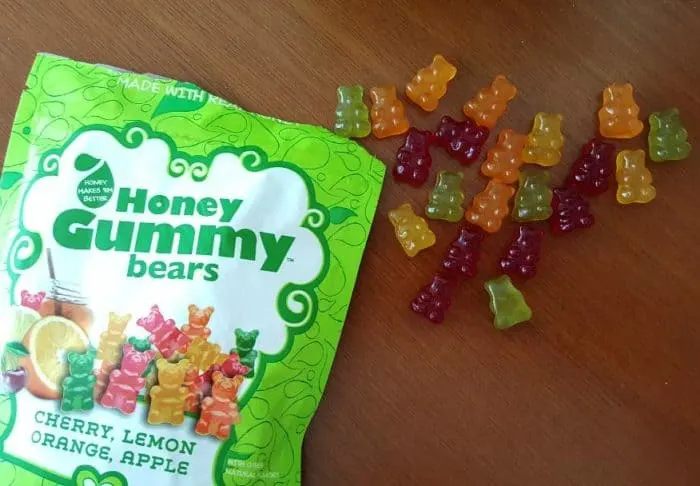 Lovely Honey Gummies: the first gummy candy that features honey (not sugar) as its first ingredient. These gummies are also made without gelatin and are peanut free.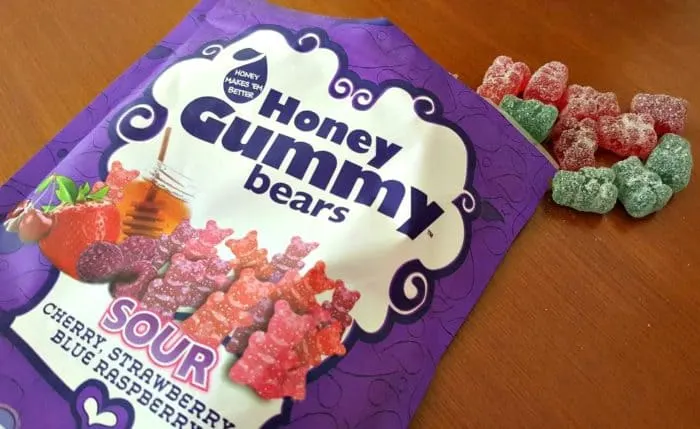 Lovely Honey Sour Gummies: Just like the original, but with a punch of sour!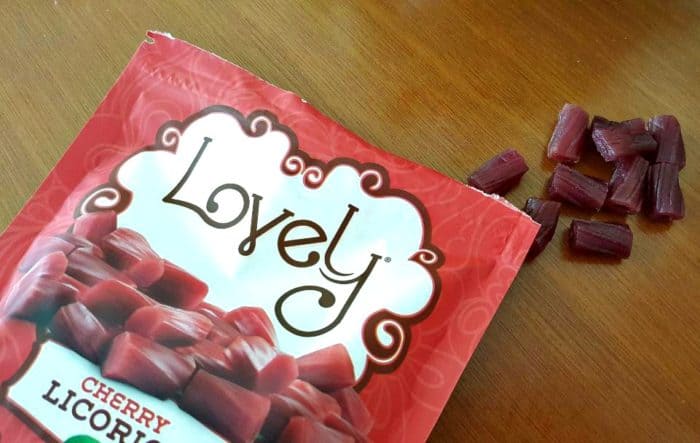 Lovely Gluten-Free Licorice – Delicious, all-natural bites of a classic candy but without gluten, artificial ingredients or high fructose corn syrup. The first candy offered by the company comes in black, cherry & strawberry.
Lovely Gluten-Free Pretzel Balls – The perfect combination of sweet and salty, these gluten-free treats come in dark chocolate, milk chocolate, and salted caramel. Yum!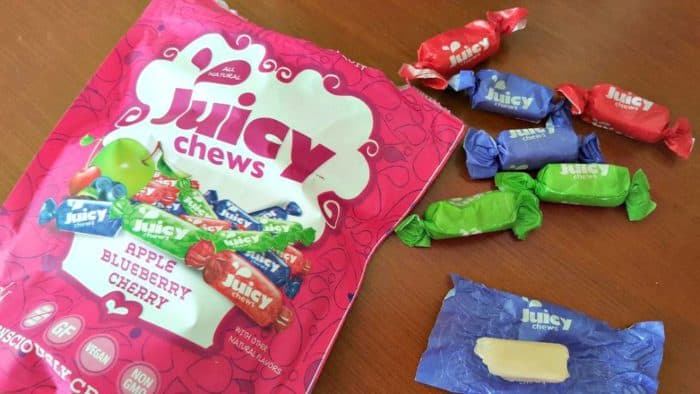 Lovely Juicy Chews: Fruit Chews with real fruit bits! Enjoy cherry, apple, and blueberry all with no artificial ingredients or colors.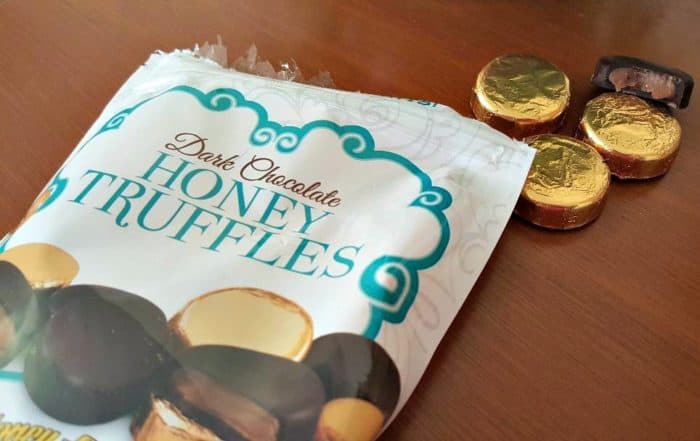 Lovely Dark Honey Truffles: These Dark Chocolate Honey Truffles are about as simple as it gets. Just two or three ingredients – pure raw local Wisconsin honey, natural peppermint/raspberry extract, and the purest 99% dark chocolate liqueur.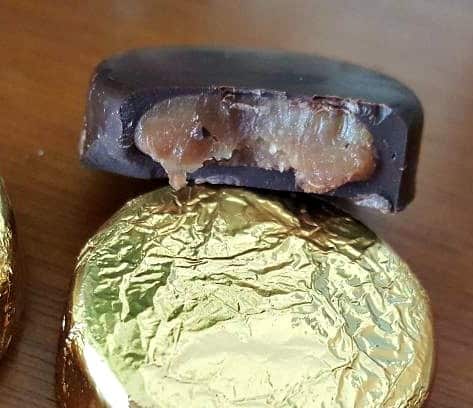 The honey is thick and smooth with no messy drips, and the chocolate is crisp with the right amount of bitterness for a balanced and healthful treat.
The Lovely Candy Company has Many Candy Varieties Available:
Original Chewy Caramels
Chocolate Swirl Caramels
Super Fruit Chews
Chocolate Chews
Raspberry Filled Chocolate Chews
and more!
I have a sweet tooth and have been duped by health-conscious candy. I was skeptical.
The Lovely Candy Company perfected the taste and texture, so I didn't miss the gluten, GMO, or high fructose syrup. There was no weird artificial taste. It was just candy–as it should be, delicious!
Something delicious is hidden at my house, but don't tell the kids, I don't want to share my Lovely Candy Company sweets!
We appreciate your subscription to Mommy's Memorandum.