Introducing Fairy Tales Lice Prevention Product Line – Protect Your Loved Ones from Unwanted Visitors!
Are you tired of dealing with those pesky lice that can quickly invade your family's lives? Look no further! Fairy Tales is here to offer you a comprehensive and effective solution to keep those unwanted visitors at bay.
Say goodbye to lice worries with the Fairy Tales Lice Prevention Product Line.
Fairy Tales Rosemary Repel Shampoo: The Ultimate Defense Prevention is the key, and the Fairy Tales Rosemary Repel Shampoo is your secret weapon against lice! This gentle, sulfate-free shampoo is enriched with natural ingredients like rosemary, tea tree oil, and citronella to create a powerful lice-repelling barrier. Not only does it effectively cleanse and nourish the hair, but it also leaves behind an invisible shield that lice find unappealing. With regular use, you can help protect your loved ones from lice infestations while maintaining healthy, beautiful hair.
Fairy Tales Rosemary Repel Conditioning Spray: Extra Protection on the Go For an added layer of defense, the Fairy Tales Rosemary Repel Conditioning Spray is a must-have. This leave-in conditioning spray is formulated with the same lice-repelling ingredients found in the shampoo, providing continuous protection throughout the day. Just a few spritzes of this lightweight spray help detangle and condition the hair while keeping lice at bay. Perfect for school, camp, or any other activities where lice might lurk, this spray is your family's portable shield against lice.
Fairy Tales Rosemary Repel Hair Spray: Style with Confidence Why compromise on style when you can protect and enhance it at the same time? The Fairy Tales Rosemary Repel Hair Spray is a finishing touch that not only helps hold hairstyles in place but also helps ward off lice. Infused with natural lice-repelling ingredients, this non-sticky, fast-drying hair spray adds an extra layer of defense to keep lice away while keeping your little one's hair looking fabulous all day long.
Find the whole Fairy Tales Rosemary Repel bundle on Amazon.
Why Choose Fairy Tales?
Trusted and recommended: Fairy Tales is a leading brand trusted by parents, teachers, and healthcare professionals for over 20 years. Their lice prevention products have been widely recognized for their effectiveness.
Natural and safe: Fairy Tales products are made with carefully selected natural ingredients, free from harsh chemicals, pesticides, and toxins. You can trust that you're using gentle and safe solutions on your family's hair.
Pleasant fragrance: While lice find the scent unappealing, Fairy Tales products have a delightful fragrance that kids and adults love, making haircare routine enjoyable and refreshing.
Family-friendly: Fairy Tales products are suitable for the whole family, including children and adults. Everyone can benefit from the lice-repelling power of these products.
Don't let lice ruin your family's peace of mind. Choose Fairy Tales Lice Prevention Product Line and keep lice away from your loved ones. Embrace worry-free days and enjoy beautiful, healthy hair with Fairy Tales!
Note: While Fairy Tales products are highly effective in preventing lice infestations, they are not intended to treat existing lice infestations. If you suspect a lice problem, consult with a healthcare professional or follow appropriate treatment protocols recommended by experts.
Our Fairy Tales Review
Fairy Tales do not include lice.
Trust me.
I have lived through that story, and the only fairy tale it might come close to is one told by the Brother's Grimm.
In a name that proves fairy tales are good comes an entire product line created to prevent lice.
Rosemary Repel Rosemary Hair Care line. It's "All Natural and organic."
It also happens to be paraben-free. But better than all that is the "repel" part.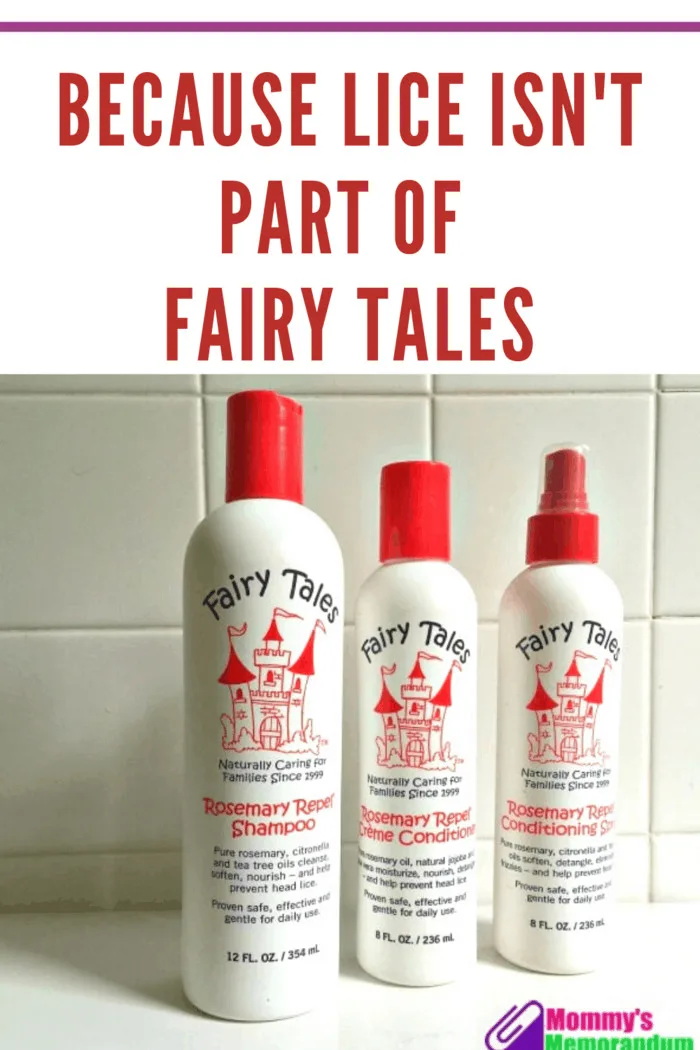 I wish I didn't have to tell you how much better life is with the "repel."
Up until last year, my experience with lice had been, being 14 years old, my parents were out-of-town, and Grandma Fran was watching us for the weekend.
It was that weekend that my baby sister brought home the note that she and her classmates had lice.
Before I go any further, know that we looked like this:
My sister and I have very thick hair.
The sister just younger than me had a headful of hair.
Grandma Fran treated us all with the lice shampoo and then very lovingly combed our THICK LONG hair with the comb.
She didn't complain–though she did continue to comment on how much hair my sisters and I had!
It was the only time we were ever treated for lice.
This is not to say we had lice, just that it was necessary for us to take preventative measures.
After that incident with Grandma Fran when I was young, lice is not something I'm rolling the welcome mat out for–especially since I'm now an adult and the responsibility of changing sheets and treatment falls on my shoulders.
Fairy Tales is my ally by reducing my children's risk of bringing home lice.
Six kiddos and I prided myself on NEVER having lice.
That all changed one night, a year ago, when Miss M spent the night at a friend's house.
She came home, and life was normal.
Six days later, I thought my eyes were playing tricks when I saw something crawling in Miss M's hair.
Nope! It was real.
Lice.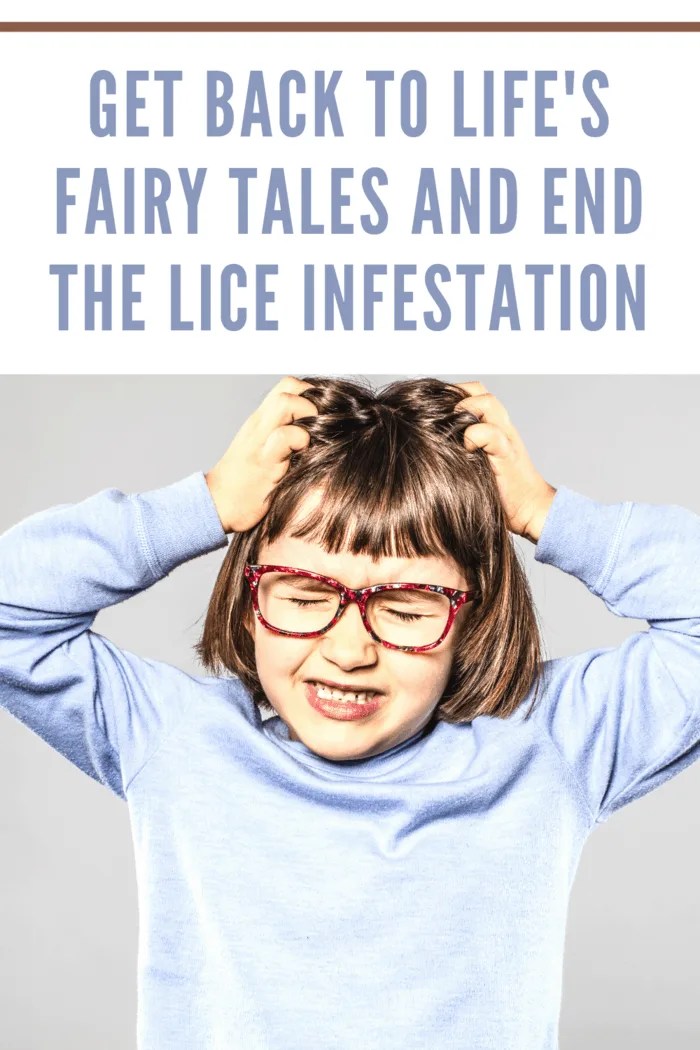 My head itched, and I was adamant I had lice too.
MacKenzie and I had snuggled on the couch, as we always do.
People!
Lice freaking suck!
I treated Li'l Man, Miss M and myself.
I treated our heads with that smelly chemical treatment.
It took hours to comb through our hair.
I washed the sheets.
I bagged and washed bedding.
I thought we were done.
Seven days later, we still had lice.
I spent another $65 on treatments, more hours combing and washing.
For three weeks I dealt with lice.
I was exhausted.
The kiddos were crying they didn't want that little comb run through their hair anymore.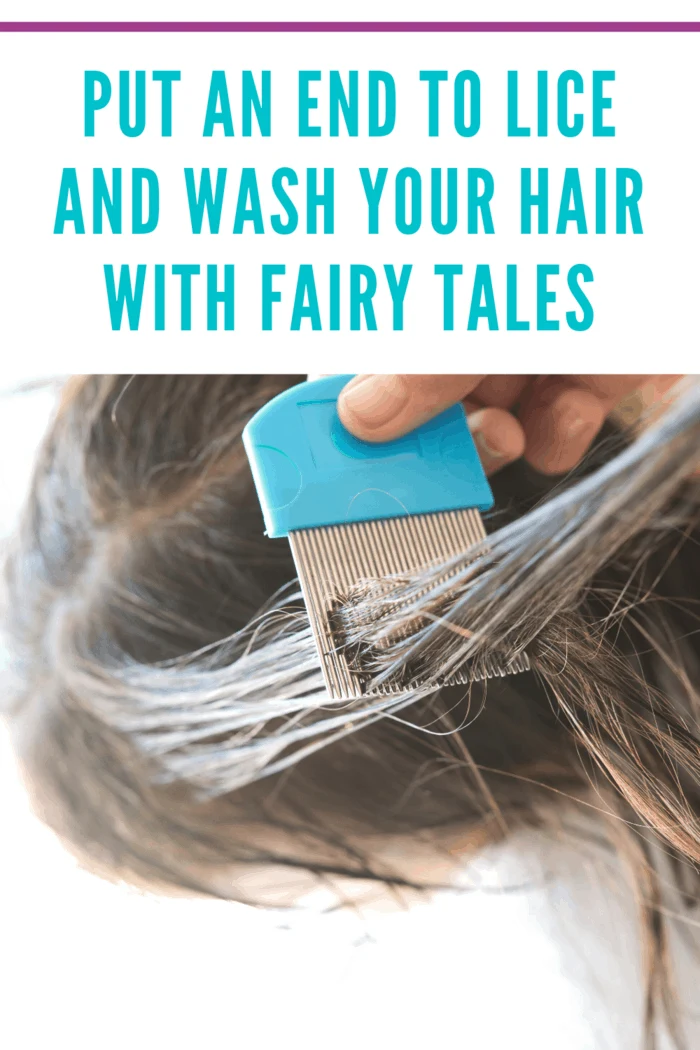 I was ready to take a match to the house just to be done with the lice.
Our mistake, we ran out of Fairy Tales Product Line and didn't exert the effort to drive a little further to buy more.
We started with the Fairy Tales Rosemary Repel Shampoo around 2010.
For the record, The Divine Miss M took her father's hair gene.
Her hair is fine and thin. Shampoos tend to weigh it down.
Therefore, I'm particular.
When the shampoo bottle was opened my kiddos said, "Hey! That smells really good!"
So good in fact that while I washed their hair, they kept inhaling deeply and exclaiming, "I love this smell, Mom!"
The shampoo suds up nicely.
It keeps a good lather and rinses out easily.
It's made from organic rosemary, citronella, tea tree, anise, lavender, and geranium oils to help repel lice and other insects from the hair.
There are absolutely no harsh chemicals.
From shampoo, we moved on to the Rosemary Repel Creme Conditioner.
Again, my worry was The Divine Miss M was going to have seriously flat, possibly stringy hair.
It went on easily and rinsed easily.
Fairy Tales combines lice protecting ingredients such as organic rosemary, citronella, geranium, tea tree, cherry bark and passion flower with nourishing aloe and vitamin E to their creme conditioner.
For the record, they state there is no need to rinse out completely just comb thru for tangle-free hair, but I couldn't do it.
We rinsed.
Rosemary Repel Crème Conditioner will not create build-up.
Then we kept layering.
Next, we added the Rosemary Repel Leave-In Conditioning Spray.
This is Fairy Tales Hair Care #1 product.
Made of organic oils of rosemary, citronella, tea tree, lemongrass, peppermint, sage, and others to help keep lice and other insects away.
It's loaded with vitamin B-5 and aloe.
I was really impressed by how well it detangled The Divine Miss M's hair.
We use it after the bath and then every morning before school.
I spray her hair and her shoulders, and I'm not going lie, her backpack.
After all, it's proven to be over 92% effective when used alone and nearly 100% effective when combined with our other Rosemary Repel lice prevention products.
I never want to lice in our house again!
I'm going to trust Fairy Tales to keep it that way.
Rosemary Repel products are available in salons and specialty stores across the country and online at Fairy Tales Hair Care.
There is science behind the product. I found this on their website and found it very informative and interesting:
We recommend using at least 3-4 products during a lice outbreak to provide maximum protection. Do not shampoo every day as lice like clean hair not dirty – remember; it's easier to attach to a squeaky clean hair shaft.
For maintenance, shampoo every few days with the Rosemary Repel Shampoo and use the Rosemary Repel Leave-in Conditioning Spray each morning before school.
Layering on the fragrant herbs are what help to keep the bugs away – so don't use a sweet smelling fragrance. Rosemary Repel products are not tear free. Our Shampoo is thicker than most so it doesn't drip and our products are safe to use on young children shield the eyes.
Fairy Tales also offers these tips:
TIPS TO PREVENT HEAD LICE
Avoid head to head contact at school and home.
Do not share clothing, hats, scarves, sports uniforms and helmets, coats and hair accessories
Do not share combs and brushes or towels
Do not lie in beds, on couches or car seats that have recently been in contact with an infested person
Lice are usually spread thru head to head contact and less frequently by lice that crawl.
Preschool and elementary-age children, 3-11, and their families are often infested. Girls get head lice more often than boys. In the United States, African-Americans rarely get head lice. Personal hygiene or cleanliness in the home or school does not involve getting head lice.
TO PREVENT RE-INFESTATION
Do not worry about furniture sprays; they are useless. Vacuuming the areas such as floors, carpets, bedrooms, and couches is sufficient. Don't forget to vacuum car seats!
Wash the bedding each morning in hot water. Dry on high heat for at least 20 minutes.
Store all stuffed animals, large comforters, etc. in a sealed plastic bag for 2 weeks.
Soak combs and brushes in Lysol or rubbing alcohol for at least 1 hour.
I think it's fantastic enough that I printed it out and shared it with our school.
I hope they print it and send it out to everyone.
We can all do our part to prevent head lice.
Fairy Tales smells great, and it leaves even The Divine Miss M's hair looking shiny and perky.
I love that.
To help keep kids' hair healthy and lice free all year long, Fairy Tales Hair Care is the way to go.
About Fairy Tales:
Fairy Tales is a reputable brand that specializes in lice prevention and treatment products. Their line of lice products is designed to help families tackle and prevent lice infestations effectively and safely. Here's more information about Fairy Tales and their approach to lice prevention:
Comprehensive Lice Solutions: Fairy Tales offers a range of products specifically formulated to address different aspects of lice prevention and treatment. Their product line includes shampoos, conditioners, leave-in sprays, and treatment kits, providing a comprehensive approach to lice control.
Natural Ingredients: Fairy Tales products are made with a blend of natural ingredients known for their lice-repelling properties. These ingredients may include rosemary, tea tree oil, citronella, peppermint, lavender, and eucalyptus. Fairy Tales avoids the use of harsh chemicals, pesticides, and toxins in their formulations, making them safe for regular use.
Gentle Formulations: Fairy Tales products are gentle on the hair and scalp. They are free from sulfates, parabens, and other potentially harmful additives that can strip the hair or cause irritation. This makes them suitable for regular use and for children with sensitive scalps.
Pleasant Fragrance: Unlike traditional lice treatment products that often have strong and unpleasant odors, Fairy Tales products are known for their pleasant scents. The fragrances are carefully formulated to be appealing to individuals while discouraging lice.
Trusted by Parents and Professionals: Fairy Tales has gained the trust and recognition of parents, teachers, and healthcare professionals for over two decades. Their products are often recommended by school nurses, pediatricians, and lice treatment experts as effective prevention measures.
Educational Resources: Fairy Tales provides educational resources and guidance to help families navigate lice prevention and treatment. Their website offers valuable information on identifying lice, understanding the life cycle of lice, and implementing prevention strategies.
Social Impact: Fairy Tales is dedicated to making a positive impact beyond their products. They actively support charitable organizations and initiatives that raise awareness about lice prevention, promote hygiene, and provide assistance to families in need.
It's important to note that while Fairy Tales products are effective in lice prevention, they are not designed to treat existing lice infestations. If lice are already present, it's crucial to follow proper treatment protocols recommended by experts or consult with a healthcare professional for appropriate treatment options.
Overall, Fairy Tales is a trusted brand that provides families with effective and natural solutions for lice prevention. Their commitment to safe and gentle formulations, along with their educational resources, makes them a go-to choice for parents seeking to protect their loved ones from lice infestations.
*I received Fairy Tales Product line order to facilitate an honest review. The opinions where expressed are my own and were in no way influenced by the sponsor. Others experiences may vary.