I received The Legend of Longwood in exchange for this post. All opinions are my own.
Set in the beautiful countryside of Ireland and Germany, The Legend of Longwood, is a family film set for release from Shout! Factory June 2.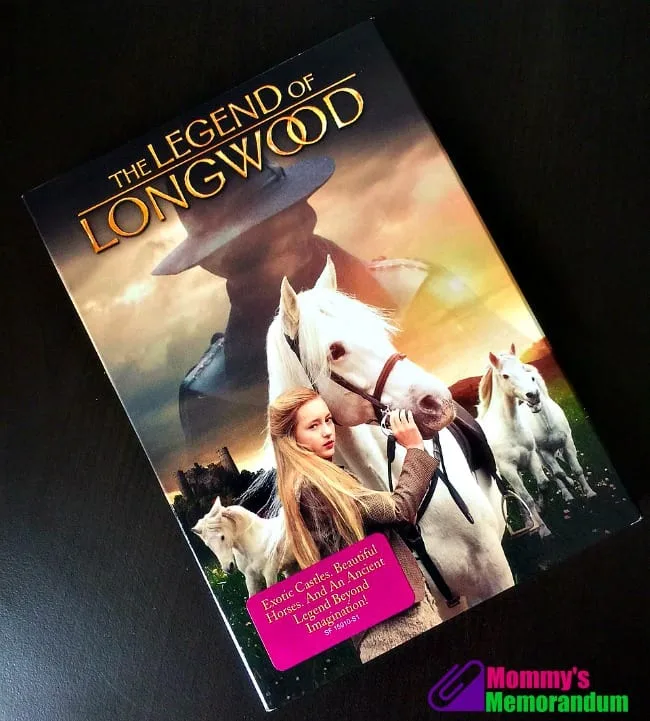 The Legend of Longwood Synopsis
This adventure thriller follows 12-year-old Mickey Miller, a big city girl destined to break the spell cast more than 300 years ago on a small Irish town and its residence. Her quest requires her to redeem a mysterious Black Knight and save a herd of horses from a merciless woman.
Mickey's mom inherits a rundown mill house in Ireland and moves the family there. Big City girl, Mickey is less than thrilled. Her dad has been missing for four years, and Mickey's Mom can't afford life in New York.
Once in Ireland, Mickey feels as if they've dropped out of civilization. Eventually, she makes friends with a young lad named Sean, who shares a story of a castle named Longwood and the horses that roam there. Mickey loves horses and becomes curious about the seven that live at Longwood. She sneaks into the stables, where she is found and taken inside the castle to meet Lady Thyrza Du Monceau, who knows about Mickey and her necklace.
Lady Du Monceau shares with Mickey a story about a fire many years ago that killed seven children and how the Lord of the mansion had his baby daughter, Madeline, stolen. Now, a ghost haunts the town of Longwood and its people, leaving a trail of bad things when he appears.
Not long after, Lady Du Monceau suddenly dies and leaves the castle to Mark, her nephew. Mark has plans to marry a very stingy woman named Caitlan who wants to turn the castle into a large development and remove the horses. Mickey catches wind of this and begins a mission to prevent Caitlan from getting her way.
There are some dangerous events, and Mickey has seven children who died in the fire through the horses. Mickey must help find Madeline, the Knight's missing daughter, and save the castle. Will she succeed?
Music is composed by Patrick Neil Doyle ("Brave"). Special effects supervisor is Urs Franzen ("Star Trek: Into Darkness," "Pirates of the Caribbean: On Stranger Tides").
The Legend of Longwood Review
We loved The Legend of Longwood. The horses are stunning; the world is magical and filled with adventure. I appreciate a strong femal character. It has mystic settings, history, weddings, romance, aristocracy, black knights and chivalry. The film is filled with exotic castles, and imagination.
The movies was filmed in Wicklow County, Ireland, and Germany.
Order The Legend of Longwood today before it is released to the public from Shout!Factory.