It's obvious my kiddos aren't alone in their choice of preferred music. KIDZ BOP 19, the newest volume in the best-selling KIDZ BOP series, has sold 70,097 units in its first week and has entered The Billboard Top 200 Album Chart at #2— the 12th KIDZ BOP title to debut in Top 10 since the series launched in 2001. This is the highest-charting debut for a KIDZ BOP album since the release of KIDZ BOP 9 in 2006, which also hit #2 on the overall Billboard Chart.
As a parent, I believe one of the reasons Kidz Bop is successful is due to the launch of its safe social networking site for kids and tweens, KIDZBOP.com, and the KIDZ Star USA Talent Search, America's biggest national talent search for kids ages 15 and under.
My kiddos engage with Kidz Bop, and Kidz Bop 19 is quickly becoming their must-do when they walk through the door. My seven-year-old has almost all the words to "Somebody to Love" down and belts it out in the car, on the way to the bus and anywhere and everywhere she can. The Kidz Bop kids are becoming part of our daily conversation…I have to step back to understand we've never met them as my children divulge their life.
I love that music is an important part of my children's everyday life. That they are learning to express themselves through the words, the melodies and that Kidz Bop is their "drug" of choice.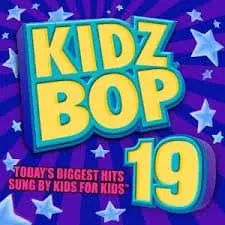 Kidz Bop 19 Tracklist:
DJ Got Us Falling in Love
Firework
Just the Way You Are
Dynamite
Cooler than Me
Airplanes
Club Can't Handle Me
Bulletproof
Animal
Just a Dream
Magic
Mine
Please Don't Go
The Time
The Only Exception
Somebody to Love
ABOUT KIDZ BOP LLC
KIDZ BOP is the #1 music brand for kids ages 5-12 in the U.S., featuring today's most popular songs, sung by kids for kids. KIDZ BOP celebrates the authentic voice of kids across the entire brand—through music, videos, live appearances, licensed merchandise, and its popular social networking and content sharing website, KIDZBOP.com. KIDZ BOP CD titles have earned one Platinum® and nine Gold® certifications since their debut in 2001. In 2010, KIDZ BOP 18 was the #1 Kids' Album of the Year, and the KIDZ BOP Kids were the #1 Kids' Artist, according to Billboard. The company is also home to the national KIDZ Star USA Talent Search, where talented kids can upload videos of themselves singing to KidzStarUSA.com to compete for a chance to win a recording contract. KIDZ BOP LLC is a division of New York-based independent entertainment company Razor & Tie Entertainment, a vertically-integrated company that encompasses a music company with major label distribution, a home video company, a media buying company, a music publishing business, a direct marketing operation and a growing database of entertainment consumers. For more information, please visit www.KIDZBOP.com.
I received a Kidz Bop 19 CD in order to facilitate an honest review. No other compensation was received. The opinions where expressed are my own and were in no way influenced by the sponsor. Others experiences may vary.