Kids Cooking Made Easy gives kiddos the experience of being their master chef. It's the latest cookbook in the popular "Made Easy Series" by Leah Schapira and Victoria Dwek. These book covers is all from Panini Wraps to Hot Dog Garlic Knots and desserts!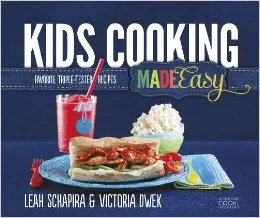 Inside Kids Cooking Made Easy, you'll discover 60 easy-to-make kosher recipes. They are each fun to make and include easy-to-follow instructions. I love that every recipe has a photo and additional step-by-step photos. There are even "Cooking School" tips to teach culinary skills and new techniques, like saute or simmer.
Schapira and Dwek make this a cookbook that even teaches math with a great resource on measurement at the beginning of the cookbook. Miss M has often used the resource to learn about conversion in school.
Sections of dairy categorize recipes; Meat, Chicken, and Fish; On the Side; Snack Time; and Desserts. It's food kiddos will each like;
Spinach Quesadillas
Pizza Soup
Broccoli-Cheese Borekas
Honey BBQ Chicken Nuggets
Chicken Over French Fries
Ramen Deli Salad
Cauliflower Poppers
Zucchini Spaghetti
Toasted Bow Tie Chips
Sour Gummy Rugelach
Peanut Butter Pizzelle Cake
This book would be the perfect gift for the holidays for any blooming chef. It teaches a life skill and allows kiddos to have fun creating meals, snacks, and desserts for the family.
About the Author
Leah Schapira is the co-founder of CookKosher.com, a popular online kosher recipe exchange and the bestselling Fresh & Easy Kosher Cooking. A self-taught cook, Leah expresses her love of cooking through her polished food articles, busy website, and exciting cooking demos and classes. Leah resides in New Jersey with her husband and family.
Victoria Dwek is the managing editor of Whisk, a popular kosher food magazine published weekly by Ami Magazine. Her feature articles take readers behind the scenes to learn from chefs and other professionals in the kosher food world. An experienced journalist and avid hostess, Victoria's work combines her good food and writing passions. She lives in Deal, New Jersey, with her husband and children.
The cookbook duo first teamed up with Passover Made Easy, followed by Starters and Sides Made Easy. Kids Cooking Made Easy is the third title in the Made Easy series.