The "Dino Dan Dino 4-Pack DVD Boxed Set" is a collection of DVDs featuring episodes from the popular children's television series "Dino Dan." "Dino Dan" is a Canadian educational show that originally aired on Nickelodeon in the United States and other networks worldwide.
The show follows the adventures of a young boy named Dan Henderson, who has an extraordinary imagination and a passion for dinosaurs. He believes that dinosaurs still exist in the world, even though they are now extinct. Throughout the series, Dan uses his "Dino Field Guide" to observe and interact with various species of dinosaurs in his everyday life, all while maintaining the appearance of an ordinary kid to those around him.
The "Dino Dan Dino 4-Pack DVD Boxed Set" contains a selection of episodes from the series, allowing children and fans of the show to watch some of their favorite dinosaur-themed adventures anytime they want.
Our Dino Dan Dino 4-Pack DVD Boxed Set
I received a Dino Dan 4 pack DVD in order to facilitate an honest review.
Dino Dan feeds the addiction of dinosaurs at our house. We LOVE dinosaurs. We read about them, visit their skeletons at museums, wear them on our clothing, decorate our room with them, play with them and whew! Watch them on television. Danny and the Dinosaur was a fun book when I was growing up and I remember walking across the playground measuring the span of a pterodactyl's wings.
Dino Dan An Ordinary Boy with an Obsession for Dinosaurs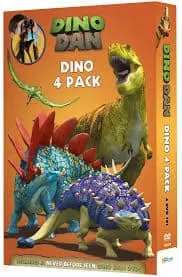 Dino Dan is much like my son, and probably yours too. An ordinary boy, age 10, with an extraordinary obsession. He eats, sleeps and breathes dinosaurs! Sound familiar? Every day, Dino Dan's world revolves around dinosaurs. What's a day without racing around the school track with a T-Rex? How about going up to the attic to discover a Pterodactylus? An adventure that involves returning a baby Braciosaurus to its mom.
No need to close your eyes and imagine dinosaurs when Dino Dan is around…dinosaurs lurk in every corner, creep into each mystery, power adventure and answer questions!
What Would a Dinosaur Do?
Dino Dan is a leader, whose strength rests in creating a team with his diverse classmates and teachers. These larger-than-life adventures are no only fun, they are educational with each episode featuring a common kiddo issue–playing with a sibling, going to the dentist, trying to win at hide and seek. It spawns curiosity and has Dino Dan asking how the dinosaurs would act in a similar situation.
Dinosaurs that Sprout Curiosity
My kiddos are always asking questions. I urge them to think it out and develop a hypothesis to help them problem-solve. Dino Dan comes up with a dino question or experiment to test his theories. This teaches kiddos about science. If the hypothesis is false, Dino Dan is on the hunt for new information to solve the question. It's learning to think outside the box, discovering new ways of problem-solving and finding a resolution.
Of course, Dino Dan's dinosaurs don't speak nor do they "high five." Instead they use deductive reasoning, work together and rely on dinos' instincts as part of their scientific method for proving theories.
Bob Strauss Wonders Out Loud, What is the Fascination with Dinosaurs?
We have all questioned our own fascination with dinosaurs at one time or another. Bob Strauss, a freelance writer and book author, posed the question on
About.com.

He concludes that kiddos like dinosaurs because they are massive. They are dangerous creatures that are extinct, giving kiddos a sense of safety–they don't feel threatened.
Ever think about a dinosaur being a role model? Strauss believes kiddos like dinosaurs because they are big and nobody tells them what to do–the opposite of a child, who is a small and is always being told how to behave.
Let's face it, the size and scope of dinosaur skeletons are pretty impressive on their own.
And perhaps kiddos also like the possibility that, like Matt Larson, a paleontologist for the Black Hills Institute of Geologic Research, they too might be able to someday discover dinosaur fossils – as he did just this summer in the plains of northeast Wyoming!
Award Winning Dinosaurs
Dino Dan is not just obsessed with dinosaurs, it's an award-winning, live-action, CGI adventure series airing nightly on Nick Junior at 5p.m. (ET). It stars 18 true-to-life, photo-real dinosaurs alongside Jason Spevack as Dan "Dino Dan" Henderson.
It is also available on DVD from NCircle Entertainment, Dino Dan, was created by Sinking Ship Entertainment.
Kiddos Can't Get Enough Dinosaurs?
Dinosaur enthusiasts can visit the dedicated Dino Dan website to enjoy humongous fun with online games, an interactive Dig Site, Dino Facts, information on Dino Dan's friends and awesome Dino Dan apps. Can't get enough? Head over to Nick Jr.'s Dino Dan website and discover prehistoric printables, coloring pages, crafts, games and even a 3D Dino Mobile!
Dino Dan 4-Pack DVD ROARS with Fun!
NCircle Entertainment has put together a
Dino Dan 4-Pack DVD
that brings the adventure into your home anytime you're ready to roar! It's over 4 hours of dino-rific fun, including a never-before-seen DVD! This amazing set features Brachiosaurus, Compsognathus, Edmontosaurus, Tyrannosaurus Rex, Quetzalcoatlus and more! Everyone will love the bonus augmented reality feature on the DVD, that when scanned, brings dinosaurs to life!
We love this DVD. Li'l Man will watch it alone, or with anyone who will watch. I love that he shares his adventures and is learning so much while being entertained.