I received a Guruanda RoseGold Tower Diffuser Set in exchange for this post. All opinions and my love for essential oils remain my own.
Back-to-School means my kiddos are in a germ-mutating factory. Then they bring it home. By the time I have that under control, it's cold and flu season. The first thing that tells me this is congestion.
You know that rattle in your lungs. The stuffy nose. It's miserable.
I am not a medical expert. I'm your average mom, doing my best for my kiddos and myself. So take my recipe for congestion as just that.
My arsenal to kick congestion to the curb keeps my family running. We drink plenty of fluids, wash our hands often, and eat as healthy as we can, but sometimes, it sneaks through the cracks. Someone brings the bug home and it mutates out of control through the family–and inevitably, it has mutated just enough for someone to pick it up again!
When congestion hits, I fill our Guruanda Diffusers with this Congestion Blend of Guruanda essential oils.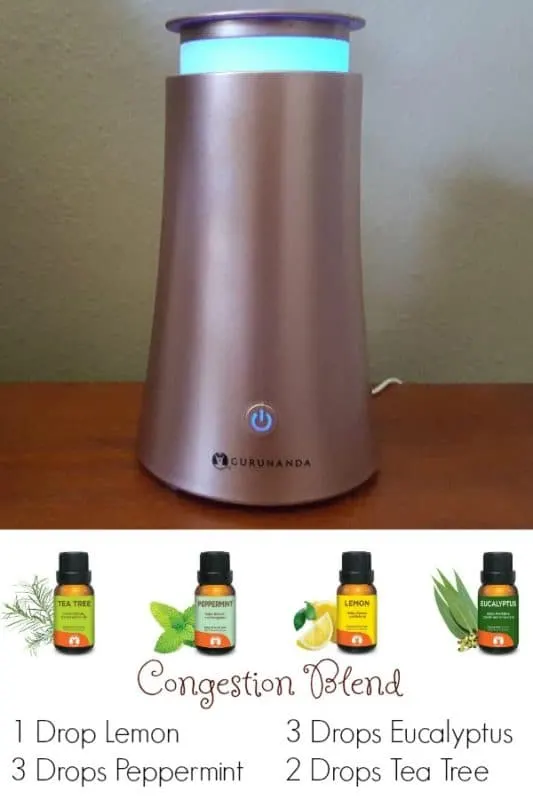 Each GuruNanda Essential Oil Single contains one pristine botanical oil.
There is nothing synthetic or adulterated. This is important to me.
Eucalyptus: a fresh, penetrating aroma that clarifies, invigorates, and revitalizes
Tea Tree: cleanses, purifies, and renews; also known for its antiseptic properties.
Peppermint: a fresh cool scent that invigorates and refreshes
Lemon: Another extremely popular essential oil is known for its detoxifying, cleansing, and refreshing properties.
Guruanda also offers blends of essential oils, including:
Breathe Easy: a natural remedy for nasal congestion and better overall respiratory health, this formula contains a blend of eucalyptus, peppermint, tea tree, basil, and rosemary essential oils.
Congestion doesn't stand a chance if you make the essential oil blend recipe or use the Guruanda Breathe Easy.
We are addicted to the quality of Guruanda essential oils and accessories.
I also love the Guruanda Diffusers.
We were sent the Guruanda stylish RoseGold Tower Diffuser. This lightweight, stylish device has an elegant rose gold-colored finish and a sleek silhouette. It is an easy-to-use, high-quality device that uses ultrasonic waves to diffuse essential oils for natural aromatherapy.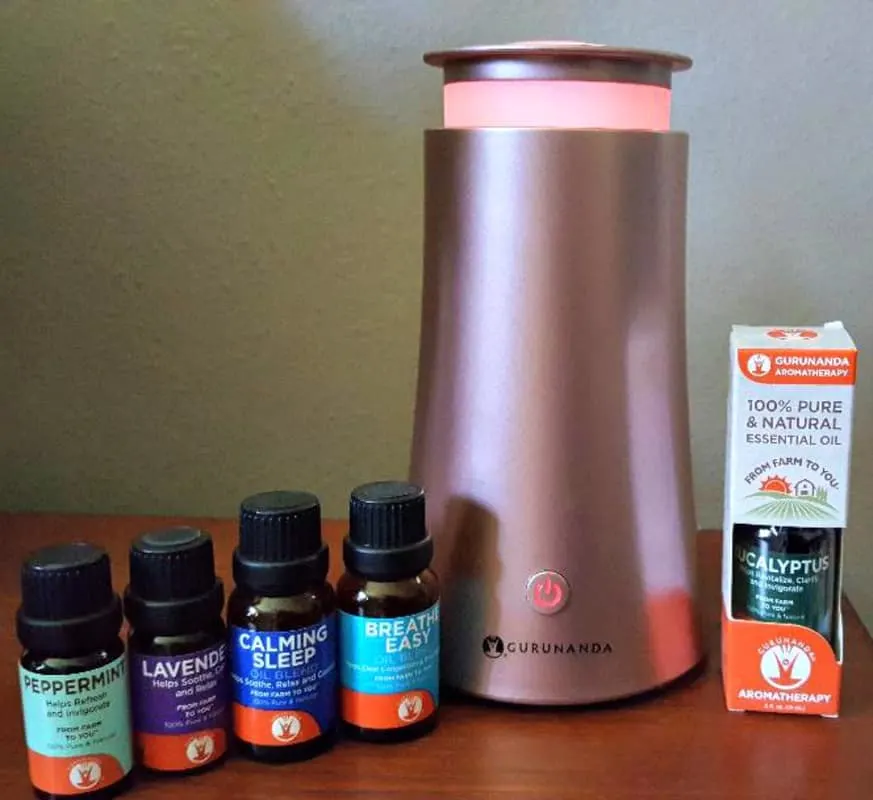 The Nano-particles of the essential oil, together with water, form a calming mist that disperses into the air without heating or compromising the benefits of the oil.
The beautiful color LED lights will create the perfect environment for you to experience restorative and purifying benefits.
Its sleek, modern design can easily complement any space in your home or office.
This Bundle comes with two essential oils, making it a great starter pack! MSRP $34.99 at www.gurunanda.com
Make your home smell amazing with Guruanda Diffusers and Essential Oils.
Note: We do not recommend the casual ingesting of essential oils. It can cause irritation and possible damage to your organs. Please do not ingest essential oils unless under the supervision of a medical doctor versed in pharmaceutics and an experienced aromatherapist.