After the jawbone was found in July, BCSO, the LCRA, and Texas Search and Rescue continued searching the area where it was found but didn't find any additional evidence.
Every moment that passes with no new information is excruciating for Angela Hamilton, whose son, Johnathan Lee Hamilton, has been missing since May 2015.
While Johnathan Hamilton isn't a small child, his family still wants him home.
Maybe you saw him the day he disappeared.
Maybe you saw him recently?
Someone knows something that can help this family either bring Johnathan home or give them closure.
Here are the quick facts:
Johnathan Lee Hamilton has been missing from Houston, TX, since May 2, 2015
Johnathan is 29 years old (DOB: 5-28-1988)
6'2″ tall
Brown hair
Brown eyes with a small scar on his right eye and right hip.
He was last seen wearing an 'Ezekiel' T-shirt, blue jeans, and Coleman brand, suede-like tennis shoes.
Johnathan suffered complications from Type 1 diabetes. We know he was taken to two different hospitals, St. John's Methodist Nassau Bay and Bay Area Regional Hospital, a few days before his disappearance.
His family last saw Johnathan on May 2, 2015.
He borrowed his father's vehicle (a 2008 GMC Envoy, Tag #CDM 1740) to run an errand, then returned to the house and left again in the car.
When he did not return home that night, his mother filed a missing person's report with Houston Police.
There had been no argument when Johnathan left, and the family said it was uncharacteristic for him not to let them know his whereabouts.
They are certain he did not run away from home.
On May 4 he was reportedly seen entering and leaving a Best Buy store and it was in this parking lot at 761 Highway 71 in Bastrop, TX, that his vehicle was abandoned and later found by Bastrop Police Department.
When the family drove to where the car had been located, there was no sign of Johnathan.
On May 5 the family received a call from him on someone else's cell phone, but when his father said he was going to pick him up, Johnathan told him not to and hung up.
He reportedly also called his girlfriend to tell her he had been robbed.
His cell phone was never recovered, and there's no record of any activity on credit cards or social security numbers.
Since there have been no new sightings on Johnathan for over two years, his case has gone cold – leaving a mother desperate to find out what happened to her son.

In speaking with Johnathan's mom, Angela Hamilton, she says, "My son could be anywhere in the United States."
Please take a moment to view the Missing Person poster with his information. You can also print it out.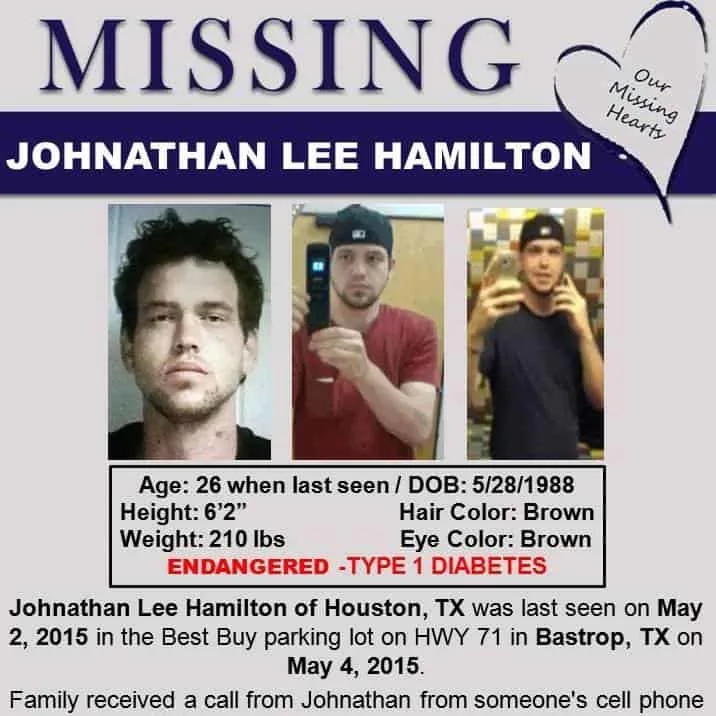 Also, there is a Johnathan Lee Hamilton Missing Facebook page with pictures and his information as well.
UPDATE: According to Fox7Austin, A jawbone found in July 2020 in the Colorado River near Bastrop has been identified as belonging to a man who's been missing since 2015.