I received a Hallmark Hug Loving Hippo in exchange for this post. All opinions are my own.
Hallmark is one of my favorite stores. Especially during any holiday. They offer unique gifts and adorable cards to really let someone know how special they are to you. Miss M's absolute favorite holiday is Valentine's Day and I am so excited for her to wake up to Hallmark's Hug-Hungry Hippo singing and dancing!
Hallmark's Hug-Hungry Hippo, a Hallmark Gold Crown Exclusive, dances and sings telling the world how much she loves hugs. Give her a squeeze, if you please, and listen to her sing a clever parody on the familiar 90s song*!
I like big hugs and I cannot lie
Never let a hug pass me by
You can give high fives or cuddles
But please don't lose those hugs
So gentlemen? (Yeah?)
Ladies? (Yeah?)
You wanna drive this hippo crazy? (Oh yeah!)
Then get those arms out, pretty please
And just give me a big ol' squeeze
Hippos love hugs!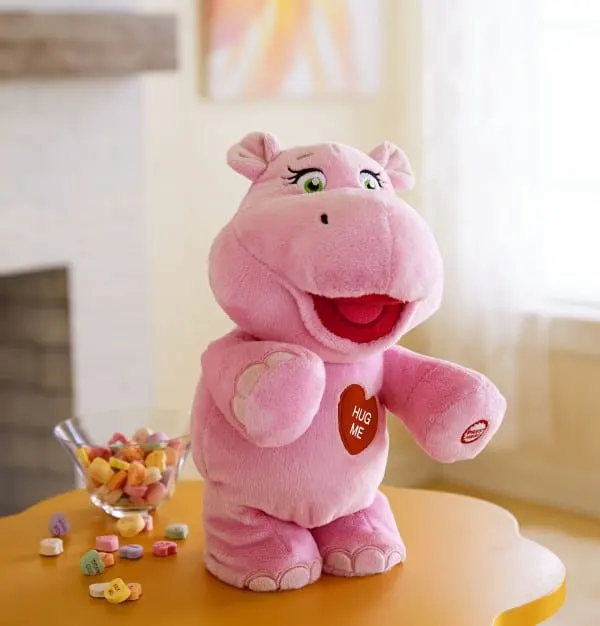 Hug Lovin' Hippo is a techno plush. She moves and sings when activated. She runs on three AA batteries (included).
Available for just $17.95, when you buy three Hallmark cards, (regularly $32.95). She's the perfect celebration of love.
*"Baby Got Back"
(written by: Anthony L. Ray)
UNIVERSAL-SONGS OF POLYGRAM INTERNATIONAL, INC
on behalf of itself and MIX-A-LOT PUBLISHING