Hardwood floors are supposed to be easier to keep clean than materials like carpet. But hardwood floors are also more sensitive than other floors.
How do you keep them clean without accidentally damaging them at the same time?
We've put together this guide to show you how to clean dirty hardwood floors the right way. Make sure you keep reading below to learn the best cleaning methods for hardwood.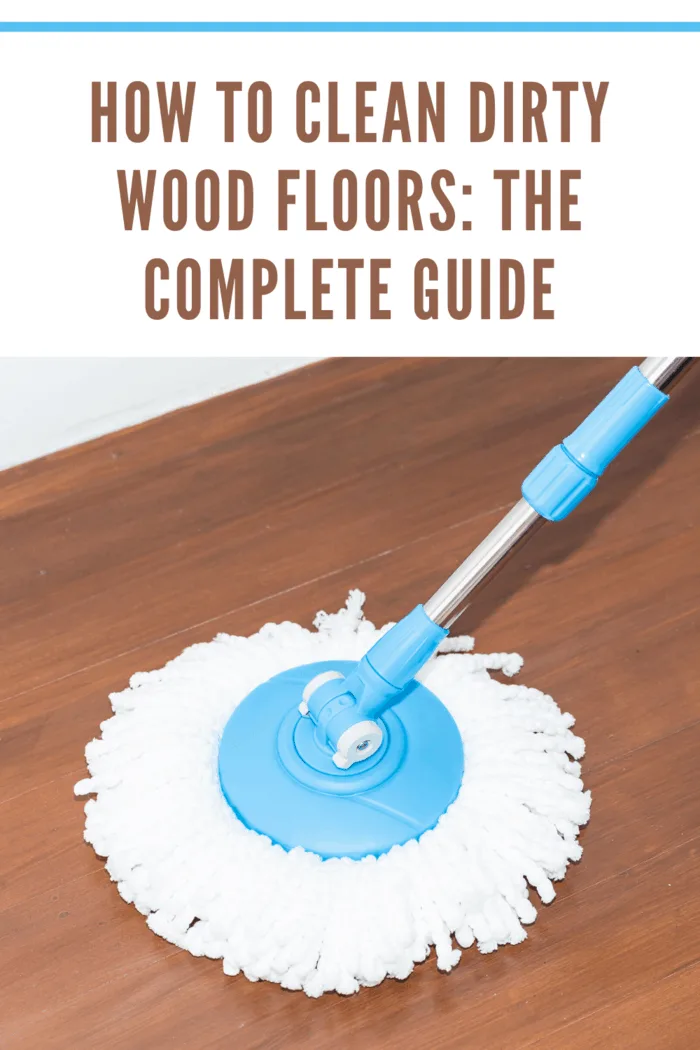 Once a Day
If you want to keep your hardwood floors in good condition, you should spend some time taking care of them every day. This doesn't have to be a long process. A few minutes cleaning up dirt, dust, and crumbs will go a long way for your flooring.
Sweep
Grab your broom and give your hardwood floor a good sweep at least once a day. This will clean off any dirt or other debris that might end up scratching your floor.
This is especially a good idea if you live with pets or have someone in your home who struggles with allergies.
Throughout the day, dust and pet hair will gather on the surface of your floor. Just because you can't see it doesn't mean it isn't there. Sweeping this off your floor will help you breathe easier in your home.
Clean up Spills
You should also wipe up any spills right away.
Things like wine or other food products can stain your floor if you let them sit for too long.
As soon as you get anything on your floor, you should get a rag or paper towel and wipe it off.
If you need, you can also apply a bit of hardwood floor cleaner to fight sticky or tough spills
Once a Week
At the end of every week, you should give your hardwood floor a more detailed cleaning.
This will help you remove anything that has gathered in hard-to-reach areas or that you've simply missed over the last few days.
The best way to do this is with a vacuum cleaner or a mop.
However, if you choose a vacuum cleaner, make sure it is designed for hardwood floors.
Otherwise, the spinning brushes might be too hard on your floor and scratch the surface.
Be careful with the water if you choose to mop. Never dump large puddles of water on your floor.
While your mop should be damp, it shouldn't be dripping wet.
And don't let the floor air dry.
The water can end up soaking into the wood and cause it to warp if you leave it there for too long.
Dry the floor with a soft, micro-fiber cloth when you're done mopping.
What Type of Cleaning Product Should You Use?
Stay away from things like vinegar or baking soda when mopping your hardwood floors.
Though they can work wonders on other features in your home.
They might damage your hardwood.
Instead, stick to warm water and soap.
You can also use a hardwood floor cleaning solution.
But make sure you read the instructions for any type of cleaning product you use to make sure it's safe for your floor.
Every Few Months
Every three to four months, you should polish your hardwood floor (if your home has a lot of foot traffic, you might want to do this more often).
This can benefit your floor in a few different ways.
First of all, it gives your hardwood a beautiful sheen on the surface.
Doing this can make your floor look bright and new.
The polish will also fill any microscopic scratches in the finish.
This will keep your floor in good condition and extend its lifespan.
If you're looking for one of the best ways to start protecting your hardwood floors, this is a good option, say the experts at nationalfloorsdirect.com.
Every Few Years
Sanding and refinishing your floor is one of the biggest maintenance jobs you have to do for your hardwood floor.
However, you don't have to do it very often.
You should be able to go three to five years between each new sanding and refinishing.
This isn't something you should ignore.
Otherwise, your hardwood floor won't last nearly as long as it can.
When you sand your hardwood floor, you remove the layer of finish that's over the top.
You also remove any small scratches, stains, or other imperfections.
This gives your floor a new, beautiful surface.
After that, you can apply another coat of finish.
The new finish will protect your fresh flooring, which will breathe new life into your floor.
Doing this can make your hardwood floor look as bright and clean as the day you installed it.
How to Clean Dirty Harwood Floors (Without Damaging Them)
Maintaining your hardwood floors might take more work than other types of flooring, but it doesn't have to be a long, difficult process.
If you sweep your floor every day and do a more detailed cleaning at the end of every week, you shouldn't ever have to deal with major stains or problem areas.
Nervous about how to clean dirty hardwood floors the right way?
Hardwood floors can be sensitive to certain cleaning products and too much water.
So make sure you read the labels of any cleaning solutions before you use them.
If you follow this guide, you'll be able to remove all that dirt in no time!
Want to learn some other helpful homeowner tips?
Make sure you take a look at the rest of our blog!