Unlocking the Secrets to Choosing the Ideal Baby Stroller
As a parent, the prospect of choosing the perfect stroller for your precious little one can be both exciting and daunting. With a seemingly endless array of stroller options available, it's easy to feel overwhelmed by the sheer volume of information. However, one thing takes precedence above all else: ensuring the safety and comfort of your baby. Selecting the right stroller is a decision that demands careful consideration.
In this comprehensive guide, we'll delve into the critical factors you should weigh when making this vital choice. From the importance of a spacious canopy to the significance of always securing your baby, we'll leave no stone unturned in our quest to help you make an informed decision.
Wondering how to choose the right stroller for your baby? There are countless options when it comes to baby strollers. You can feel overwhelmed and lost with all the information you will find. But what is more important than your baby safety and comfort?
A stroller is one of the items that you must pick with care. Here are some factors you should take into consideration. A large canopy is essential. Researchers have found that covering the pram with a blanket (even the thinnest) increases the temperature considerably and decreases air circulation.
Always buckle up your baby, even if you are going on a quick stroll, Accidents happen in a second, and what you think your baby can not do today, like turn around, he might be capable of doing the next day.
Think about your height and your partners, make sure the stroller handle suits both. Or look for an adjustable height handlebar.
Fold with care, make sure your baby is not standing close to the stroller when you fold it to avoid small fingers getting caught.
Check the weight of the stroller alone, sometimes babies do not want to stay there, and you will have to push it while holding your baby.
To find the right fit for you and your baby, you need to consider when and where you are using the stroller if it is for one or more babies and space, you have to accommodate it.
We will guide you in the right direction to choose the perfect model for your lifestyle.
Let's Learn more about the most common types of baby strollers.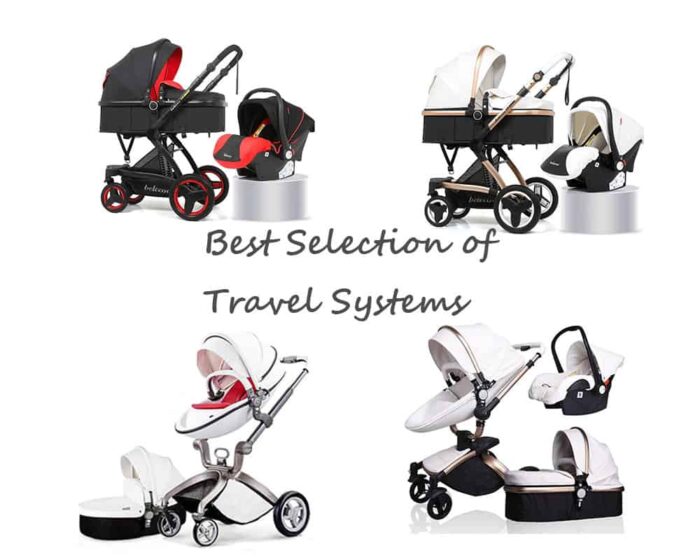 How to Choose the Right Stroller
Travel systems:
They are all in one and will last from newborn until the toddler days arrive; you will have a basic frame and two options to accommodate your baby, a portable car seat that will allow you to move your sleeping baby without waking him up, and a 2 in 1 bassinet with laying down and seat mode.
The laying mode is ideal for your baby to sleep, as he grows, it will transition to the sitting position.
Umbrella or lightweight:
Designed to be easy to fold and travel with, convenient when using public transportation or for small cars.
Most of them made for toddlers and older children, but you can also find some models suitable for newborns like our Umbrella Stroller Lightweight Baby Prams Newborn model that has a two-way pushing option.
Double stroller:
The best option for twins or if your baby has an older sibling, you can travel with both on the same stroller, there are multiple options too, side by side, face to face, or one seat in front of the other.
We have both the Twin Pram Double Stroller that comes with an adjustable seat that allows seating and laying position and the Itemsbaby Double Jogging Stroller that features a removable rear seat to carry just one child.
Once you decide the type you need, it is time to get into the details, accessories and special features can make your life easier, taking care of a baby is enough work you do not need to complicate your day with a stroller that won't fit in the car or will require too much time to set up.
Here are some details you should pay attention to:
Safety and comfort:
Two of the most important things to review when buying a stroller, you want to make sure the baby is safely buckled and will not slip off or unbuckle himself out, a five-point harness will keep him safe.
Check characteristics such as brakes and shocks that will make the ride less bumpy and guarantee it will not run downhill, examine all the positions and options that have, such as laying down for a newborn, and the in-between until they can sit up when they are older.
Also, check if it has options to face you and face forward (reversible handlebar) you want to keep an eye on your newborn, and as he grows, you will want him to explore the world.
Our 3 in 1 travel system with car seat has all these features and much more such as an adjustable handle to fit your height, which will give you more comfort while pushing the stroller.
Another important feature has to do with the weather.
If you live in a place where summers are hot and humid and winters are cold and windy, accessories as an adjustable canopy, foot cover, mosquito net, bottle holder, and breathable fabric will come handy.
Time to check on the wheels, walking in the suburbs during the summer will not be the same as strolling on a rural path or the snow.
Rubber coated wheels are perfect for the city, if you are more active, compress air-filled, or foam-filled tires will absorb the bumpy road better.
We offer many accessories, and all our models include a canopy to protect your baby from the sun or rain.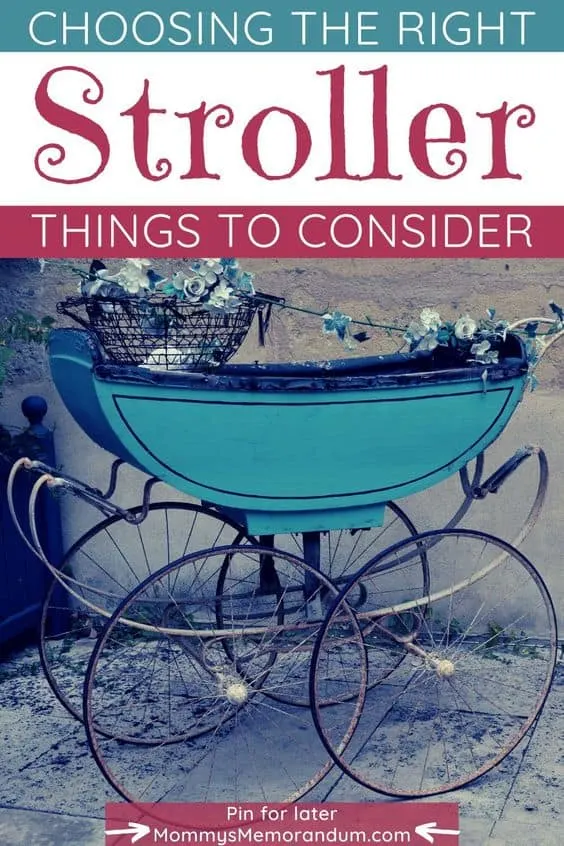 Ease of use and size
These are two major characteristics, think about the space you have to store it in your car trunk or even at home if you are traveling by yourself and need to fold and unfold with one hand while you hold your baby with the other.
Consider if you live in an apartment, the space of the elevator door or if you must climb stairs and need it to be lightweight and easy to carry.
We have the best model for light traveling, the Newborn Compact Stroller Travel Toddler Umbrella Pram folds easily into a suitcase and combined with its lightweight, will become your favorite.
Basket and storage space
Think about the things you are carrying (besides the baby) such as diaper bag, your bag, cellphone, toys, water bottle, sippy cup, and if you are thinking about going shopping or spending the day in the park, there will be lots of bags to carry.
A big basket comes handy in those situations.
And what about style?
Are you a color lover, do you prefer a minimalistic look?
A baby stroller does not need to be boring or look like a toy.
Stylish models are also available in many colors and materials that will suit your look.
Our Luxury Leather 3 in 1 travel system and the Hot Mom models are perfect if you are looking to stand out in the best way.
Regarding color, our models come in a wide variety of them.
Itemsbaby knows the importance of finding the right stroller that meets all expectations and safety standards.
We offer you top of the line service and products, let us be part of your journey through parenthood and the growth of your baby.
We have many options with unique features to make your life easy.