Since my first Peeps moment I've been passionate about the Just Born marshmallows. There was a time when I had to wait it out, y'know, for Easter to arrive for the aisles to be a pastel kaleidoscope of delicious goodness. I attribute this to tradition–in 1953, it took 27 hours to make ONE PEEPS Marshmallow Chick.
Fast forward more than 60 years to today, and one PEEPS chick is born in six minutes! That means Just Born is creating PEEPS marshmallows every year in the quantity that could circle the earth twice!
What I've learned in my 30 some years of devouring PEEPS is there is no wrong way to eat a PEEPS! There's no right way to eat a Peep. Many eat them stale, frozen, roasted, microwaved and even as the trendy foods Peepshi (Peeps Sushi) or pizza topping–this is known as a Peepza!
Now PEEPS arrive just in time for every holiday. We love to share my passion for PEEPS with teachers and neighbors by creating our Halloween S'mores in a Jar.
Hold on to your Peeps, because there's a whole new flock of delicious on grocery shelves nationwide. I'm talking Holiday Peeps and the flavors this year will have you forgetting about Sugarplums and having Marshmallow Peeps dancing in your head!
New Sugar-Cookie Flavored Marshmallow Chicks Dipped in Milk Chocolate (3 ct)
Gingerbread Flavored Gingerbread Men (6 ct and New 3 ct)
Chocolate Dipped Candy Cane Flavored Marshmallow Chicks (3 ct)
Chocolate (milk or dark) Covered Mint Flavored Marshmallow Trees (individually wrapped)
Chocolate Mousse Flavored Marshmallow Reindeer (6 ct)
Trees (3 and 9 ct)
Snowmen (3 and 9 ct)
Peppermint Flavored Marshmallow Stars (9 ct)
Christmas Rainbow Pop (4 ct)
These PEEPS sweeten the holidays!
We were sent a variety of PEEPS to try and share our thoughts.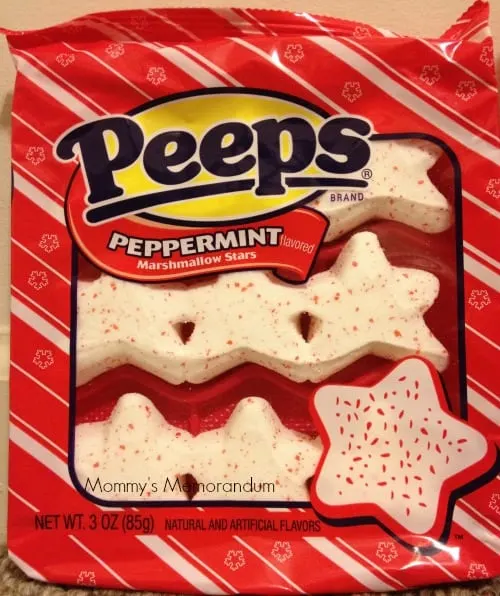 PEEPS Peppermint Flavored Marshmallow Stars. Oh. My. Open this package and smell the peppermint. Take a bite and be transported to the flavor of the season. Add them to hot chocolate for a tantalizing treat!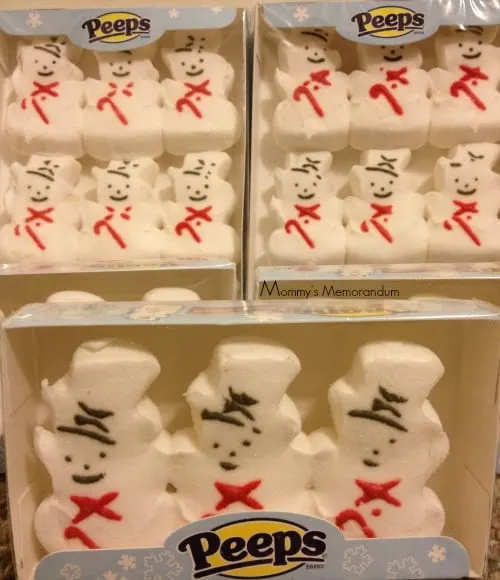 And then because I'm a PEEPS purist. I like the original. It brings back fond memories for me. It makes me a kid again. We tried–okay, devoured the Snowman Peeps. Gosh, they are adorable. I told the kiddos the 3 ct. are children's serving size and the 9 count are Mommy's serving size. They were okay with that and so we did our thing.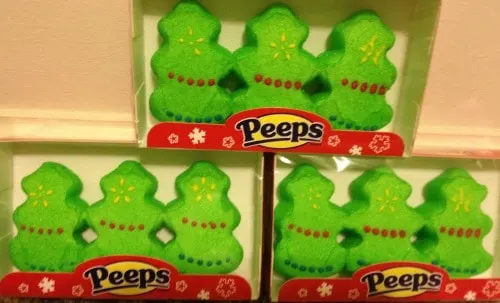 I'm ready to leave my comfort zone. We'll be picking up the Gingerbread Peeps just so I can add them to my new favorite Gingerbread Coffee. What a delicious treat that will be on these cold mornings!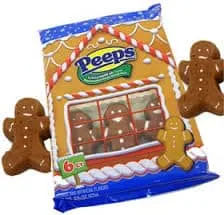 My kiddos love the fun shapes that go beyond chicks. The snowmen are fun and so are the Trees! If we could have stopped eating them, we had plans to decorate the PEEPS trees and make them festive with frosting and candies.
Discover these celebratory PEEPS can be found nationwide at grocery and drug stores, PEEPS & Company retail stores or at marshmallowpeeps.com.
Think stocking stuffers, neighbors, hot cocoa and crafts. There's a PEEPS waiting to make the celebration perfect!
How do you enjoy your Peeps?