This Homemade Bisquick Recipe is budget-friendly and so versatile.
Bisquick is a staple for many. I remember in home economics in seventh grade making something similar. We called it "Master Muck." I think its real name was "Master Mix."
Of course, as a seventh-grader, the real world seemed at my disposal. Then I became a MOM and now welcome short-cuts to keep us eating well and staying on a budget. I use Bisquick for some of my family's favorite recipes, like Red Lobster Cheddar Bay Biscuits and Preserve and Cream Biscuits. But let's face it, Bisquick can be expensive when you're using it often.
Make it at home with this DIY Homemade Bisquick Recipe!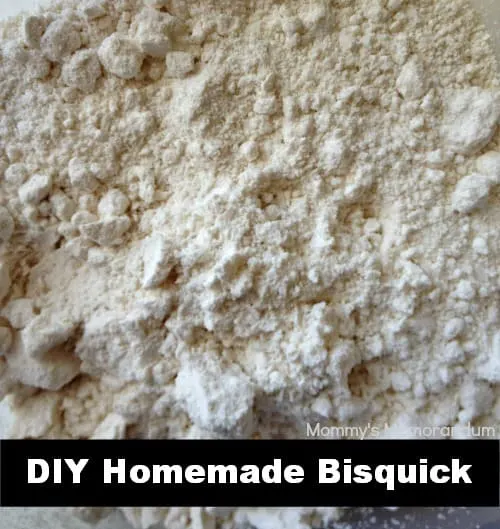 DIY Homemade Bisquick Recipe Ingredients:
6 cups all-purpose flour
3 tablespoons baking powder
1 tablespoon salt
1 cup vegetable shortening
DIY Homemade Bisquick Recipe Directions:
Sift flour, baking powder, and salt three times into a large bowl.
Cut in shortening with a pastry blender until mixture resembles fine crumbs.
Store mixture in an airtight container in the refrigerator for up to 4 months.
Use whenever your recipe calls for "Bisquick mix."