My Embroidered Gifts make the season personal. It's so easy to get caught up in the commercialism of the season and purchase those cookie-cutter gifts.
With My Embroidered Gifts, you are giving a gift that's sure to please and show the recipient they were in your thoughts, rather than just another name on your gift-giving list.
With hundreds of adorable gifts, you can find the perfect gift for Christmas, baby's arrival, Holidays, and more.
Plus, most items can be embroidered with a name, a date, or whatever you want to make it the gift of your choosing.
How fortunate we are to have received the My Embroidered Gifts Gund plush stocking!
It is a hit, and everyone who walks by it cannot help but touch it.
The quality is amazing, like anything with the Gund brand.
It's traditional Christmas Red and white, and the Super Star is the plush Blake the Penguin that comes attached.
It took a few days before my children realized when you squeeze his penguin belly, he plays "Jingle Bells."
Li'l Man's name is embroidered on the furry cuff of the stocking, and he is so proud!
It's truly made his holiday special and made me realize how much every child should have their own personalized stocking!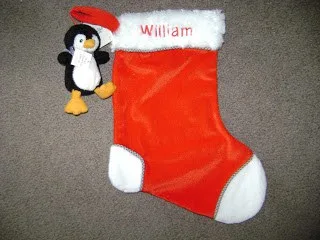 My Embroidered Gifts also offers an adorable My First Christmas Bear. He's nine inches tall and stuffed with love, making him an incredibly soft keepsake to be treasured.
There's a hand-knit Countdown to Christmas Dog that is stinkin' cute and would be perfect for anyone who loves puppies.
This gift can be personalized by adding a name to his floppy ears, which is sure to bring a huge smile.
Quite possibly one of my most favorite gift items through My Embroidered Gifts is the Baby's First Christmas Photo Album!
It's a soft velour that holds twelve 4″x6″ pictures.
The back allows the option for personalizing with the baby's name for a delightful keepsake.
Wouldn't this be such a wonderful gift for that new baby?
Just imagine the Holiday tradition of pulling it out year after year to remember Baby's First Christmas!
We're counting down to the big day, and if you're still looking for a present or a stocking stuffer, head over to My Embroidered Gifts.
There's soft, safe baby toys, personalized stockings that can be personalized, making one of a kind holiday gift.
My Embroidered Gifts is a great place to shop all year long.
They have a large selection of wedding gifts, presents for parents and grandparents, as well as special items for every holiday.
You might even discover a great deal on their sale items.
I received the Gund Plush Cuddlers Stocking from My Embroidered Gifts to facilitate an honest review. No other compensation was received. The opinions are my own and were in no way influenced by the sponsor. Other experiences may vary.