A Christmas Story and Art Lesson by See the Light
My children love creative expression, and The Gift of Love Christmas Story and Art Lesson brings a new craft to the Holiday celebration. It's a great guide to art and truly displays the meaning of Christmas through the seven-minute gospel presentation.
Over the summer my children live to do chalk drawings on the sidewalk.
I remember as a child watching my mom draw with chalks, and it fascinated me.
The Gift of Love begins with a ten-minute story that is illustrated by chalk.
My children were fascinated to watch the artist drawing the pictures to the story as the Christmas Story was shared.
It's very soothing and calming with some quiet music in the background.
Following the ten minutes, illustrated as it goes story there are three art lessons that are suited for children six years and older.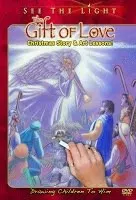 The Divine Miss M loves to letter, and there is a great art lesson on Creative Lettering instructed by Heidi Shorts.
It's art, history and the Bible all melded into one beautiful lesson.
This lesson focuses on the word "Rejoice," and I love that she introduces words and writing on such a creative platform, taking it step-by-step making it possible for anyone!
In the Second Art Lesson, I loved seeing Pat Knepley, from the YES! You Can Draw Club.
This lesson teaches children how to draw Away in a Manger.
It's a step by step guide to drawing the animals that were in the stable on Christmas Eve.
This lesson recommends using EXTREME Colored Pencils by Crayola.
Magic happens then when an ultra-light is turned on giving some impressive results.
The third and final lesson is taught by Gloria Kohlmann.
It is a lesson on drawing the "Portrait of Mary" with chalk.
This lesson offers a sketch to help artists at any level achieve success.
It is available to download from See The Light.
The basic DVD is available for just $14.99, with an option for a bonus pack, which includes a black-light for just $24.99.
There is also a Deluxe Pack that has the lesson DVD, the black-light, and the fluorescent crayons used in the lessons.
All are available through See the Light Art.
If you've not heard of See The Light Drawing Children to Him, I'm happy to share it is a company that has an online art club with Christ-honoring lessons.
My children loved watching the Bible stories come to life. It was awesome to see the ultraviolet light added at the peak point in the story, reveal a hidden picture that made it truly a magical moment.
I was sent a copy of The Gift of Love to facilitate an honest review. No other compensation was received. The opinions are my own and were in no way influenced by the sponsor. Other experiences may vary.
We appreciate your subscription to Mommy's Memorandum