Introducing the Aurorae Yoga Mat – the ultimate companion for your yoga practice!
The Aurorae yoga mat is made with high-quality materials that are designed to provide you with the perfect balance of comfort and stability. The mat is thick enough to cushion your joints during challenging poses, yet firm enough to support your balance and alignment.
With a non-slip surface, you can practice with confidence, even in the most intense sweat sessions. The mat's textured surface provides extra grip and traction, helping you maintain your pose without slipping or sliding.
At Aurorae, they understand that yoga is a deeply personal practice, so they offer various colors and designs to choose from. Whether you prefer a vibrant and bold design or a simple and elegant one, we have something for everyone.
This yoga mat is also eco-friendly, made with non-toxic materials that are safe for you and the environment. Plus, it's easy to clean and maintain, so you can focus on your practice without worrying about the upkeep.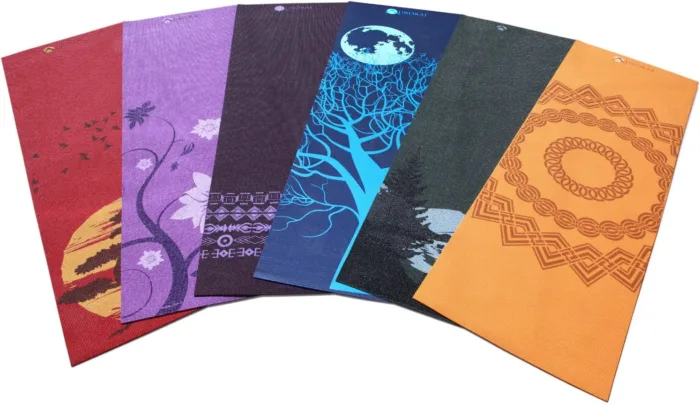 Aurorae Yoga Mat Review
My weight challenge is going well, and thanks to Aurorae Yoga Mats, I am starting to implement more exercise into my routine. Something beyond the walking. One of the things that is making the transition into video workouts or stretching in my home is Aurorae Yoga Mats. I would have never thought that the addition of a yoga mat could make my floor a comfortable haven to work out, but Aurorae Yoga Mats does just that with its oversized, padded workout mat.
Aurorae yoga mats are designed with eco-friendly materials that is free from Phthalates. I was sent their Northern Lights Yoga Mat for review. It's a great value at just $39.95. Their collection also includes Yoga Slip Free Rosin Bags, Yoga Sport Sweat Towels, and a new product, the Denim Yoga Sak.
I'm no expert in Yoga, but I have used
yoga mats
in the past and can tell you that the first thing I love about

Aurorae Yoga Mats is that they are longer in length and thicker than a traditional yoga mat. They are also plush with .25″ thickness providing cushion and support to protect my back, knees, and joints by absorbing the impact –especially as I learn the yoga positions–I'm all over the place. Plus it's a whopping 72″ in length–I love it!
The
Aurorae yoga
mats are also created with

illuminating colors

that
define your inner self, bringing out the natural aura within. The Aurorae Yoga Mats also have
a focal point icon, allowing
focus on poses as well as maximizing the calming and stress relief yoga encourages.
Aurorae Yoga is a company that offers the best quality and services available on the internet. In fact, the Aurorae yoga company has the best-reviewed and the number one top-rated yoga mats and materials on Amazon.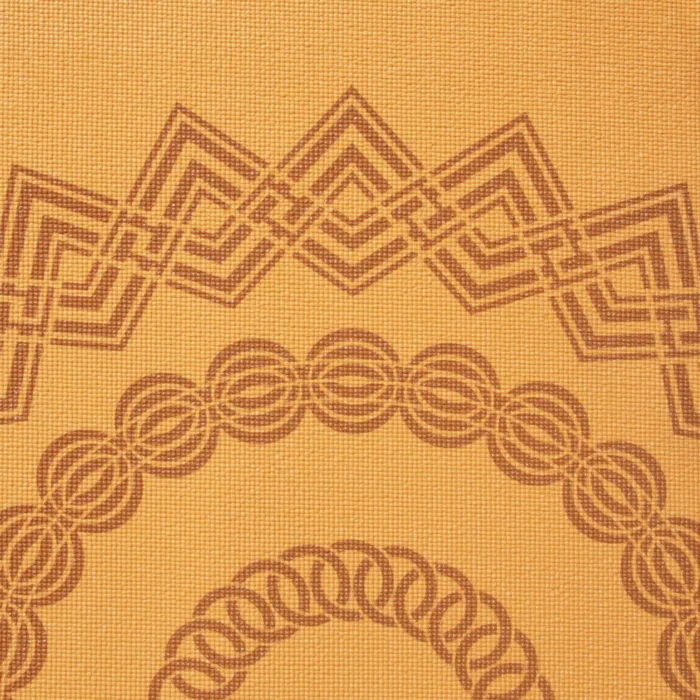 What are the Advantages of using a Yoga Mat?
Using a yoga mat can offer several advantages when practicing yoga, including:
Improved grip and stability: A yoga mat provides a non-slip surface that can help you maintain your grip and balance during your yoga practice, even in challenging poses.
Cushioning for joints: Yoga mats are designed to provide some cushioning and support for your joints, which can be helpful if you have any knee or wrist pain.
Hygiene: A yoga mat provides a clean surface for you to practice on, which is especially important if you are practicing in a public or shared space.
Portability: Yoga mats are lightweight and easy to roll up, making them convenient to carry to and from your yoga class or practice space.
Alignment: Many yoga mats come with alignment markers or grids that can help you maintain proper alignment and form during your practice.
Overall, using a yoga mat can help enhance your yoga practice by providing you with a stable, comfortable, and clean surface to practice on.
What to Look for When Choosing a Yoga Mat
When looking for a yoga mat, there are several things to consider.
Here are some factors to keep in mind:
Thickness: Look for a mat with a thickness that feels comfortable for you. A thicker mat can provide more cushioning and support for your joints, while a thinner mat can give you a better connection to the ground.
Material: Yoga mats can be made from a variety of materials, including natural rubber, PVC, and TPE. Consider what material feels best for you and your environmental preferences.
Texture: The texture of a mat can affect your grip and stability during your practice. Look for a mat with a textured surface that provides good traction.
Size: Consider the size of the mat in relation to your body and practice space. A standard yoga mat is typically 68 inches long and 24 inches wide, but if you are taller or shorter, you may want to look for a longer or shorter mat.
Eco-friendliness: If you are concerned about the environment, look for a mat that is made from eco-friendly materials and is free from harmful chemicals.
Price: Yoga mats can range in price from under $20 to over $100. Consider how often you will use your mat and what features are most important to you when deciding on a budget.
Ultimately, the best yoga mat for you is one that feels comfortable, provides good traction, and meets your individual needs and preferences.
About Aurorae Yoga Mat
The Aurorae yoga mat is an extra long yoga mat (72"x24"x1/4") available in great illuminating colors to define your inner self, bringing out the natural aura within you. The ¼" thick yoga mat provides enough cushion and comfort to protect your knees and joints. Aurorae yoga mats are considered one of the most durable and easy-to-care-for yoga mats with incredible value. Aurorae yoga wants you to feel like you are amongst friends and we hope you feel comfortable recommending us to others. Your business is always appreciated and we at Aurorae look forward to servicing your yoga needs and hopefully making a few new friends along the way. This is "your yoga" so don't be intimidated or uncomfortable. Relax, enjoy, and Namaste.
I really enjoy rolling out my Aurorae Northern Lights Yoga Mat. It's becoming something I look more and more forward to. As the fluffy white misery continues to fall from the sky and coat the ground with its cold fluff, the Northern Lights mat reminds me of camping trips to warm Southern Utah with the colors of the rock formations and ground there…it's very calming and is giving me energy in spite of the weather.
Product Features
. Exciting New Northern Lights Design that Illuminates Energy/ w Golden Sun Focal Icon
. PER Eco-Safe and Biodegradable material/ SGS approved, the worlds largest testing agency
. Extra Long 72″ x 24″ Wide and 5 mm thick to absorb impact on joints
. No odor, durable and long-lasting
. Aurorae is the #1 best-reviewed yoga mat with 5 Star feedback
. Each individual mat has a uniqueness of its own and no two mats are exactly the same
You can purchase any of the Aurorae Yoga products through

Amazon

.
Invest in yourself and elevate your yoga practice with the Aurorae Yoga Mat. Try it today and experience the difference for yourself!
This review was made possible with the Aurorae Northern Lights Yoga mat.
I was sent the Aurorae Northern Lights Yoga Mat in order to facilitate an honest review. No other compensation was received. The opinions are my own and were in no way influenced by the sponsor. Others experiences may vary.