Two of my favorite brands, Rubbermaid and Sharpie have partnered together to make gift giving this holiday season personal! Our box arrived early in the week and I held out until school was out for Thanksgiving Recess. It was tough and really built up some excitement for the kiddos.

The kiddos kept asking, "what's in the box?" And the big reveal when the box was opened was:
15 Piece Set of Rubbermaid TakeAlongs
8 Pack of multi-colored Retractable Sharpie Markers
2 Pack of Sharpie Paint Markers (Silver & Gold)
1 Refillable Sharpie Stainless Steel Marker
3 Pack of Retractable Sharpie Pens
The kiddos looked at me wondering what all this had to do with gift-giving. I explained they were going to use the markers to decorate the Rubbermaid TakeAlong Containers. Li'l Man was ready, after all, "destruction" should be his middle name! It took some convincing my six-year-old that it was okay and that we would be filling them with cookies and baked goodies to give to our friends and family for the holidays. I actually had to make one before she would participate!
Here's my finished container: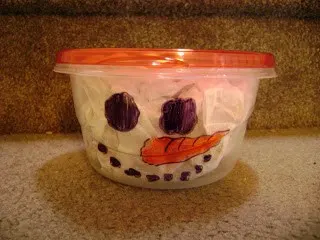 Once The Divine Miss M saw the fun she wasted no time getting started! In fact, an hour later, she's still decorating Rubbermaid TakeAlongs!
The final addition was our tag. Sharpie and Rubbermaid recommend writing the recipe on a 3″x5″ index card and attaching it to the container.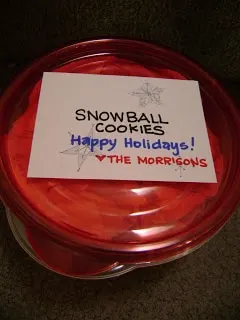 I love this idea and plan on doing it with fudge and sugar cookies.
For the first container, which we are giving to a neighbor to celebrate the "Storm of the Century" passing us by we just made a paper tag to complement our Snowball Cookies.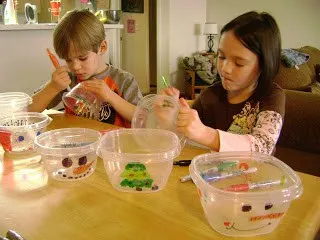 This project is the perfect way to let your children be creative and be a part of the gift giving process. Plus, the TakeAlongs can be used again by the receiver so it is not another piece of clutter in their house.
I received the Rubbermaid/Sharpie Kit described above in order to facilitate an honest review. No other compensation was received. The opinions, where expressed are my own and were in no way influenced by the sponsor. Others experience may vary.
We appreciate your subscription to Mommy's Memorandum