Finding the right color pallet for your project can be exciting but it can also be frustrating. The broad spectrum of colors to choose from and variations of each shade can be so overwhelming, that sometimes it seems impossible to narrow it down. Working with Sherwin Williams and using their color selection tools on their website has eliminated all of the aggravation of finding the perfect pallet of colors for any project.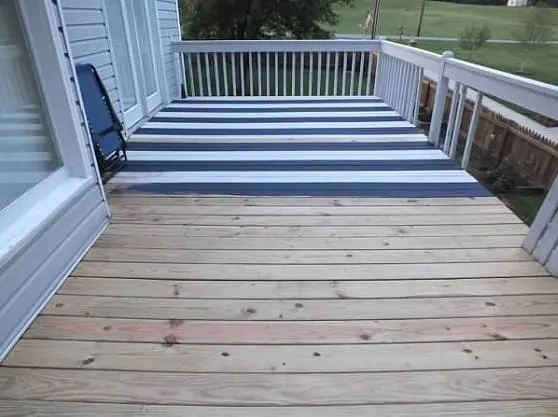 If you don't have a particular color in mind you should start by searching through the color collections. These schemes are sorted into categories such as; Historic colors, colors for children, and color pallets to match your own personality. Because I was working on an outdoor project, I browsed through the Exterior Color Schemes and found some basic ideas on colors that would blend well with the architecture of my home.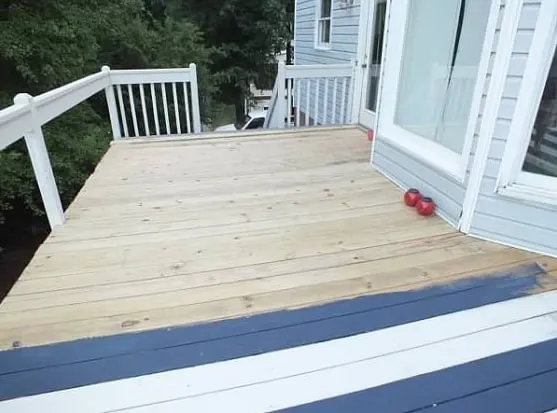 If you do have a particular color in mind, you can browse through the paint colors by the family to find that perfect hue. But before you make your purchase, check out the color visualizer tool. This program allows you to upload a picture of your room and "paint" your room in different colors before you buy the paint. Not only was this application extremely helpful it was also a lot of fun. Using the color visualizer you can find the color that looks the best in your home and with your furnishings. If you need help coordinating colors, take advantage of the HGTV Home designer color pallets. The designer color pallet tool helps you find complementary colors to create room-to-room harmony and achieve a professional decorator look.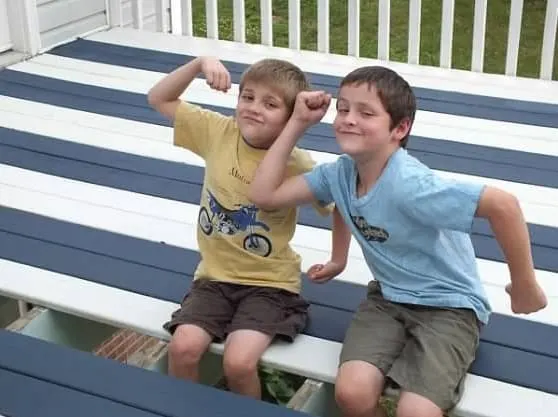 My favorite color selection tool was the "Chip It" program. This program allows you to select any image you find online and create a color pallet using the colors found in that image. . I LOVE this application! Find an item that inspires you. Make it the focal point of your room; whether it is a throw pillow, a vase, or a framed print. Capture the image, upload it o the Chip It tool, and the program will produce a pallet of Sherwin Williams Paint colors that coordinate with your item. I found my inspiration for my color pallet by shopping for outdoor rugs. The "Chip It" Program helped me narrow down the matching colors and eliminated all the guesswork in picking the right colors. The colors I have used in the deck are Naval Blue and Pediment White.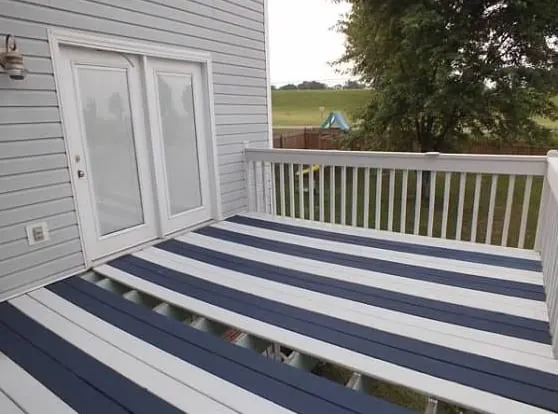 Once you have decided on your color pallet the next step is to choose your paint. If you are unsure which paint is best, visit your local Sherwin Williams Store and speak to one of the sales associates. They are very knowledgeable and will gladly help you find the perfect paint to meet your needs. For the deck, I chose the HGTV® HOME Exterior Latex Paint by Sherwin Williams. This paint is a durable, mildew-resistant paint that provides great coverage and is perfect for hiding flaws in the wood.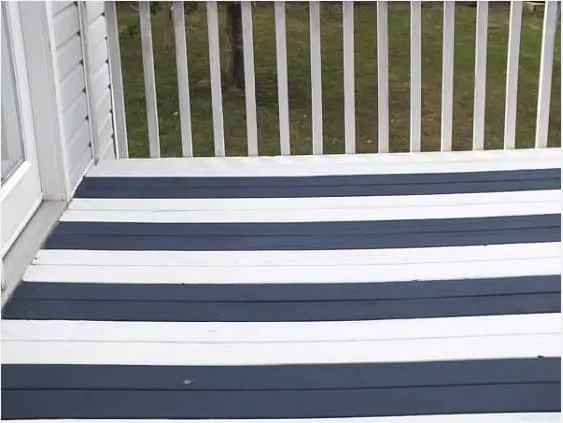 To go with the nautical theme for my backyard, I decided to paint the deck in a navy blue and white nautical stripe pattern. Painting the stripes was a little more tedious than I had originally thought. First I painted the whiteboards and then once these boards were dry, I painted the alternating boards in blue. Instead of using a paint roller, I chose a medium size nylon paintbrush, which offered better control of the paint. Instead of using masking tape in between the boards, I used a hand-held 12-inch plastic guard. This is probably one of the greatest painting accessories ever invented. Not only does it eliminate the need for tiresome prep work, but the paint guard also costs under $5.00 and will save you a bundle in masking tape.
This weekend July 20 – July 23rd, take advantage of the Sherwin Williams 4-Day SUPER Paint Sale and save 40% on all your paints and stains. Also, visit their website at http://www.sherwin-williams.com/homeowners/special-offers/sales-and-coupons/ for additional savings.
To see the difference a coat of paint can make, check out our 9 Helpful Tips to Replacing Deck Boards.
"Natalie is a mother of two energetic boys ages 5 and 7. She spends her weekends working outside in the yard and loves DIY home improvement projects. She enjoys playing sports with her children and dreams of becoming a professional photographer..
Disclosure of Material Connection: I received one or more of the products or services mentioned above for free in the hope that I would mention it on my blog. Regardless, I only recommend products or services I use personally and believe will be good for my readers. I am disclosing this in accordance with the Federal Trade Commission's 16 CFR, Part 255: "Guides Concerning the Use of Endorsements and Testimonials in Advertising."