Introducing CuddleUppets – The Perfect Blend of Comfort and Play!
Are you ready to cuddle up and embark on a magical adventure? Look no further! CuddleUppets are here to bring joy, warmth, and endless fun to your home. Imagine a blanket that's not just a cozy companion but also a delightful puppet that brings your imagination to life. It's time to unleash the power of playtime with CuddleUppets!
✨ Immerse Yourself in a World of Wonder ✨
Whether you're a child or a child at heart, CuddleUppets will ignite your imagination like never before. Transform your bedroom, living room, or any space into a whimsical wonderland where dreams come true. With CuddleUppets, the possibilities are endless. Create magical stories, embark on daring quests, and share countless hours of laughter with your newfound cuddly friends.
🐾 Unleash Your Inner Puppeteer 🐾
With CuddleUppets, you become the master puppeteer, controlling the enchanting characters at your fingertips. Each CuddleUppet boasts a unique personality and vibrant design, ready to come alive with just a flick of your wrist. From playful puppies to mischievous monkeys, cuddly bears to majestic unicorns, there's a CuddleUppet to suit every individual's tastes and preferences.
🔥 Cozy Comfort That Wraps You in Warmth 🔥
Not only are CuddleUppets incredibly fun, but they're also soft, snuggly blankets that provide a cozy sanctuary on chilly nights. Made from high-quality, plush materials, these blankets are designed to keep you warm and comfortable, making them perfect companions for relaxation, bedtime stories, and movie marathons. You'll never want to let go of the soothing embrace of your CuddleUppet.
🎁 The Perfect Gift for Any Occasion 🎁
Searching for a memorable and unique gift? Look no further than CuddleUppets! Surprise your loved ones with a present that combines the joy of playtime and the comfort of a cozy blanket. Whether it's for birthdays, holidays, or just to show someone you care, CuddleUppets will put a smile on the faces of children and adults alike. It's a gift that will be cherished for years to come.
🌟 Join the CuddleUppets Family Today! 🌟
Don't miss out on the opportunity to experience the enchantment and warmth of CuddleUppets. Head to the CuddleUppets visit your nearest store to browse their delightful collection of cuddly characters. We guarantee that once you hold a CuddleUppet in your hands, you'll never want to let go. So, why wait? Embrace the magic, cuddle up, and let your imagination soar with CuddleUppets – the blankets that are puppets!
Our CuddleUppets Review
I'm going to share a secret. Li'l Man is afraid of the dark. Bedtime is always a production filled with excuses as to why he can't sleep in his own room. We may have found the answer with
CuddleUppets
. If you haven't heard the commercial, "CuddleUppets, the blankets that are puppets. You can play all day and
sleep
the night away."
The CuddleUppets line includes six fun animals: Blue Elephant, Brown Bear, Green Crocodile, Pink Poodle, Purple Monkey and Yellow Puppy. We selected the Purple Monkey for Li'l Man. He loves monkeys and thinks they are silly.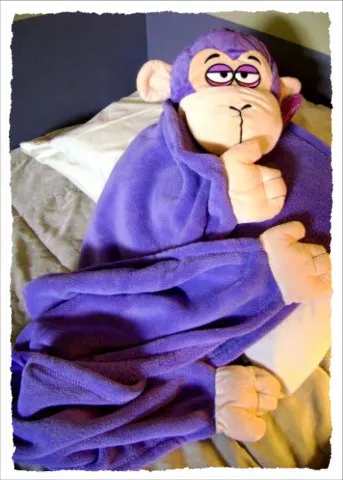 We first noticed how soft the fabric is- we're talking snuggle approved! The actual blanket measures 28″ by 39″. It's roomy enough for even me! The CuddleUppets have feet on each of the four corners. It also has an animal head that adorable enough on it's own, but is an actual puppet!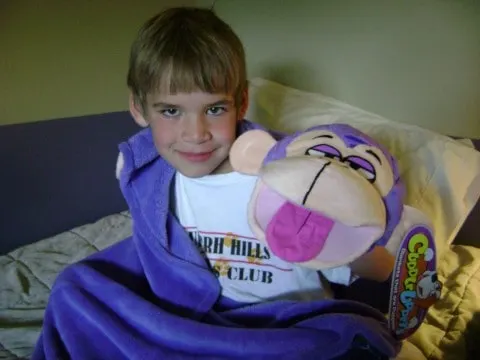 Li'l Man loves snuggling in his CuddleUppets blanket and the puppet part allows him to have a conversation with Mr. Monkey, keeping his attention away from it being dark.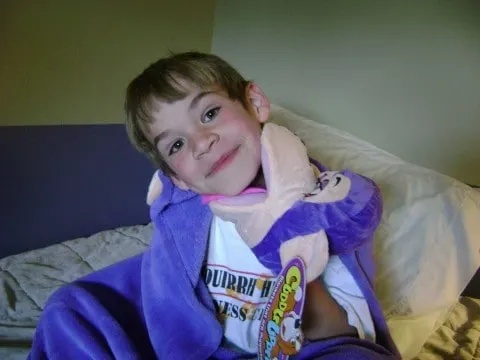 He can be silly and entertain himself and event his siblings. He loves the puppet part and the blanket part makes it a great take-along when we go on trips that take us away from home.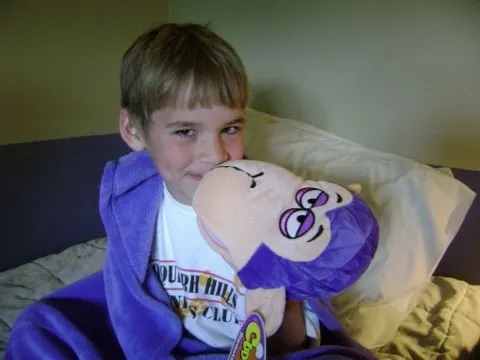 After Li'l Man has worn himself out, CuddleUppets is there, hugging him through the night keeping watch for what his imagination thinks lurks in the dark. It makes him feel safe and helps him get the rest he needs.
CuddleUppets retail for $19.99 and are available through their website.