The Divine Miss M had a tea party and rather than make tiny cakes, we made a round cake and added color. LOTS Of color! We disguised it all with buttercream icing and when we cut into and put it on each girl's plate, the yard was filled with squees!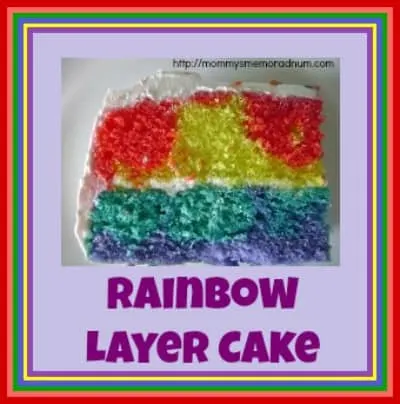 Ingredients:
Yellow or white boxed cake batter, prepared by box instructions and divided into how many colors you want
Food Dye (we used Wilton gels)
Buttercream frosting
Directions:
Divide your cake batter in bowls. How ever many colors you want in your cake is the number of colors and bowls you will need.
Use the food dye to color your cake batter.
In your greased and floured cake pans, drop your batter into the pan, one color at a time. You can swirl with a knife gently or leave how they are. Bake per instructions.
Remove cake from pans ten minutes after removing from oven and allow to cool.
Frost the cake and add any embellishments you like.