Bailey Mae's holidays just got a whole lot brighter thanks to HappyDogBox.com.
She knew the minute the box was through the door that this package was JUST for her.
She rolled on to her back and looked adorable! It's her way of getting what she wants!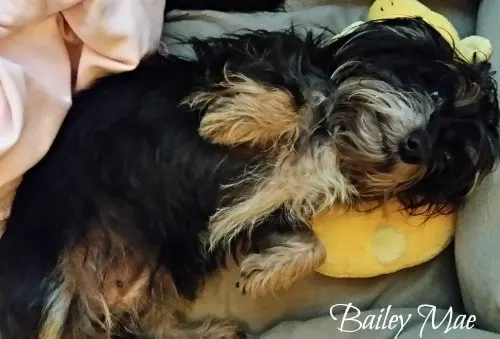 Bailey Mae is part of our family.
She is our furry princess.
She was home alone last week when our home was burglarized and in spite of her fear and trauma, she spent that night running between us, licking our faces as if to say, "I'm okay! Are you okay?"
Sure, she sleeps a lot, but she greets us at the door, she snuggles us and like "Nana" in Peter Pan, she tucks each of the kiddos good night.
HappyDogBox.com is a great reward to recognize Bailey Mae's loyalty, courage and love.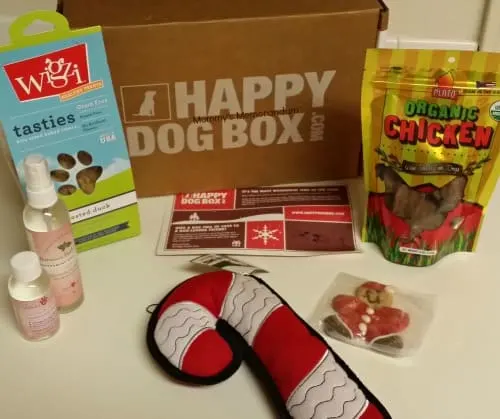 Happy Dog Box is a GREAT box of some fabulous products just for Bailey Mae.
We received our box in order to facilitate an honest review.
This box is normally $25 per month and shipping is free!
It's definitely a deal!
A candy cane squeaker is the perfect toy!
It's big, but Bailey Mae thinks she's ferocious so she doesn't notice.
She loves toys and will love them beyond destruction.
I love that this toy is just for Bailey Mae.
Normally, she tucks kiddos in and appears from their bedroom with a "forbidden fruit" that I have to reprimand her for taking.
She loves this toy!
Now let's talk treats.
Bailey Mae is the most finicky when it comes to treats.
She will turn her nose up and walk away if it's a treat that doesn't appeal to her.
She is not even polite in taking it and leaving it..nope!
She just walks away.
So the treats in the box were a sort of hold-our-breath moment.
The Yummy organic chicken treats were a hit!
She will jump as high as our counter if you promise her a chicken treat!
I love that these treats have no added fillers, cornmeal, or additives.
Bailey Mae doesn't know we look out for her like that, but we do!
Then there are the Roasted Duck Bites.
Bailey Mae has never tasted "duck" before and these must be good.
These are in her "potty treat" jar and she will come and tell us she needs to go outside and then fake it just to come dashing in for a Roasted Duck Bites.
It worked the first couple times, but we caught on!
But her FAVORITE? Oh, the little gingerbread cookies.
They are adorable. I read the ingredients and thought about eating them myself, but I need to give up my gluttonous ways!
She took the first one like a lady and then the animal in her came out as she scarfed down the yumminess.
The second one is in her Christmas stocking.
Bailey Mae also loves baths and we are loving her new glam.
She smells like Christmas with the Peppermint Scented bath set!
I caught Miss M spraying the spray on herself the other day.
When I gave her the stink eye she said, "What?! I love how this stuff smells!"
It may or may not be the peppermint scent that has Bailey Mae high in demand for cuddles this season!
She smells good enough to EAT!
Happy Dog Box sends out 5 to 6 hand-selected, all-natural dog treats, toys, and other pet-worthy products each month.
Boxes can be customized by selecting the size of dog you have: small, medium, or large.
I love that HappyDogBox.com provided Bailey Mae with products that aren't shelved at big-box stores.
Not only is the selection impressive, but HappyDogBox.com ships the box with FREE shipping right to the door! It's easy to order for your own furry love or gift a subscription for someone who loves their furry family member.
And since it's the season of giving, I'd like to also share that HappyDogBox.com donates a portion of its profits to shelters in partnership with the San Francisco SPCA.
It makes my heart warm to know that Happy Dog Box is sharing their love of pets to provide healthy treats and toys to brighten a dog in a shelter hoping to be adopted by its forever family.