The season of giving is upon us. While it's tempting to shop until you drop with the jaw-dropping sales popping up throughout November and December, other heartwarming options make the best presents ever. While many of us are spending more time at home and less time with the ones we love, that sense of closeness will add a thoughtful touch this year.
People love it when a special moment pops up in their 'Memories' on Facebook, reminding us of a beautiful moment shared with someone dear. Or when we celebrate a "friend-versary" with a montage of photos to reminisce about the good times. A collage is a present universally loved by its recipients – not to mention one that can be easily created online.
What makes a gift collage special
Personalization
While Zoom plays an excellent host for those at-home-work-and-play meetings, it can't quite compare to those in-person connections that we are all craving. And when we look back at pre-pandemic times, we remember all those moments spent with loved ones that we still feel cannot be replicated online.
Make the most out of these cherished memories, reminding friends, family, and other loved ones of the beautiful moments experienced together by giving them personalized gift collages! Although we remain apart physically, these collections of photographs are here to tide us over until we can come together again in person.
Creating a collage for loved ones is simple and straightforward. Be sure to collect photos of your favorite moments with these people and save them into a folder. Then, it will be easy to access these photos whenever you are ready to create a one-of-a-kind collage that stands the test of time.
It's a 'forever' gift.
While physical photos were easily displaced, it is now much easier to preserve the pictures we capture today in the digital sphere. With helpful options like Google Drive, we can save and segment albums on the cloud where they can live forever. These images can be preserved over and over, as long as we take care of them. While the condition of old-school photographs might become faded or torn, we can retain the condition of their virtual counterparts for years to come.
Whether photos are kept in pristine condition or end up tattered-and-torn through the test of time, the associated moments remain equally important. Having an array of photos throughout the years or decades that can tell a story that we cannot tell on our own with words.
When is it appropriate?
Holiday season
There is never a bad time to give a collage as a gift of moments past. But as the holiday season approaches, one idea that pops immediately to mind is a collaboration of photos from Christmases, Hanukkahs, or Thanksgivings of our past.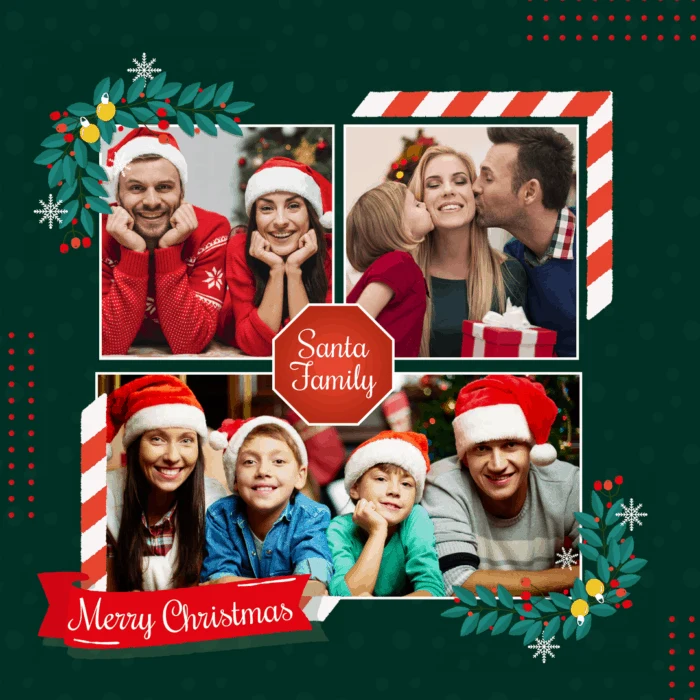 Vacay-time

And since most of us dream of hopping on a plane but physically can't head on vacation during these uncertain times, now is the perfect time to memorialize a trip together. Consider creating a collage of photos captured while traveling with your spouse, friends, or family.
Whether that is a European backpacking getaway with your bestie, a palm-tree-filled, Margarita-sipping vacation with your spouse, or a cottage vacation with the family, this collage will be sure to bring up some fond memories.
Who knows, maybe it'll even encourage you to consider planning an upcoming vacation post-pandemic.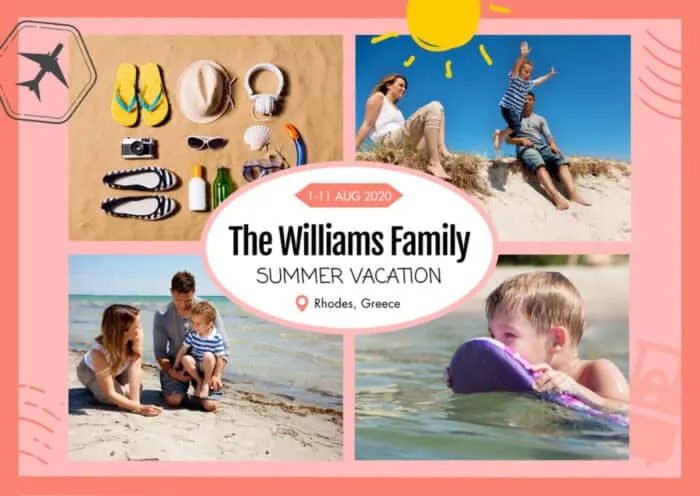 Wedding anniversary commemoration
That time comes around on the same date each year, but it can become easily forgotten as the years go by. Make sure your loved one feels a little extra special this year with a collage that celebrates some of your best moments together.
A few moments to get the inspiration flowing include the first date, Valentine's Day, your engagement, and of course, the moment you said 'forever' – your wedding day!
Birthday
Everyone has some special people in their life who've been with you through thick and think and whose existence is worthy of celebration. While we might unveil some old memories in the process that weren't the receiver's best moments, they will definitely incite some giggles from them. Not to mention, going over old, special memories will remind you of all you've been through together, making your bond even stronger.
How to make your own collage
PosterMyWall's intuitive editor makes it easy for both beginners and experts alike to create beautiful collages in no time. All it takes is four steps to do so:
1. Choose your template
PosterMyWall offers an array of professionally-designed templates that coincide with the message you would like to get across in your gift. Its collages come in all shapes and sizes for every holiday and celebration imaginable.
From Mother's Day to birthdays and the everyday celebration of love in between, a digital collage will suit your needs. And if you aren't sure where to start, the Family Collages page has some ready-to-use templates for you.
2. Incorporate those cherished moments
Now comes the fun part! Bring out your inner Picasso by editing designs in the PosterMyWall editor. To remove the placeholder photos, click them, and under 'edit' images, select 'delete.'
Then, you can upload photos directly onto the platform or add them from your Facebook collection – it's that easy.
3. Edit those pics
Even if you feel like your photo is a complete masterpiece, a little can go a long way when it comes to editing. The first trick to a beautiful photo is cropping the excess. This is where you will eliminate the extra on the sides to ensure that the most important subject is being captured in the middle of the photo – YOU! There are a few helpful steps to ensure that the image is being cropped properly: :
1. Choose the right photo
2. Under the 'Edit' image option, click 'Crop.'
3. Select from four choices to crop the photo, including:
– Square: resizes the image to square proportions
– 4:3: takes the photo to a 4:3 ratio
– Original: crops while keeping the original size and orientation
– Free: a no-restriction cropping option – crop-away as you desire
4. Click on the blue 'Crop' option
VOILA – there you have it. A focused photograph following the rule-of-thirds ensures that you are the point-of-interest in the image.
Other fun edits offered on the PosterMyWall platform include incorporating edge effects, glow, border, or filtering the image to your liking. The creative freedom is yours.
4. Save, download, and share!
Don't forget the 'save' button once you feel that all elements are edited to your standards. The best part is that you can download for free or upgrade for high-resolution, print-quality downloads. Whether you frame it and wrap it up in beautiful packaging or send it over to a friend far, far away via email, we know that this gift will be heartfelt.
Celebrate by making it personal
In these challenging times, nothing is more important than our connections with others. And as many of us remain far apart even during the holiday season, gifting a personalized collage will remind those in your life that you love and miss them.