Gooseberry Patch Quick and Easy Christmas may be my salvation this season. With my aunt so ill and my neighbor passing away it seems everything is in frantic mode. I seem to be in fast forward and finding time to make dinner is a frantic mess.
Gooseberry Patch Quick and Easy Christmas Review
As you know, Gooseberry Patch is one of my favorite lines of cookbooks. I love the spiral binding, making it easy to flip open and stay put while I gather the ingredients and follow the directions. It's smart.
I also love the variety. In Gooseberry Patch's Quick and Easy Christmas there are over 220 recipes. That's giving me selection to pick and choose and I can get creative with an old favorite entree and add new flair with a side dish. I love the recipes collected from kitchen's all across the kitchen from people like you and me. These recipes are all great for the holidays and everyday. They are, like the title reads, quick and easy!
Gooseberry Patch
makes it easy to browse the book by dividing the Quick and Easy Christmas book into six sections. Breakfast and Brunch, Snack and Appetizers, Soups, Sides and Salads, Mains,
Desserts and Slow Cooker
!
As an added bonus there's tips and ideas for crafts, gift giving and ideas on holiday decorations.
Take a moment to slow down and find a new recipe. Gooseberry Patch offers a great selection of recipes in their line of books. Any one would make an excellent Christmas gift for the newlywed family that loves to cook or for yourself.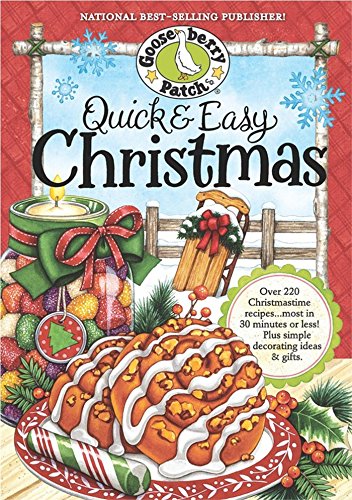 About Gooseberry Patch Quick and Easy Christmas
Spend more time celebrating and less in the kitchen! Quick & Easy Christmas, a new book in the best-selling Gooseberry Patch series, is filled with easy, inexpensive recipes. They're quick to fix since each is ready in under 30 minutes or starts with just 8 ingredients or less…so simple! Heartwarming holiday memories and clever tips for easy-to-make gifts are also included…features for which Gooseberry Patch holiday books are known.
Learn more about this book and all the other great cookbooks by Gooseberry Patch as well as some great recipes, by visiting: gooseberrypatch*I received a copy of this book from the publisher for review. I was not compensated in any other way. All opinions, where expressed, are my own and were in no way influenced by the sponsor. Others experiences may vary.