When I first got married, I wasn't creative. I limited my crockpot to cooking meals like soup. I've branched out a little since then, and these days I'm finding inspiration in Slow Cooker Desserts by Jonnie Downing. The full-color photos inspire and create recipes around my favorite part of any meal, DESSERT!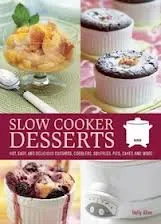 Slow Cooker Desserts offers recipes for cakes, puddings, custards, cobblers, crisps cookies, brownies, bars, and much more. It's a little bit of heaven inside the crockpot. Effortlessly create Chocolate Lave Cakes, Sticky Toffee, Macaroon Brownie Bars and Bananas Foster. Gather the ingredients and count on the magic of slow cooking.
There are fruit desserts, cobblers and more. All recipes have been tested, tasted and approved. Plus, they're all easy to make.
Be warned, this book makes dessert so easy, you might not just be having it after dinner or occasionally!
HOT AND SCRUMPTIOUS DESSERTS STRAIGHT FROM YOUR SLOW COOKER
Discover the hassle-free way to have the most delicious dessert. Toss the ingredients in your slow cooker, and let them cook while you enjoy a relaxing dinner. Then, serve the piping hot treat to your family (don't forget to top it off with a scoop of ice cream!) Slow Cooker Desserts has everything from puddings and crisps to desserts you didn't even know you could cook in a slow cooker, like brownies and cakes, including:
•Super-simple slow cooker cheesecake
•Carrot Cake with Cream Cheese Icing
•Peach Cobbler
•Bananas Foster
•Bourbon Custard with Nutmeg
•Sticky Toffee Pudding
•Coconut Rice Pudding
•Rich Bread Pudding with Candied Cherries
•Macaroon Brownie Bars
•Apple Cranberry Compote
•Raspberry Chocolate Casserole
•Luscious Lemon Cake
•Chocolate Chip Peanut Butter Bars
•Brownie Pudding Cake
Your favorite desserts aren't just for special occasions anymore. Using the easy-to-follow recipes in this book you can enjoy them any day of the year! With full-color photos and perfectly adapted recipes, this book allows you to make delicious desserts with minimal stress. No more rushing away from the dinner table to get dessert in the oven, thanks to the magic of slow cooking. You'll enjoy spending more time with your family and less time in the kitchen.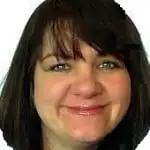 Julee is a quirky, dorky, North Carolina Transplant with an appetite to taste the world, meets its desserts and blog about them. When she's not behind the computer you can find her playing with her family, reading a good book and celebrating the little things.
Disclosure of Material Connection: I received one or more of the products or services mentioned above for free in the hope that I would mention it on my blog. Regardless, I only recommend products or services I use personally and believe will be good for my readers. I am disclosing this in accordance with the Federal Trade Commission's 16 CFR, Part 255: "Guides Concerning the Use of Endorsements and Testimonials in Advertising.".Julee Morrison