Eating better involves simple steps. Choices really. Choosing whole grains is one. They not only offer a wide variety of health benefits but are delicious. The Complete Gluten-Free Whole Grains Cookbook offers 125 delicious gluten-free recipes featuring some amazing whole grains like buckwheat, amaranth, corn, Job's tears, millet, oats, rice, quinoa, sorghum, teff, and wild rice.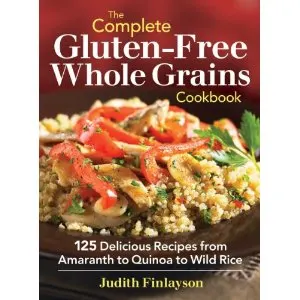 Good Taste and Gluten-Free Options Cookbook!
Written by Judith Finlayson, you'll discover more than just a cookbook; The Complete Gluten-Free Whole Grains Cookbook offers health information on the grains along with photographs of the grains for easy identification.
Studies show that eating whole grains:
reduces the possibility of developing Type 2 Diabetes

makes it less likely you'll have a heart attack
helps keep blood pressure under control
reduces the risk of having a stroke
lowers risk for certain types of cancers
assists in keeping weight under control and ensuring a healthier waist-to-hip ratio
helps keep cholesterol levels low
fights gum disease
promotes regularity
It's a great marriage of whole grains and this cookbook, proving that gluten-free options can be inviting.
Recipes are tempting and offer variety, like the Cranberry-Orange Pecan Muffins (page 36) or the Red Beans and Red Rice (page 178). Readers will also enjoy Black Sticky Rice Pudding (page 194), Chewy Oatmeal Coconut Cookies with Cranberries and Pecans (page 200), and Zucchini Fritters (page 50).
There's something for everyone in this cookbook, even if you're not choosing gluten-free.
Gluten-free whole grains can be delicious with flavors from earthy to nutty and sweet.
Consuming whole grains offer various health benefits and can be incredibly delicious. We also know that more and more people are looking for gluten-free alternatives. It is a huge market, and that's where this book fits in perfectly, with great recipes featuring amaranth, buckwheat, corn, job's tears, millet, oats, quinoa, rice, sorghum, teff, and wild rice.
Its color pages throughout feature a wealth of health information on these grains. There is a culinary profile for each, with buying and storing information, cooking methods and recommendations, and detailed nutritional analyses for each individual grain as well as for the recipes. The color photographs for each grain provide easy identification.
Featuring mouthwatering recipes for breakfast through dessert, Finlayson ensures that good taste and a gluten-free lifestyle go together beautifully, from soups, salads and sides to pancakes, puddings and so much more.
This book is proof positive that good taste, excellent nutrition, and gluten-free options are not mutually exclusive.
About the Author:
Judith Finlayson is a food journalist and author. She began her career writing featured food articles and developing recipes for magazines. She is author of The Convenience Cook and 150 Best Slow Cooker Recipes. She lives in Toronto.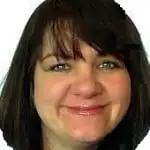 Julee is a quirky, dorky, North Carolina Transplant with an appetite to taste the world, meets its desserts and blog about them. When she's not behind the computer you can find her playing with her family, reading a good book and celebrating the little things.
Disclosure of Material Connection: I received one or more of the products or services mentioned above for free in the hope that I would mention it on my blog. Regardless, I only recommend products or services I use personally and believe will be good for my readers. I am disclosing this in accordance with the Federal Trade Commission's 16 CFR, Part 255: "Guides Concerning the Use of Endorsements and Testimonials in Advertising.".Julee Morrison