I received The Goldbergs Complete First Season on DVD in order to facilitate this review. All opinions are my own.
I'm not much of a television person, but when it comes to an episode of The Goldbergs (AVClub), I'm in my living room watching. It might be my favorite show. Perhaps it's that I am forever an 80s girl. The Goldbergs reminds me of my teenage years and allows me to share with my children some of my favorite trends.
Adam Goldberg documented the ups and downs of growing up in a multigenerational family in the 1980s. His home videos inspire each episode of The Goldbergs and will have you laughing out loud!
The Goldbergs are an average American Family. They are like mine–only more amazing. They are loud. They are colorful. The cast is hilarious and stars Wendi McLendon-Covey (Bridesmaids), Sean Giambrone (Clarence), Troy Gentile (Good Luck Chuck), Hayley Orrantia (The X Factor), George Segal (Shoot me!) and Jeff Garlin (Curb Your Enthusiasm). The series is narrated by Patton Oswalt (Agents of S.H.I.E.L.D.).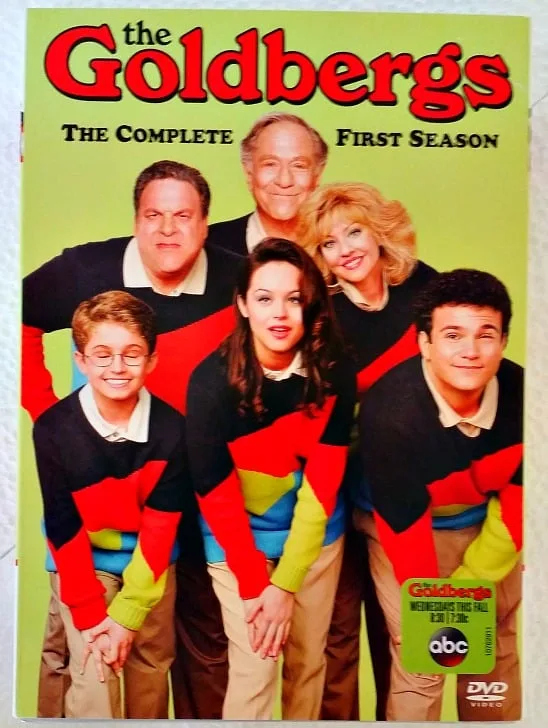 The series airs on ABC. One of my favorite things about the show is that it's based on a real family. I look forward to the clips of home movies at the end of each episode starring the actual Goldberg family. I love seeing how the fictional counterparts recreated a real-life moment. It makes me laugh out loud to see it play out, and I love that much of the dialogue is actually verbatim from the classic home movies.
All the characters are fantastic, but if I had to choose my favorite, I'd probably say Troy Gentile, who plays the older brother, Barry. He is a character!
This show does more than make the 80s a reference; it is almost like time travel to that decade of big hair, blue eye-shadow and moments we all will remember.
The narrated series reminds me of The Wonder Years, though The Goldbergs is lighthearted. It makes me laugh and has me engaging in conversation with my kiddos about how similar or not my life as a child their age was to The Goldbergs.
If you haven't seen it, or are looking to catch up on your favorite episodes, The Goldbergs Complete First Season is available on DVD now.