Phonics Volume 1 and 2 DVDs
My first grader is working on phonics. Every night we go through the alphabet naming the sounds. My four-year-old participate and it's a good review to help them both be strong readers.
When the opportunity came to review the Rock 'N Learn DVD Series I was thrilled. I'm not a skilled educator.
I had never heard of Rock 'N Learn before the review opportunity.
Now, I see Rock 'N Learn has subjects like math, foreign language, and more than 50 other titles.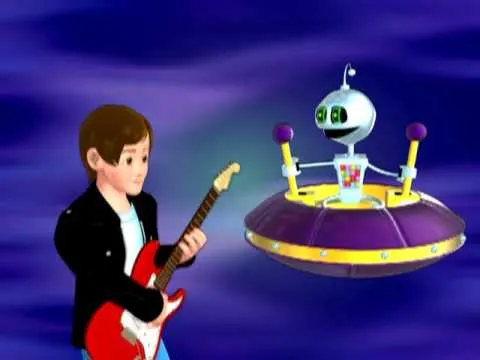 It's learning through song, which is something my children seem to do well at remembering.
The series is created by a school psychologist and his rock musician brother.
This team has developed awesome and empowering educational resource teachers and even Moms can appreciate.
It's geared towards preschool-aged kiddos (2-5 years) and up.
As my Li'l Man watches these each morning when we return from the bus stop I am more and more impressed by the interactive appeal.
I can join him in the songs and participate in the games to keep him motivated.
I really love that the DVDs are broken up into lessons.
A song, followed by an engaging review and encouragement.
It also lets them know to keep practicing and then they can move on through the DVD as their knowledge expands.
The first DVD talks about vowels and consonants. Li'l Man can sing "AEIOU and Y".
He even shocked me when coming home from the bus stop after the first day of watching the Rock 'N Learn DVD when he told me "Y is sometimes a vowel-like AEIOU and sometimes it's a consonant."
I love listening to Li'l Man throughout the day repeat the songs. He doesn't realize how much he's learning and I am continuously impressed by how much he is absorbing!
The Divine Miss M loves the DVDs as well. We can easily fast forward to where she needs to review or she can watch along with her brother to review.
Rock 'N Learn DVDs can be purchased online through the Rock 'N Learn website or you can use the store locator to find a store near you.
The Phonics DVD Vol. It retails at $19.99 like most of the DVDs on the site. Check out all the titles; you'll be impressed!
Here's a video clip to show you just how much fun learning can be with Rock 'N Learn:
.I was sent Rock N Learn DVDs Volume 1 and 2 through Rock 'N Learn and Family Review Network in order to facilitate my review. No other compensation was received. The opinions are my own and were in now way influenced by the sponsor. Others experience may vary.