ReUsies Reusable Snack and Sandwich Bags Review
The Morrisons are still on track with our resolution to be more eco-friendly. Our newest find is ReUsies, a re-usable alternative to snack and sandwich bags.
They're helping our budget and I love that every time I use them I'm eliminating the need for plastic bags!
Noticing a need to reduce the amount of plastic sandwich bags used for school and work lunches that end up in the trash, ReUsies was born!
Founded by Seattle Moms who want to do right by their children, Reusies have eliminated their use of ten plastic bags per day, between work and school lunches.
ReUsies are reusable snack bags made of 100% cotton and are lined with leak-resistant nylon.
These environmentally friendly handy bags help to keep hundreds of plastic snack bags out of our landfills.
They are durable and I love the textures and colors used to add appeal and personality to our lunch boxes!
Out of the bag, I was impressed with the softness of each bag.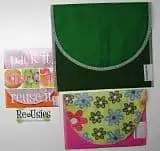 They are delightful to hold!
The pattern and fabric are eye-appealing.
Each Reusie is equipped with velcro closure.
I love that the velcro allows me to adjust the closure based upon how full I fill the Reusies.
It can be sealed shut whether it's filled with a sandwich or loaded with carrots.
While the velcro is strong, it doesn't require Hercules to get into the bag.
My dainty MacKenzie had no issues accessing the wholesome goodness I packed inside for her.
ReUsies are also easy to clean!
They can be machine washed and dried, washed in the dishwasher, or simply cleaned with a sponge and some soap.
One of my favorite qualities about the Reusies is I can throw them right in the dishwasher or in the laundry.
I prefer the dishwasher because washing something we eat out of with our dirty clothes just doesn't appeal to my taste buds or appetite.
Reusies are lead, BPA, and phthalate-free!
ReUsies come in two different sizes to fit your needs.
The snack size (6″ x 5″) will hold half of a sandwich or is a great use for smaller snacks like pretzels and cut up veggies or fruits.
The sandwich size (7.5″ x 6″) holds a full-size sandwich and is great for larger snack food helpings.
Besides pimping out the budget and eliminating waste in our landfills, I love that ReUsies are made in the United States, in Seattle, Washington! American Made is important to me.
Reusies website has some great information on plastic bags and how they impact the world we live in. I found it very interesting that 10% of the waste along our coastlines is plastic bags. Wow!
Reusies reusable bags are a wonderful staple at our home.
There are so many reasons to love this product.
You can buy Reusies through their website or one of these great retailers.
Disclosure: No monetary compensation was offered or accepted for this post. I received the items mentioned in this post from the sponsor in order to facilitate my review. The opinions are my own and in no way influenced by the sponsor. Others experience may vary.
We appreciate your subscription to Mommy's Memorandum