POSE PRINTS Review
Tonight, my Mother's Day Celebration continues. My son, the child whose birth was my passage to Motherhood, and his lovely girlfriend, are coming for dinner. I'm excited!
Jake made a request, "Mom, will you make your meatloaf?"
"Sure."
I even committed myself to giving him the recipe so I can be part of their dinners at home, if only in the form of meatloaf!
My penmanship is nice; it's legible. Handing a piece of paper with my writing over to my son and his girlfriend just didn't seem to be the lovely gesture I want it to be.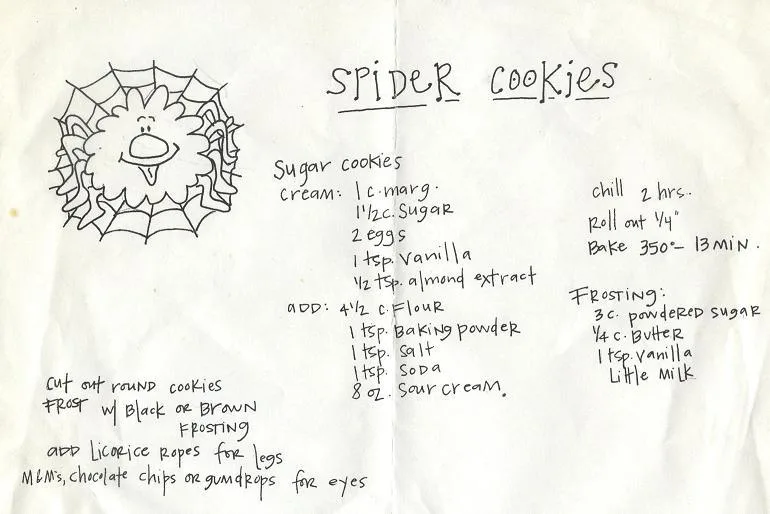 Jake's grown up now and I'm sure Becky is far too mature to have a meatloaf with arms and eyeballs staring at her in the recipe box!
Then my POSE PRINTS Recipe Cards came and they are PERFECT! Wow! It was super fast delivery–about four days from the day I created them!
I created them all by myself using the POSE PRINTS "Design Your Pose" creator. It was a hoot! You can customize the skin color, hair color and style, eye color, mouth and outfit. It was soooo much fun!
POSE PRINTS has a great selection of styles to choose from–they're not just recipe cards! Oh, no! They would perfect for graduations, Bridal Showers,
Baby Showers
, Personalized Stationery, Thank You Cards and more! Whatever you imagine, you can create personalized customized greeting cards, magnets, recipe cards, note sets and invitations in an entirely original way!
PosePrints was founded by a mother-daughter team, Denise Foster and Jen Harland. They've taken their passion for creativity and created this unique concept in paper! They are fun and original and will eliminate the desire and need to purchase a standard cookie cutter invitiation, card, or stationery.
I loved the creating process, but when I received my recipe cards, I fell in love. They are made from heavy-weight cardstock, with bold colors that look professional. I smile when I see my caricature in the corner. Pose Prints retail for just $2.00 per card, with a minimum order of 15 cards.
My cards arrived quickly
So tonight, after I celebrate Mommy-dom with my oldest, I'm giving him my recipes. I'm passing on to the next generation. I'm proud to be Jake's Mom and I'm thrilled that the next generation will enjoy my recipes. I'm lovin' that my recipes will have my personalized charicature–I'm far better looking through POSE PRINTS than the real deal!
Take a look for yourself!
Go ahead, whip up my Strawberries and Cream
Angel Food Cake
and then sit back and create your own POSE PRINTS. The recipients will love 'em as much as you!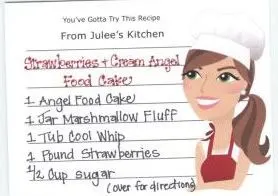 Back of recipe card directions:
1.) Using an electric mixer, mix together the tub of Cool Whip and the jar of Marshmallow Fluff.
2.) Slice strawberries, add sugar and let rest, covered, in refrigerator for at least 30-minutes
3.) Slice Angel Food Cake, heap with topping, add strawberries and DEVOUR!