Cystex Liquid Cranberry Complex With Patented Proantinox
In 1999 my work ethic came before my health. I was actually sent home from work when my Lead recognized I was not doing well. I had a fever. I was shivering. I was pale. I ended up at the ER, diagnosed with a kidney infection. Not your run of the mill kidney infection. When I do something, I go all out. I required an IV to be inserted, and for seven days, I went to the hospital to have kidney treatment. It was preventable; the UTI was my red flag.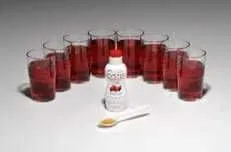 Since then, I have taken cranberry tablets, and at the first sign of a UTI or tender kidneys, I drown myself in cranberry juice.
I have taken this course of action because cranberries have long played a role in helping many women, particularly those with recurring urinary tract infections (UTIs), to promote better bladder health.
I'm not entirely a fan of the taste of cranberry juice. I love the cranberry juice cocktail, but it has added sugar and calories, is only 27% juice, and the health benefits not nearly as rewarding.
Problem solved.
New Cystex® Liquid Cranberry Complex combines the health benefit of eight glasses of cranberry juice in its unique, convenient, pleasant-tasting Proantinox® cranberry formula.
More than just cranberry concentrate, its proprietary blend also contains D-Mannose, inulin, bromelain, and vitamin C, a combination designed to boost bladder health.
One tablespoon, taken daily to promote urinary tract health, can benefit millions of women most susceptible to recurring, painful urinary tract infections.
Cystex Liquid Cranberry Complex uses the proprietary, clinically-proven Proantinox formula, which contains:
• Natural cranberry concentrate: disables the cell structure of E. coli by inhibiting their ability to adhere to the wall of the urinary tract
• D-Mannose (active ingredient from cranberries): to increase the bacterial anti-adherence effect. E. coli bacteria adhere to the D-Mannose, forming a compound that is expelled with urine
• Bromelain (from pineapple): a natural anti-inflammatory that may increase antibiotic effectiveness plus digests protein
• Vitamin C (ascorbic acid): to help maintain adequate urine acidity, which helps create a less tolerable environment for E. coli bacteria
• FOS (inulin): a prebiotic that stimulates the growth of bifidobacteria in the colon and reduces the number of E. coli – feeds healthy bacteria
Cystex Liquid Cranberry Complex with Porantinox is gluten-free, lactose-free, and sugar-free.
It's fast-acting and provides powerful urinary tract protection in merely one tablespoon.
As for those cranberry tablets, Cystex has a higher absorption rate and 17-times the PACS in comparison!
I want to do all I can to prevent UTIs.
They are painful, uncomfortable, they burn, and I really don't have the budget or time to undergo the doctor visits or healing.
I'm sensitive to drugs, including some antibiotics.
When Family Review Network presented me with the opportunity to review Cystex Liquid Cranberry Complex, I felt this product fit into my lifestyle perfectly.
I put my cranberry tablets on hold and committed myself to the one tablespoon each day recommended by Cystex.
Initially, I just measured it and gulped.
It wasn't anything I'd order at a restaurant as a beverage to complement my entree; however, it wasn't so bad that it sent shivers down my spine and had me hiding under the bed.
Then I evolved and realized I could mix into any drink.
I like mine with iced tea!
I'm ecstatic to share that this week I have not gotten a UTI.
There are no doctor visits scheduled to try and reverse my ability to hold the need to potty endlessly.
My bladder thanks me for the tablespoon instead of the usual eight cups of juice.
Cystex Liquid Cranberry Complex stops the burning love and allows you to be passionate about life.
This post was written for Family Review Network & Cystex, who provided the complimentary product in exchange for my honest review. No other compensation was received. The opinions are my own and were in no way influenced by the sponsor. Others' experiences may vary.