No Slippy Hair Clippy Review
I'm a Mufasa when it comes to hair. I have A LOT. My husband, well, he's in the rapidly balding category. Why am I telling you this? Because I have a daughter who takes after me with thick hair that does what it should and then, I have a daughter who unwisely selected her father's hair genes as part of her genetic makeup.
This post is about the latter daughter.
The one with the superfine, stick straight, can do very little with hair.
If you've been reading this blog very long, you know by now that my girls are bonkers anything hair accessory.
They love ribbons and bows and all the girly girl stuff that comes with hair.
Unfortunately, the Divine Miss M has more times than not, gotten off the school bus in a state of tears because HER hair bow wouldn't stay in or worse, it slipped out and she didn't notice, losing her favorite bow.
Thankfully, there's No Slippy Hair Clippy.
The hair accessory that understands that while we can't control the texture of our hair, girls still want to have beautiful options to adorn their hair.
From their website:
No Slippy Hair Clippy® was created to answer every girl's passion to be the prettiest of them all, in all the ages and stages of her life. So go ahead, indulge in these patent-pending, award-winning, beautifully handcrafted hair accessories that are guaranteed to stay in place
Forgive me.
I'm not new to hair bows.
I was skeptical.
There have been very few and far between that have endured the thin, stick-straight hair of the Divine Miss M.
The one accessory the Divine Miss M has NEVER been able to wear is the headband.
She has tried, but by the time we reach the bus stop (a very short walk), the headband is creeping up from her neck and ready to spring off.
We received a beautiful pink headband from No Slippy Hair Clippy and elected to try this first.
This headband is No Slippy Hair Clippy's Heather Headband.
A large pink flower outlined with shimmering sequins
The inner seeds are a hot pink sequin.
No detail is left undone.
It has a suggested retail of $11.95.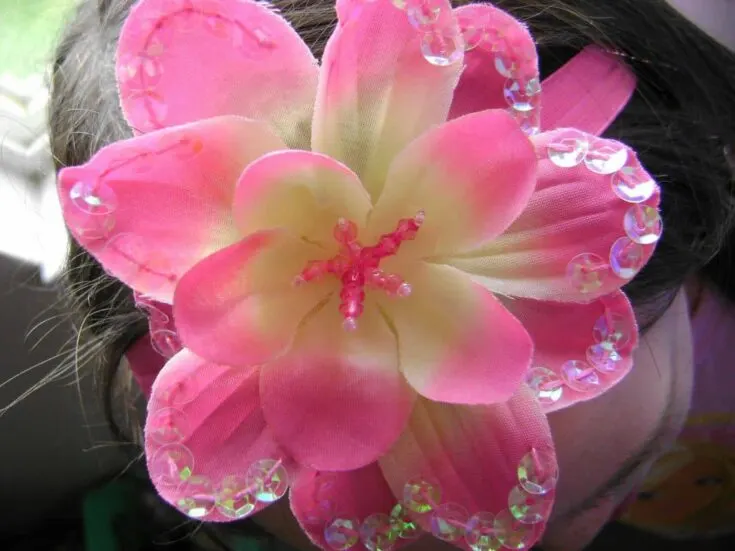 We blow-dried her hair and added the No Slippy Hair Clippy Headband.
Then I held my breath all the way to the bus stop.
It hadn't moved…at ALL.
I sent the Divine Miss M on her merry way to school.
Imagine my surprise when she got off the bus, complete with the headband.
I'm not kidding!
The next day, we were eager to try another No Slippy Hair Clippy.
The Divine Miss M selected a beautiful french blue against pale yellow felt flower.
On the No Slippy Hair Clippy site, this is the Layla Flower Clip with a suggested retail value of $8.95.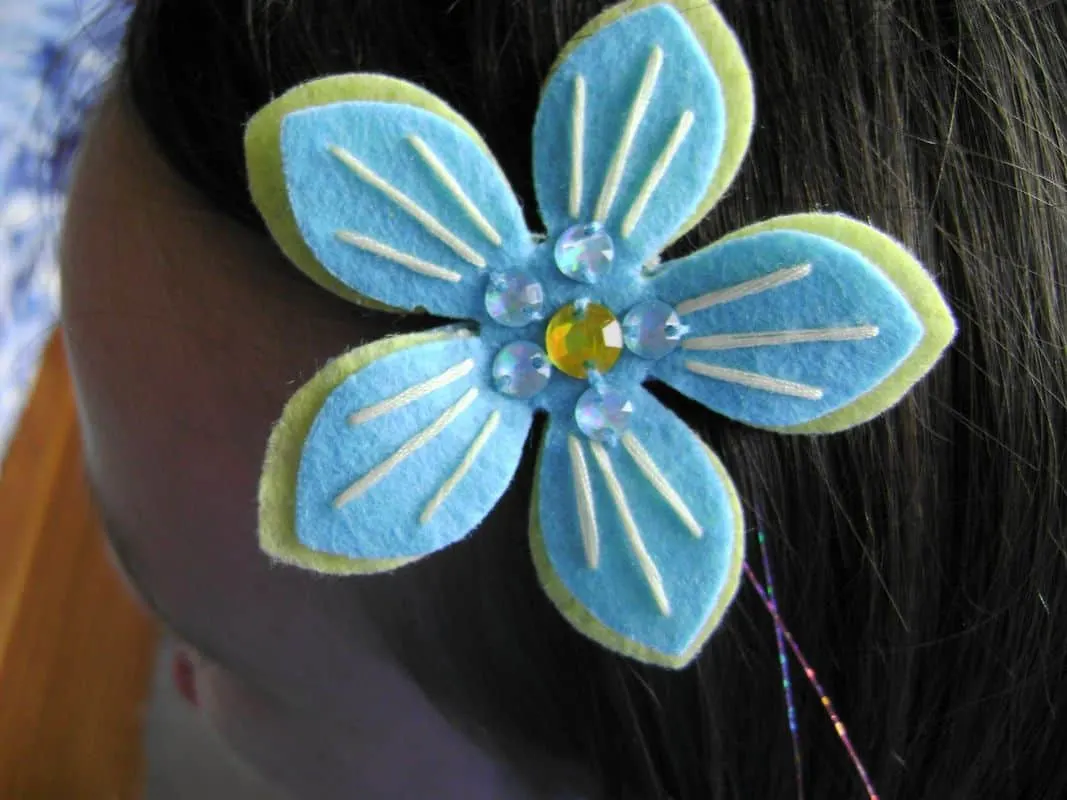 The Layla Flower Clip really made Miss M's blue eyes pop.
This clip is very detailed with long strands of embroidery that bring the flower to life.
The center "seeds" shimmer and sparkle with the individually placed beads.
It's a beautiful, yet simple, flower.
The alligator type clip was easy to place in her hair and once again, coming off the bus, there was the Divine Miss M, grinning from ear to ear because her No Slippy Hair Clippy was still in exactly the same place in which we sent her off to school!
There was no stopping the fun and beauty of the Divine Miss M.
Her confidence was building.
Her next selection was the No Slippy Hair Clippy Tilly Butterfly Clip.
This clip is so much fun.
The clip is hot pink which works as a great background for the bright yellow butterfly.
The butterfly really pops with the aqua-teal outline that appears to be embroidered.
Inside that outline, a hot pink embroidered stitch gives great character to this fun clip.
The Tilly Butterfly has a suggested retail of $6.95.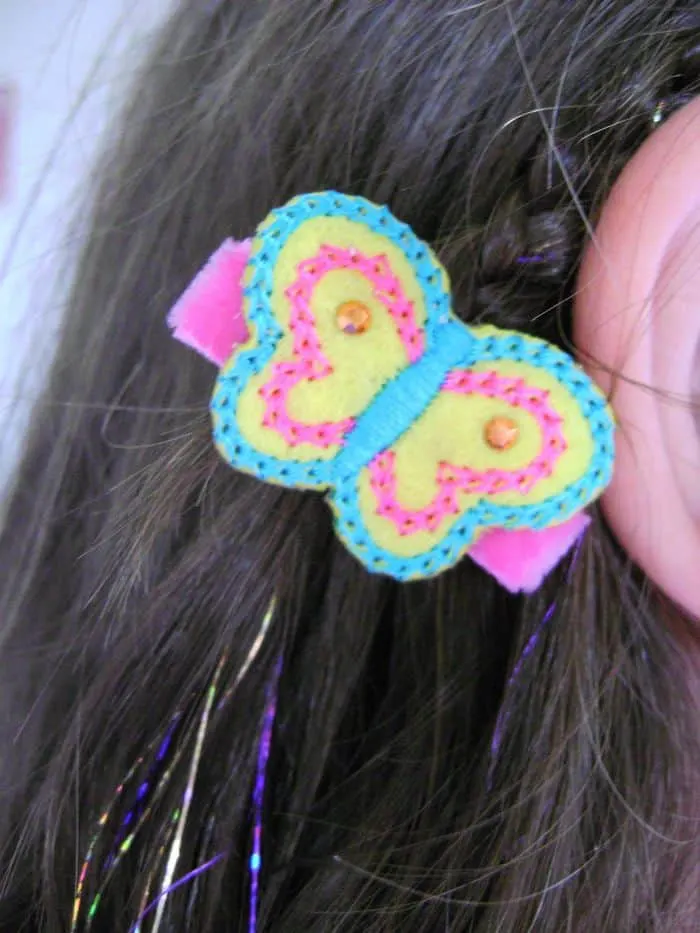 The final review item is the Valerie.
This clip was my girls' favorite.
It's a three-inch, layered organza ribbon overlayed on a grosgrain zebra print ribbon.
It features double bows and my girls' think it's a special occasion when this one comes out of the closet!
It retails for $7.95.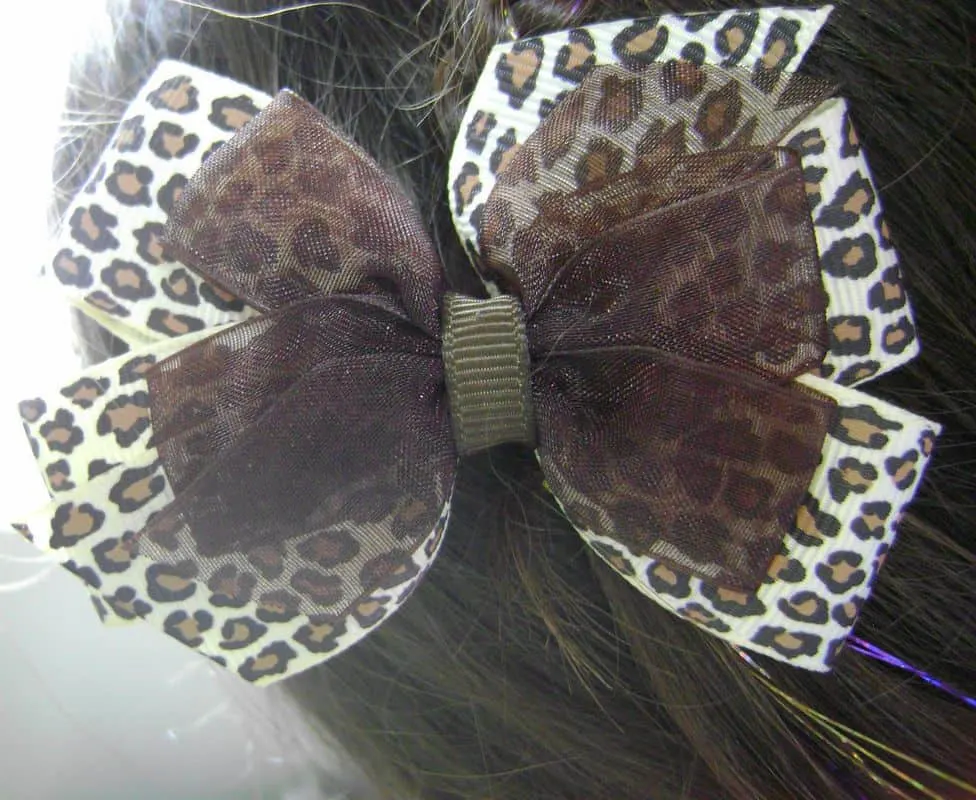 All of the No Slippy Hair Clippy hair accessories exceeded our expectations.
There was not a single day the Divine Miss M got off the bus without her hair bow.
It built her self-esteem by being able to wear what "everyone else wears".
It's like magic how well the No Slippy Hair Clippy's work.
From their website:
We invented the no slip hair clip back in 2000, and remain committed to the belief that our customers deserve the very best. Every hair clip is meticulously handcrafted as if it were being made for one of our own children. This is the core philosophy of No Slippy Hair Clippy®.

We are proud to be the first. The first no slip hair clip, the first company to name hair clips after girls, the first velvet-wrapped no-slip French clip, the first velvet-lined headband, and the first organic cotton headwrap. In fact, in most cases we're still the only company to offer these things (although we have seen a few imitators out there)!
As a mom, what I truly love about No Slippy Hair Clippy is that, unlike every bow, their bows work in BOTH my daughters' hair.
Whether the hair is thick and coarse, or thin and slick, the No Slippy Hair Clippy stays put.
Disclosure: No monetary compensation was offered or accepted for this post. I did receive the item mentioned in this post from the sponsor in order to facilitate an honest review. The opinions are my own and in no way influenced by the sponsor. Other experiences may vary.
We appreciate your subscription to Mommy's Memorandum