Kidorable Review
Karen Carpenter sang, "Rainy Days and Mondays always get me down".
I'm sure that was before Kidorable and their uber fun products for Rainy Days and Every Day.
Kidorable offers a creative twist to the common raincoat, rain boots, and umbrellas.
They set the imagination on fire and turn a gloomy, wet day into an event!
These ordinary garments and accessories transform a child's world into that of a pirate, a bumblebee, a frog, a land of fairies, space heroes and butterflies.
The selection of themes is extensive and offers something to compliment a child's creativity!
Li'l Man received the Pirate Rain Coat and Pirate Rain Boots.
It was sunny, though a cooler day when they arrived.
He wasted no time gearing up and heading outside to turn the steps into a Pirate's ship and the sidewalk "the plank".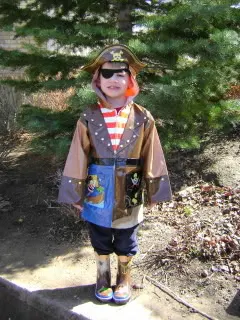 I was impressed by the quality!
The raincoat is heavy-duty PVC and stitched impeccably.
It offers deep pockets with snap closures.
The inside is lined with a comfortable polyester.
The front zips closed with a zipper that my four-year-old could easily manipulate.
I love the hat…shaped like a pirate hat it fits his head and keeps the rain out of his face.
The design is amazing with vibrant colors that reveal a treasure map complete with "X" marks the spot!
As an added bonus each Kidorable Raincoat comes with a matching wooden hanger.
Li'l Man loves this hanger and it encourages him to hang his raincoat up!
It truly is the perfect touch!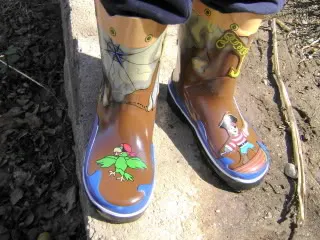 Li'l Man LOVES the rain boots.
They are made of natural rubber.
Have an easy pull-on tab on the back (complete with skeleton skull!).
Li'l Man believes the tops are the best because he thinks they make his pants look "shredded like a Pirate's!"
The Treasure Map theme carries over to the boots and the top of each foot has either a pirate boy or a parrot.
Truly no detail has been overlooked with Kidorable's design team.
This raincoat and matching rain boots are amazing in every aspect.
I love the quality and Li'l Man loves the "dress up" factor that transforms him from Boy Wonder to Pirate Pete!
Kidorable also transforms the umbrella into a child-friendly dome with some delightful characters.
I love the Kidorable umbrella and how it is more of a "dome" than most children's umbrellas.
It shields the child completely.
We met MacKenzie at the bus stop one rainy day with her Kidorable Lucky Cat Umbrella.
We were easy to identify and she was proud to carry the bright pink umbrella.
Her first comment when I handed it to her was, "Hey, this is just my size!"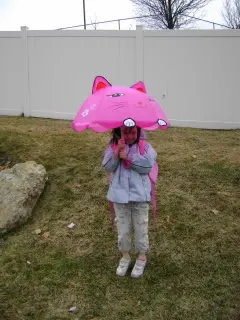 She also noticed that the handle is the cat's tail.
That made her giggle.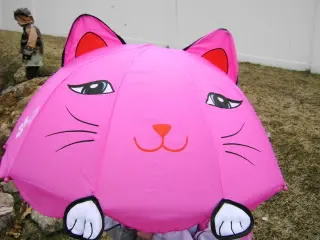 Kidorable umbrellas are made of nylon and can be spot cleaned with a mild detergent.
Disclosure: No monetary compensation was offered or accepted for this post. I received the items mentioned in this post from the sponsor for review purpoases. The opinions above are my own and were not in any way influenced by the sponsor. Other's experience may vary.
We appreciate your subscription to Mommy's Memorandum