"I participated in an Influencer Activation on behalf of Influence Central for Rosetta Stone. I received a product and a promotional item to thank me for participating."
Give a Child the Gift of Reading with Rosetta Stone!
Unlock the magical world of literacy and open doors of opportunity for children everywhere with the power of Rosetta Stone! They believe that reading is the key that ignites a lifelong love for learning, and they're on a mission to make sure every child has the chance to experience it.
Imagine a world where every child can confidently read, explore new ideas, and unleash their imagination. With Rosetta Stone, that world becomes a reality. Their renowned language-learning program is now bridging the gap to literacy, offering a comprehensive reading curriculum that empowers young minds to excel.
They understand the importance of early reading skills, and that's why their program is designed to captivate children's attention while building essential literacy foundations. Through engaging activities, interactive exercises, and captivating stories, we inspire a thirst for knowledge that will last a lifetime.
Rosetta Stone's reading program covers a wide range of subjects, from phonics and vocabulary to comprehension and fluency. With adaptive learning technology, they tailor the curriculum to each child's unique needs, ensuring they progress at their own pace and experience success every step of the way.
Spread the joy of reading far and wide with Rosetta Stone. Together, let's rewrite the story for countless children who deserve the chance to unlock a world of imagination, knowledge, and endless possibilities. Donate today and give a child the gift of reading!
Rosetta Stone: Inspiring young readers, one page at a time.
Our Give a Child the Gift of Reading with Rosetta Stone Review
Reading is such a part of who I am. I didn't realize just how much reading in the world until I started wearing glasses. I only need them to read, but I wear my glasses all the time because the everyday world is filled with reading material. From signs, maps, text messages, bumper stickers and more. I want my children to be strong readers.
For at least two decades I have been aware of Rosetta Stone. The first commercial I heard about them was to learn Spanish. It caught my attention. Rosetta Stone goes beyond teaching adults to speak a foreign language. In fact, they are a leading resource for language development. I was so excited to learn that Rosetta Stone has developed an interactive and engaging Kids Reading program. My youngest children have been below their reading level and struggling.
See Rosetta Stone Kids Reading Program in action!
The Rosetta Stone Kids Reading program is easy to use in your own home with a download available for PC or iPad. You can even load to both to have the fun on the go.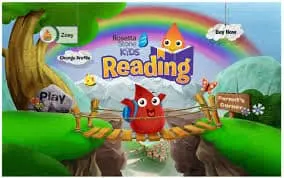 Designed for children ages 3 through 7, Rosetta Stone is a jump-start on core literacy skills. A lot has gone into this program to make it successful. For one, Rosetta Kids Reading partnered with major literacy experts Lexia Learning to create a reading program that keeps children's attention. The Rosetta Stone Kids Reading Program offers ten different lessons for a whopping 600 units of learning material in over 50 activities and games.
In today's world, children utilize technology. I love that Rosetta Stones Reading Program takes the fun of video games and creates a productive course where time spent is time well spent. Just 10-15 minutes at a time makes a difference. We incorporated the program with our bedtime reading ritual.
I loved that Rosetta Stone uses the same resources I am accustomed to as a parent. I was delighted to see "sight words". This enables me to reiterate lessons and help my child learn to read. I love being part of the process and watching my child succeed.
There are also some amazing characters. The "worlds" are so colorful and creative. Take a peek for yourself!
My
child lacked confidence
in reading out loud in the classroom due to a speech impediment. He struggles with /r/ /s/ and /th/. He becomes frustrated when reading out loud, and even in a one-on-one situation with a teacher for testing, his performance has been poor. We have worked at home reading every night to each other, practicing speech patterns, and so much more. None of it has been fun. It has all helped somewhat, but it's been a frustrating nightmare.
Rosetta Stone Kids Reading was my hope. It came through.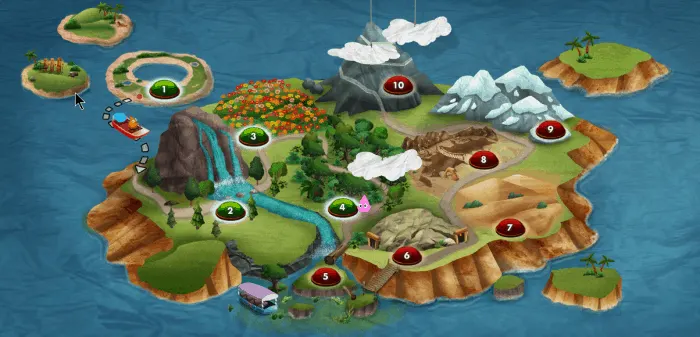 We loved the games on Rosetta Stone Kids Reading. There were rhyming games that really helped Li'l Man develop his speech. These lessons carried over into our everyday world, and I loved hearing him find new words to rhyme. The enunciation is awesome on the program and allows the child to hear how the letters and words sound when all the letters are combined.
Reading is such a fundamental part of everyday life. Sadly, more than 47 percent of US children are below grade-level reading. My child is included in this statistic. I want my child to succeed. To be a powerful reader so that nothing stops him from achieving his goals.
After a few days of regular use, I no longer needed to remind my child to use Rosetta Stone. Instead, I would have to tell him it was time to shut down the computer and get some sleep. I love that Rosetta Stone captured his interest and let him work at his own pace.
He's reading at a higher level after a month of use, and his confidence has him smiling a lot more. He's engaged in his class. At breakfast with the Santa school fundraiser, my son's teacher came and sat with us. She complimented him on his participation in class and his outgoing manner. At home, I see him read more independently and take an interest in what books we select to read at bedtime.
I do not doubt with continued use; he will soon be reading above and beyond his grade level. The world is much bigger with reading. It opens the door to discovery and launches imagination.
This holiday, give the gift of reading to a child. Gift the Rosetta Stone Kids Reading program and watch what they discover!